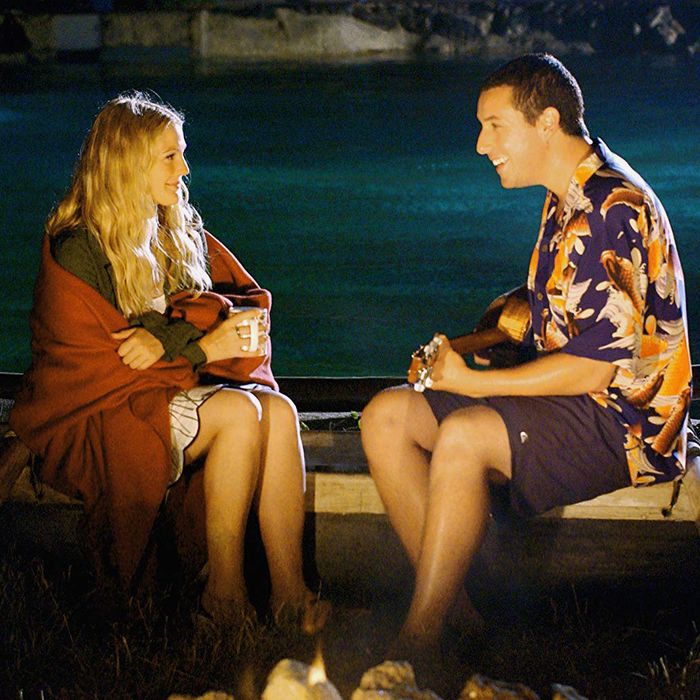 Even if your first date happens again and again.
Photo: Columbia Pictures
It's hard enough to know what to gift your husband or wife or long-term partner for Valentine's Day, but where do you even start when you're looking for a Valentine's Day gift for someone you just started dating? "You need an acknowledgement that shows that you're important to me," advises Susan Winter, a New York City relationship expert, "but you don't want to be over the top, because you're not really sure what's going on." Sarah May B., host of the relationship and advice podcasts Love Is Like a Plant and Help Me Be Me, agrees that you need to strike a delicate balance with this first Valentine's Day gift, especially within the first six months of courtship. But she adds that as much as you might want to just ignore this romantic holiday, "You definitely can't do nothing at all."
The ideal Valentine's Day gift for someone you just started seeing, then, is something that doesn't put undue pressure on your new relationship or send the wrong message, like fancy jewelry or lingerie might. But you also don't want this gift to come across as generic and dull. So to help you find a present that'll impress your new beau without scaring them away, we asked four relationship experts for their advice and came up with 13 Valentine's Day gift ideas for someone you just started dating.
Cute and Funny Gift Ideas
"The subliminal message underneath your choice of gift should say: I've paid attention. I've listened to what you like and don't like, because your happiness is important to me, and this relationship is important to me," says Winter. That's why all of our relationship experts recommended getting a gift that references your relationship or an inside joke you share. "What makes their relationships so special is that there's something that only they know, that only they think is fun, that only they find meaningful," says Yue Xu, host of the podcast Date/able with producer Julie Krafchick.
But Sarah May takes it one step further and recommends going fully ironic with your gift: "It's a way to take the piss out of Valentine's Day, because it's got a lot of pressure built up behind it." So instead of giving the gift of regular old Valentine's Day candy, she jokes about giving a giant, one-pound gummy heart, "something that's obviously silly." We like this goofy, five-pound gummy bear (especially because it feels a little less precious than a giant teddy bear).
The other reality is that your first Valentine's Day gift doesn't have to be that spendy, as long as it's thoughtful and shows that you've been paying attention and have been thinking about them. This, of course, depends on what your paramour likes, but Sarah May still recommends going a bit more tongue-in-cheek than sincere, like these cheeky socks. (We also have a whole bunch of Valentine's Day gifts under $25 for every type of Valentine, if you want some other affordable options.)
Experiential Gift Ideas
All of our experts expressed the importance of planning something to do on Valentine's Day itself (or that weekend, if your schedules are crazy during the week or you want to do something a little more ambitious), especially this early on in a relationship. "I think experiences are a really good way to see each other in a different light and create a memory," says Krafchick of Date/able who adds, "It's about creating a bond, and in that first six months, you're still getting to know each other. So by experiencing new things together, that unfolds different layers of who the other person is."
"Doing something with your mate will be remembered far more than an individual gift, especially in the month to six months," adds Winter. Plus, spending this special time together doing something a little bit different can also serve as a test for your burgeoning relationship, to see if this is someone who you really like and can work with as a team. One classic option is a cooking class, which you can take the weekend before Valentine's Day itself. That way, Winter says, "You can have a meal and make a meal and then replicate it on Valentine's Day at home for each other."
If you're want to making sure they have something they can physically take with them, it could also be nice to do something where you learn how to make something, like a pottery class. "This way, you have something that's a physical memento of what you made together," says Xu. If you're in New York City, La Mano Pottery in Chelsea offers a slew of intro workshops, either on a pottery wheel or by hand.
If you are planning on going out to dinner on Valentine's Day, it could be nice to have something to enjoy together after the meal, back at someone's apartment or home. That could be dessert from their favorite bakery that you went out to get yourself, or a bottle of nice wine or their favorite alcohol. It might also be nice to have a little activity to keep you occupied, like this stylish puzzle inspired by the design museum Cooper Hewitt's current exhibit on color.