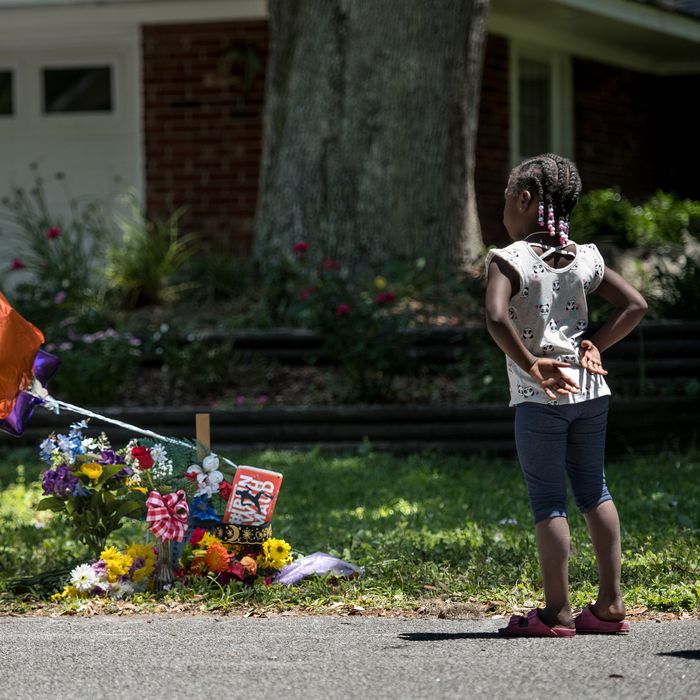 A young girl stands before a memorial to Ahmaud Arbery near the Georgia site where two white men, one a retired police officer, shot and killed him in February 2020.
Photo: Sean Rayford/Getty Images
The protests against police brutality and the unjust murders of Black and brown people — including George Floyd, Ma'Khia Bryant, Daunte Wright, Adam Toledo, Ahmaud Arbery, Breonna Taylor, David McAtee, Tony McDade, Robert Fuller, Dominique "Rem'mie" Fells, Maurice Gordon, Riah Milton, Malcolm Harsch, Elijah McClain, Rayshard Brooks, Oluwatoyin Salau, Kevin Peterson Jr., and Walter Wallace Jr. — have mobilized millions to take action toward dismantling both overtly and subtly racist norms and policies entrenched in American life. This action can take different forms, including (but not limited to) protesting, educating, listening, consciously shopping, and, of course, donating.
When it comes to the latter, over the past year, you've probably seen a lot of people donating to a lot of things. Here, we've compiled and vetted as many of those things as we could to create a guide for anyone with the means and interest in donating as a form of taking action today or every day. (To jump straight to the guide, click here.) It should go without saying that, while expansive, this guide is nowhere near complete and will be updated as we identify and vet new entities (or see others — like the Minnesota-based North Star Health Collective, Reclaim the Block, and Black Visions Collective — directing potential patrons elsewhere because they have all the money they need right now).
In addition to sourcing entities from lists already created by our sister sites the Cut and the Verge, this guide includes other funds, organizations, and individual activists we have vetted after seeing them on social media or in resource documents being widely shared (including this one, created by Reclaim the Block; this one, created by graduate students at the University of Washington's School of Public Health; this one, created by Margaret McCarron; this one, created by artist Annika Hansteen-Izora; this one, created by ThemsHealth, an Instagram wellness resource for the nonbinary community; and this one, created by writer and activist Indigo).
We've confirmed that any entity on this list is still taking donations at the time of publication and that those doing so less formally (like via Venmo or the Cash App) are providing receipts and/or are legitimate. If you want to donate to or read more about each entity, simply click on a name.
We have broken up the various ways to donate by how recipients promise to use any money received, whether that's to post bail or bonds for demonstrators arrested at protests, to invest in rebuilding Black communities where protests have occurred, or to invest in community-enrichment programs for Black and brown youth. While many of the entities on this list operate nationally, we have noted which operate on a state or local level in case you're looking to make more targeted contributions.
Victim funds | Bail funds | Megafunds | Community-restoration organizations | Community-enrichment organizations | Youth-oriented community organizations | Community organizations serving disabled Black, brown, and indigenous people | Policy-reform organizations | Political organizations | Police-reform organizations | Incarceration-reform organizations | Legal defense funds and organizations | Black LGBTQ funds | Black LGBTQ organizations | Media organizations | Mental-health organizations | Health-care funds and organizations
Donations will go toward supporting the families of Ma'Khia Bryant, Daunte Wright, James Scurlock, David McAtee, Rayshard Brooks, Breonna Taylor, Daniel Prude, Jacob Blake, Kevin Peterson Jr., and Walter Wallace Jr.
Donations will go toward paying bail or bonds to release protesters jailed in states with bail or bond systems. If you'd like to make a localized contribution to a bail fund in a city or state not shown below, the National Bail Fund Network lists the funds you can donate to in all states with bail or bond systems.