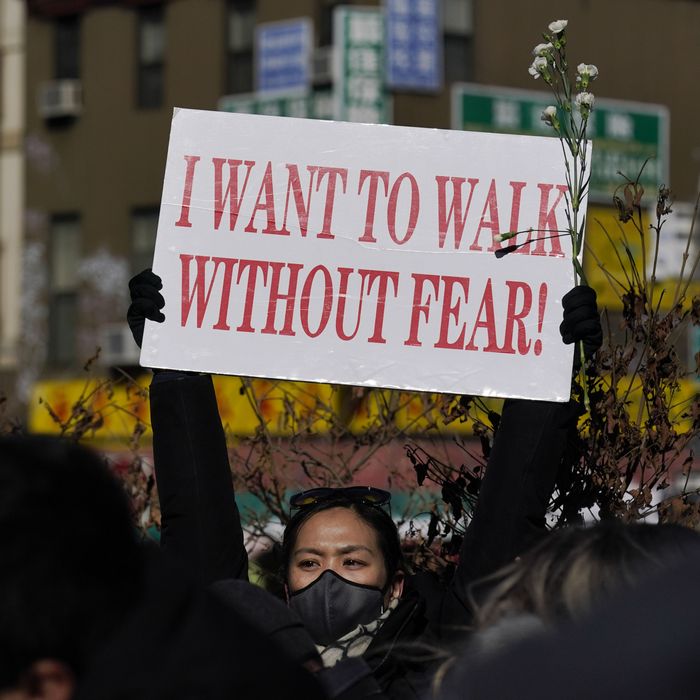 Photo: Seth Wenig/AP/Shutterstock/Seth Wenig/AP/Shutterstock
Violent attacks on the Asian American community continue to occur with stomach-churning regularity. We saw an all-time high for anti-Asian hate crimes in 2020, but 2021 managed to exceed that record with a 339 percent increase, according to data from the Center for the Study of Hate and Extremism. In the last three months alone, hate crimes have led to the deaths of four Asian Americans in New York. Yao Pan Ma, who was attacked in April 2021, died from his injuries on New Year's Eve. Less than three weeks later, Michelle Go was pushed in front of a subway at Times Square. In February, Christina Yuna Lee was stabbed to death in her own apartment. Earlier this week, GuiYing Ma died after a violent attack that occurred last November. Women have been targeted in particular, with 68 percent of hate crimes reported by female-identifying Asian Americans, according to research released by Stop AAPI Hate. These are the violent incidents that make the news, but the abundance of hateful everyday "content" led to the creation of this video compilation of anti-Asian behavior.
While there are numerous things you can do to support Asian communities around the country, one effective way to take action is by donating money. Similar to our list of organizations and funds that directly support Black communities, here, we've compiled a guide for those interested in supporting Asian, South Asian, and Pacific Islander communities. We vetted each organization through our own research and consulted different activists' and organizations' lists (like this one from arts and culture writer Eda Yu; this one from the Chinese Progressive Association; this one from Samoan organizer Terisa Siagatonu; and this one from artist Sasponella). Given that anti-Asian hate crimes are occurring all over the country, we've also tried to include organizations in a wider range of locations. And while this guide is thorough, it is by no means complete, so we'll be updating it continuously.
We've organized this list based on what each organization does, from assisting businesses impacted by COVID-19 to providing legal aid and education, so if you'd like to jump to a specific type of organization, simply click on the category. Many of the organizations mentioned on this list are national, though several service specific communities, which we've noted below.
Victim memorial funds | Community-restoration organizations | Community-enrichment organizations | Policy reform and social-justice organizations | Legal defense organizations | LGBTQ and gender-based organizations
Donations will go toward supporting the families of victims of anti-Asian racism and violence, including Michelle Go, GuiYing Ma, Christina Yuna Lee, Christina Lu, Yao Pan Ma, and Vergel Guintu.