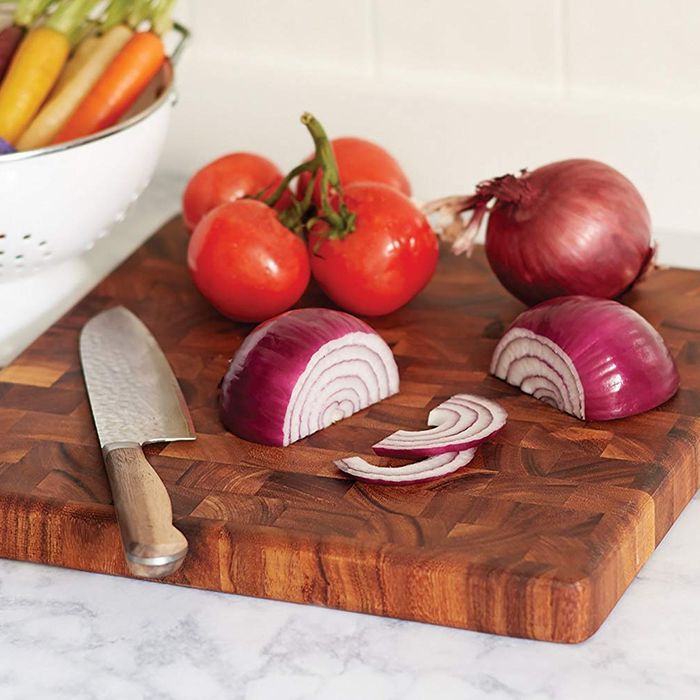 Here at the Strategist, we like to think of ourselves as crazy (in the good way) about the stuff we buy, but as much as we'd like to, we can't try everything. Which is why we have People's Choice, in which we find the best-reviewed products and single out the most convincing ones. (You can learn more about our rating system and how we pick each item here.)
And while we've written about kitchen knives, knife sharpeners, and kitchen islands, here, we've rounded up the best cutting boards, as praised by the most enthusiastic reviewers at Amazon.
Best-rated cutting board
"If you're a serious chef cooking from scratch, you'll appreciate a large surface that you can use to work on a lot of ingredients at once," says one reviewer of this OXO cutting board. "This translates to speed and efficiency. If you're a casual chef, or working with children, you will appreciate how the large surface of this cutting board catches the mess, leaving little or no clean-up on your countertop." And this cutting board gets many positive reviews for its size and, like the name suggests, utility. As another reviewer calls it, "an excellent size and thickness. The non-skid sides grip the counter enough so that the board does not slide while cutting, but not so much that it's difficult to move around the counter. It's also properly firm—soft enough to keep from dulling a blade but firm enough for easy, clean cuts." The juice grove is another highly-reviewed feature. "Due to the size of the cutting board, this gutter can collect a lot of liquid without overflowing," says one reviewer, who adds, "Liquids which represent a food safety danger are collected completely in the gutter, and can easily be washed off with soap. My countertop stays neater, too."
Best-rated (less expensive) cutting board
"This was a drunk purchase. No idea how I ended up purchasing this. But it works and have used it multiple times to cut limes for my margarita," one satisfied reviewer writes. But many other, more considered purchasers also give these flexible cutting boards a five-star rating. "I don't have to awkwardly scrape them off a thicker cutting board," one revier explains, and several note they're more durable than expected. "They serve a purpose, and that is a convenient alternative to an actual board for light-duty use," writes one reviwer, adding, "I love not having a full-sized boards clanking around in the sink and drying rack all the time for a change. You can chop an onion or celery and pick the sheet with a thumb bend in it and dump the diced veggies right into your mixing bowl or frying pan and then toss it in the sink or give it a quick rinse." Plus, another reviewer likes, "They're also extremely easy to store and clean since they flex easily."
And now for some micro-picks of every type of cutting board you might be looking for.
Best wooden cutting board
The word "beautiful" is used in nearly 100 reviews to describe this cutting board. "This cutting board is beautiful and functional," says one owner. "I cook a lot and use this board several times a day. I love the fact that no matter what I've cut on it—or which knife I've used—the surface remains unscarred. There are no knife marks. No stains." Another reviewer says that they, "Bought this as a gift for my future mother-in-law( who somehow is difficult to buy for) and she loved it! It's beautifully made and designed." They even add that this cutting board looks so nice, "You can use it as a tray to serve cheese or fruit on as well — it is that beautiful!" Many reviewers also believe this board should last a long time, like one who writes, "Overall, it is a very pretty cutting board that is also sturdy. With proper care this will last my lifetime and hopefully be able to be given to one of our children one day."
Best paper composite cutting board
Made of a non-porous paper composite, this cutting board is a little bit different. One reviewer describes it as an, "Excellent cutting board that takes a few days to get used to… It is a very hard surface that creates a louder ' clacking' sound and less knife resistance when you slice and dice (one reason your knife stays sharper I believe)." The material is also described as lightweight, and many like that it's still sturdy and safe for sharp blades. "This is a great product if you have good knives," one owner writes, explaining, "I rarely have to resharpen my blades as this board does not dull them. It is easy to clean and maintain. If it warps (and they tend to do that if you let them stay wet), soak in water for about 10 minutes then place on a clean flat surface and cover with the heaviest flat thing in your kitchen. I use a 12-inch cast iron pan and put some additional heavy things inside for more weight. Leave it overnight and it will be as good as new."
Best bamboo cutting board
"The size is very good—it's large enough to go across our sink without wiggling, but small enough to easily stand it up against the wall when I'm done with it," says a self-described homemaker who cooks at least twice a day and also has helpful maintenance tips. "I would recommend to anyone to oil their boards before using and every now and again when they start to look a bit faded. I just use regular old olive oil on mine — wiping them down with it and then letting them soak it up all night." Another reviewer says this cutting board is well worth the money and has "plenty of room on this board for all my needs. With the bamboo, it's larger than my old one, yet weighs less. Cleans easily, dries quickly. Retains no odors." As one owner concludes, "Seems durable and has a nice finish, pretty much what you want from a piece of wood to chop stuff on."
Best novelty bamboo cutting board
Here's a cutting board in the shape of any state of choice—plus Michigan's Upper Peninsula and the entire United States. The shape and size of the flat grain bamboo board varies from state to state, and customers cite all sorts of uses. "Excellent cutting board for the Texan in your life who likes to cook. And by cook, I mean barbecue. And by barbecue, I don't mean grill," one customer writes. Another reviewer adds, "I bought it for our beach condo in South Carolina and have gotten several compliments on how cute it is and also how accurate the shape is." For many, the board serves as decoration, though it also gets rave reviews as a gift: "My sister now lives in New Jersey but lived in California for a very long time. She's constantly talking about how everything is better in California, so I had to buy this for her when I saw it. She loves it."
Best bamboo cutting board with mats
"Versatile" is a word that gets repeated in reviews of this bamboo cutting board with flexible cutting mats. "It's so easy to do your cutting and swap out the sleeve and continue on prepping the meal," says one reviewer of this cutting board set. "I don't have to swap and clean the cutting board in-between prepping. A sleeve for all your needs comes included." The seven different color-coded mats are recommended for swapping between fruits, vegetables, cheeses, meat, fish, poultry, dough and baked goods, and those mats are a big selling point for many customers. One reviewer appreciates that "the cutting sheets aren't electrically colored the way many comparables are. Our household color palette is more subdued and less Sesame Street, so this blends in a little better. The sheets are flexible enough but sturdy, and while they'll mark over time with chopping and slicing, it would take some serious hacking to get through them and down to the bamboo."
Best flexible plastic cutting board set