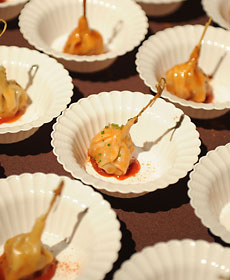 2011 PARTICIPATING CHEFS
eet the international group of talented chefs who participated in New York Taste 2011. Hailing from places that range from Australia to Saigon, Punjab to Mexico City, South Carolina to Sheboygan, they bring their culinary knowledge and skills to the city's best tables.
From these first-person interviews you'll learn where each chef trained, which cuisines inspire them, and even what they cook at home. What's more, you'll read about their signature dish and the exotic ingredients that are secrets to their success. As a bonus, many of them generously share their thoughts on global cuisine, where cooking has no borders.
Stay tuned for the list of participating chefs at New York Taste 2012.