For its 13th year, New York Taste featured a distinctly international flavor. The city's premier culinary event celebrated the many global influences found within the the most creative restaurants of the five boroughs. New York magazine culinary editor Gillian Duffy invited more than 40 of the top local chefs, restaurateurs, and mixologists to showcase their talents at Skylight Soho—it was an extraordinary journey of global cuisine, and we look forward to another incredible journey next year!
MARK YOUR CALENDAR:
New York Taste
November 2012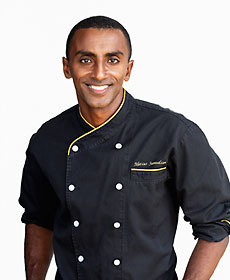 MARCUS SAMUELSSON
Red Rooster
MARCUS SAMUELSSON
MODERN AMERICAN
How do you characterize your cuisine?
It's Harlem-inspired.
What region or ethnicity most influences your cooking?
It's a blend of my Swedish upbringing, my terroir, Ethiopia (my birthplace), and where I am now, Uptown in NYC.
What is your signature dish?
It's not mine, per se: It's my grandmother Helga's meatballs.
What kind of food were you exposed to as a child?
Husmanskost. It's the term for Swedish home cooking.