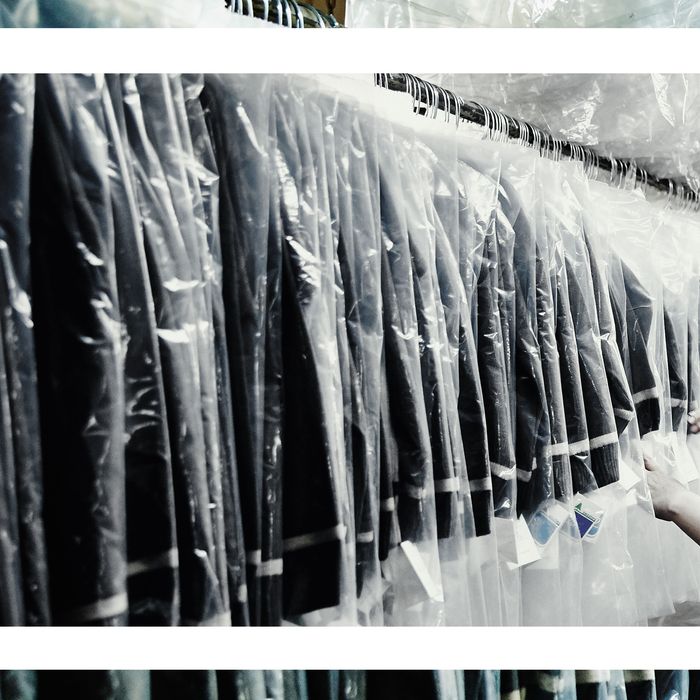 Gloria, 57
Collar-quality-control specialist at the Joseph Abboud factory
New Bedford, MA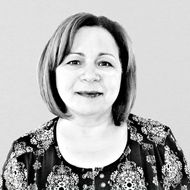 We moved to America from Portugal when I was 12, and I started working here 4 years later. I was the oldest of seven kids. I had to quit high school when I was a junior because I had to help my parents provide for us. My mother was already working here and she got me the job. Right from the beginning, I was given the opportunity to learn how to do a lot of different things from section to section, not just one department.
I can never forget my first day at work because I cut my finger. It was on a Reece machine. Those machines were for making pockets. And pockets are important, especially for men. They have inside and outside pockets, you know where the man puts his pens or cigarettes or whatever he needs …
I don't know if you know this but the pocket inside of a men's coat, the inside pocket has to have two buttons. Just place the fabric and then place the lining on top of the fabric and then the machine will come down to cut and sew at the same time. Anyway the Reece machine had a knife that sliced my finger! Back then the nights were so bare. There was almost no guidance. Everyone was all around me worried, but I'm strong. It's not like I had to run home crying.
So that was the first job I learned. Then I went to be an all-rounder, so when somebody's missing I can go replace them. Then they asked me if I wanted to become a supervisor. I said, "Of course." Especially back then, Oh, yeah of course. You know? I was only 18. They needed me as a supervisor in the section that I know most, which is the collars, and that is a very important section.
The collars and the shoulders are one of the most important jobs that we have, beside the sleeves. Setting the collar is so important because when a man is wearing the suit, you notice the collar right away — the lapel.
We work five days a week. Sometimes we need to come in on Saturday for a couple of hours, but every day I'm here from 5:30 to prepare my section, to check what's going on, to check what kind of fabrics are there, to make sure everybody has work when they start at seven. I finish at 3:30. After nine o'clock I'll sleep.
I have been doing that for 40 years. I never needed an alarm to wake up. It is like my head is a clock already. I wake up at 3:30, and I get up.
When I get here in the morning, I check to see if everybody's in. If people are missing, we have to find people from other sections to replace them. Then I prepare my computer to check the jobs that I need to check for the day, especially if I see that there's bold fabrics or plaids or specific fabrics like cashmeres or velvets going on. I have to make sure everything is perfect.
We can't check every single collar or shoulder because that's like over 1,000 coats a day. Sometimes they'll call me when something is wrong because they cannot do their job right. But most of the time they send the bad work to us so we can really check the detailing. If there's something wrong then we have to go back to the supervisor. These days we have an automated system. It's so easy now.
Each bundle of coats that we send out is marked with a ticket that has information about the coats in your bundle. I remember back when I started out we would have to glue the tickets on with our tongue. We used to stick the tickets on a piece of paper that they kept in the manager's office. You had to lick it one way or the other. Lick them and stick them on! You had to touch it with your tongue. Sometimes you would not have enough saliva and it would be so dry you would have to sit on it to make it stick. Sometimes you would use too much spit and it would break the ticket. Too much spit? Not enough? More pressure!
But now the machines are beautiful. Very high-tech. Everything is upgraded, even the pressers, where we press our coats. It's very delicate, very nice.
We don't have a man bringing us the coats anymore. We have an automatic system. We call it "the monster." The monster is a big conveyer with a chain. When a coat comes on the chain, it drops down, already marked — what kind of coat it is, what kind of jacket it is, and the price for each coat. It's already marked for the girl so she can see how much she's earned up until that point.
You get paid more depending on how productive you are. Each department has a cap. They raise the cap every year, but even the cap has a cap. So you can check each day, you can check hourly, you can even check after each coat to make sure it registered. If you are good you can earn $17 an hour, easy. It's much, much better. She doesn't have to wait until the end of the week.
I love coming here. I hear so many people and I say, "Gee, we should be lucky that we have a job," or "We should be lucky that we have a place to come to" and I agree. I live so close to the factory that I can walk. I never wanted to get away from it or have to drive too far.
Beside my native language, which is Portuguese, I also speak Spanish. When I came to this country we didn't have nothing in Portuguese on television. We had the old Spanish movies — the capo movies. I used to get up at 4 a.m. on Sundays because they would play a movie from four to six. I was like, "Wow, this is so close to my language!" Anyway, back in the day it was 90 percent percent Portuguese workers. Right now, it's a lot more Spanish. So they come to me sometimes to ask me questions. Even though they have their supervisor, they don't speak English so to feel comfortable they just come to me. They even give me papers to translate for them for whatever they need outside of work, so … it's like family.
I even met my husband here. I'm still married to him! He was the guy who was physically bringing the bundles of jackets to us. We met on my first day and then we got married five years later. My daughter Elizabeth started working here when she was 16. Now she works with the expediter.
I used to teach people how to do the work. I loved that the most because they're the ones who will remember you when you're retiring. They say: "Don't forget you're the best teacher that I had!" That makes me feel good … I taught them how to set sleeves, I taught them how to set collars. I was there when they were hiring so many people I had to teach the new supervisors! I'm so proud of that, and if they are still here after 20 or 30 years, that really makes me feel good.
We make menswear so I can't wear any of it, but I already bought two suits for my son. One time I went on vacation to Florida and I made sure that I went to every store there that sold our suits. And in each store I checked the collars and the sleeves. I felt so proud looking at that! I would even tell my daughter, "I think I set that collar because it's perfect! That must be my work!" Then we would talk about it: "Oh, did you remember those coats? They need a little more pressing on it on the sleeves …"