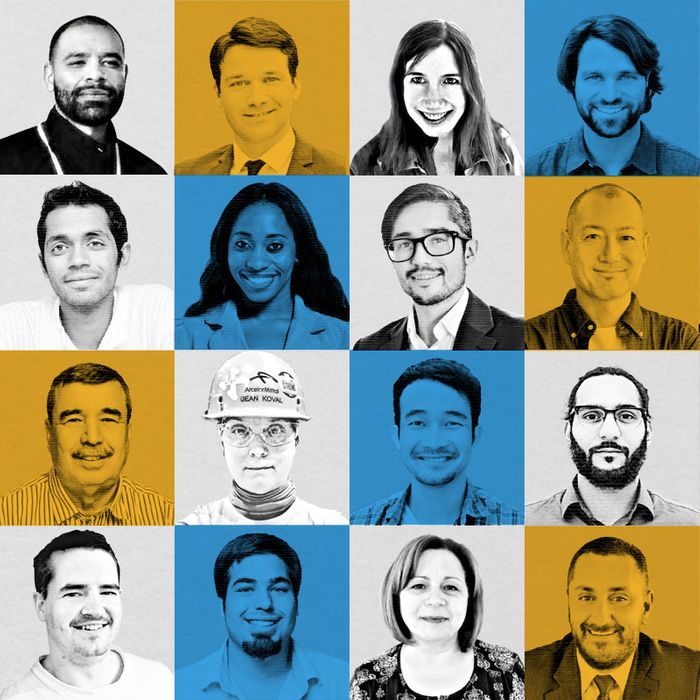 What's it like to teach college-level algebra to ninth-graders on Chicago's South Side? To be a 911 operator handling a suicidal caller? To make name tags in a factory assembly line? To helm the global advertising juggernaut J. Walter Thompson? To be a 30-year veteran cop on a little-known U.S. Pacific Territory?
Over the next four weeks, The Job will answer those questions while presenting a diverse, intimate survey of the American workforce. Interviewing workers from bookkeeper-to-the-stars to undocumented farmworker, steelworker to professional hacker, The Job struck out across all 50 states to compile a representative sampling of the people who toil, innovate, serve, sweat, smile, bitch, and do the wide array of shit (that's the technical term) that makes America great — now, once, before, and always. Our team is led by John Bowe, author of the forthcoming I Have Something to Say – a book about the fear, art, and power of public speaking – along with New York's Alexa Tsoulis-Reay and Kaitlin Jessing-Butz.
In 1974, Studs Terkel made high literature of everyday people talking about their work and their lives in plain language. His breakthrough oral history about work (aptly titled Working) remained a best seller for years and was even mounted as a musical with music by James Taylor. We have copied Terkel's method to the letter, presenting workers one by one from all reaches of America, speaking in their own words, explaining what's good and what's horrible about being them and doing what they do all day.
We found the commentary, experience, and wisdom of today's workers every bit as illuminating as Terkel's — and more entertaining than anything you'd ever learn from the Bureau of Labor Statistics. Are Americans scared, lazy, mad, drug-addicted, phone-crazy, greedy, ambitious, funny, smart, resourceful, or positive? Yes! What's the state of the American workplace in 2017? Is work fair? Exploitive? Impossible? A blessing? Yes again!
We learned from our collections-agency owner that most people, given a chance, really do want to pay their debts. We learned from our Starbucks barista that, sadly, there is no secret menu. "It's stuff that random-ass people made up online and then try to order and expect us to know what it is and we have no idea because some person made it up on the internet." We learned from our veterinarian that a pig's balls are way bigger than most people imagine. We learned from our Microsoft researcher that when search results are delayed by 100 milliseconds, users think they suck.
We also learned that in an era of rampantly increasing income inequality, where the American dream — at least for the bottom 99 percent — is rapidly becoming less dreamy, most workers don't seem nearly as outraged or panicked as one would suppose. For every Macy's shipping clerk who complains, "There's days when I'm like, Agh, I fucking hate this job," we found three or four gratefuls — grateful to be a shipping expediter, grateful to be a judge, grateful to be kicking ass in solar-power sales.
While most people — surprise — don't seem to love every moment of their work lives, most Americans we came across seemed to persevere with almost religious optimism, seeking to do even the most mundane jobs well and cheerfully. Is my job meaningful? Do I create value? By and large, the answer we heard is yes, sometimes rising to heights that made us proud. Said our fisherwoman: "It's such a blessing to be an American. I never realized it until I got to Alaska and saw the generosity of the land here. It's something that you can't appreciate until you are a benefactor of the resources of our beautiful country. It's so humbling and you become so grateful that you can even be a part of it."
We agree.