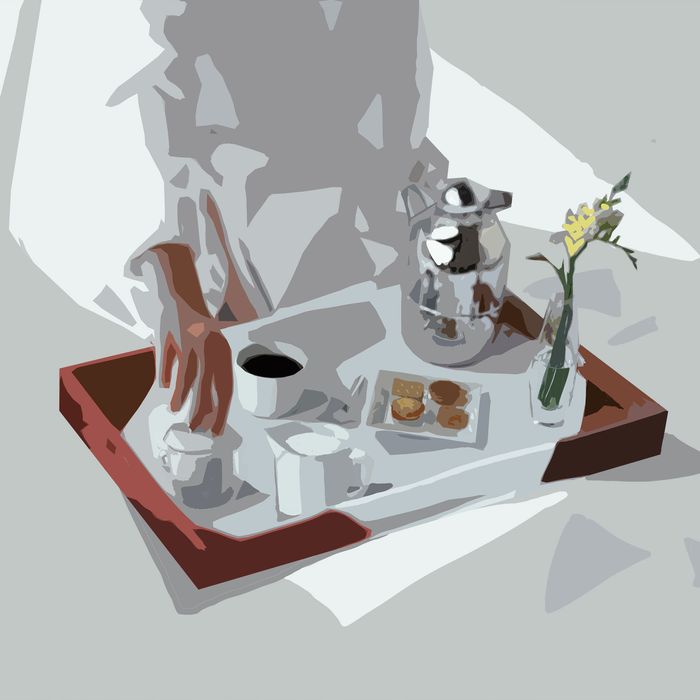 Photo-Illustration: Photo: Ron Berg/Getty Images
Barbara Bohn, 51
Trade Magazine Editor
Chicago, Illinois
I am the managing editor of Hotels Magazine. It's a global trade magazine primarily focused on upscale and luxury hotels. The person we're writing for is the GM or upper manager of a hotel.
We have lots of different print and web deadlines that happen on a daily, weekly, and monthly basis. The magazine comes out ten times a year. We do a quarterly focused on hotel investment. We also have a website that drives a lot of our content. I'm the person who makes sure our trains run on time.
People often misunderstand my role. I'm not a hotel reviewer. We will do a story about a new hotel, but we focus on the ownership of the building, the state of the market, operations issues, technology, design, food and beverage, the restaurants that are associated with it, and the sales and marketing engine that are behind every hotel company. We'll interview the architect and the designer.
We're a really beautiful magazine. We aim to be inspirational as well as realistic, and we cover the upper end of hotels, so we use a lot of beautiful photography. The cover is generally one of the more spectacular hotels that's opened somewhere around the world. Every month, we'll do a visual tour of the cover hotel, so as you're flipping through the pages, you'll see shots of the guest rooms, bathrooms, public spaces, restaurants, and things like that.
The neighborhood where the office is was quite a tough neighborhood for a while and now it's basically a giant suburban mall with high-rises. People who are less familiar with the area will always nod when I say, "Well, it's right near Cabrini Green."
The office is a loft space. We're in the basement. We have these half-windows where we can see people's feet go by. Technically it's an open plan, but we all have high walls around our cubicles, so it's fairly private, except that voices carry. Around the periphery are a few meeting rooms and the offices of the CEO and president. We have a kitchen, which is wonderful. We have teams that switch off weekly to maintain the premises. I'm captain of my kitchen team.
I usually get in fairly early in the morning, like between 7 and 8. The morning is devoted to the quotidian beast that we have to feed. I go through my email. I'm scanning for daily news we can put on the website, and also scooping up information coming in from all the different time zones, that can inform future print issues. A lot of that is investment-driven: This person bought that hotel, this company has made this investment. A lot of financial stuff.
Sometimes going through email is boring. The more technical aspect of my job, which requires content-management systems, sizing photographs and all those things, I find boring. I'd like to offload that to an assistant (who does not exist).
I also do quite a bit of writing and interviewing people. That's one of the most fun parts of my job. I've just hung up the phone with a really cool chef in Shanghai. Recently I talked to an interior designer of hotel spaces. There are sales and marketing experts. I could be talking to someone who heads up F&B for a hotel chain — that's food and beverage. Someone in development for a particular region, and we try to aim higher, so they're usually managers or VP level.
They run the gamut from, you know, Bangkok to Singapore to Paris to South America. That is one of the delights of the job: At any given moment you could be talking to a Frenchman based in Abu Dhabi, or someone who's originally Chinese but has lived in Switzerland for a while, was then in Ecuador and is now based in Spain. They are truly cosmopolitan people, internationals who got into the hospitality industry because they love meeting people and traveling.
It's a calling for many people. It's not just a thing that they get up and do. It's impossible to not have fun talking to somebody who loves their job, who's really interesting, who'll insist the next time you're in Courchevel or Bangkok or wherever, you absolutely have to come visit them. They mean it.
I travel for business about once a month. I love it. Last year it was a lot of domestic and one overseas trip. This year it's turning out to be half and half, which is great.
But it's not just getting on a plane and being in a different place, although I'll never complain about that. I like purposeful travel. I'm going somewhere to meet someone interesting and interview them, or going to say, an investor conference, which isn't boring for me at all, because I'm still new to the business, still learning a lot.
Hotels are obsessed with revenue management, maximizing occupancy rate, and attracting the right kind of customer. It means that a lot of the panels are focused on the financial end of the business, like technology issues, distribution issues. Their traditional model is challenged by OTAs — online travel agencies like Expedia. These websites are slicing a percentage of their revenue right off the top. And then you have the Airbnb threat.
I'll often get requests from different companies to meet with me. I'll meet a CEO, a VP of development or a GM at a particular hotel. The next conference I'm going to, I have probably six or seven of those kinds of meetings set up. It really helps me to meet people and ask how their business is going, and learn more about what they do.
A lot of the time, since we're dealing with investors and owners and CEOs, there's a lot of money there. The running tally I keep in my head so far, I've talked to three billionaires — that I know of. And they're lovely! [Laughs.] My boss said to me early on, a general rule, the higher up you get, the nicer they are. So far, that's been true. The word "generous" comes to mind — not financially, because nobody's throwing cash at me — but generous with their time and their insight.
Someone I interviewed recently had an intrinsic calm to him. It was really nice to be near for a while, because there's a certain freneticism to what I do: You have a limited amount of time with people, you have to make sure the recorder works, that your questions are good, that you're maximizing your time.
The very first face-to-face interview I did for the magazine was somebody who founded a big hotel company in Palm Springs. We were invited to his home to do the interview, which is nerve-racking, because you're bringing video equipment, and you don't want to swing your arms around too much, because you have no idea how valuable that vase over there is.
The person I was interviewing was a master in his profession. He had been in the business forever, had a lot of success, and received a lot of accolades. It's intimidating, because you're asking questions you don't have the answers to. I got this mental picture that when I walked in, I'd lose my balance and fall in the swimming pool. But everything went fine.
The video interview required me to maintain eye contact with him for about 45 minutes and to invite him to share some of his knowledge and reflection. This is the hospitality industry, so there's a certain amount of friendliness and openness and enthusiasm that people have for their jobs. At one point, his wife ran out to get us pastries from the place down the street. So after a while, you forget that that person is "Mr. Important So-and-So." He's just a guy who really knows what he's talking about, and likes talking about what he knows.
You walk in and think there's going to be diamonds hanging from the chandeliers. And his house was beautiful, but it wasn't ostentatious. It was well-decorated, everything was high-quality. Swimming pool in the back. Sunny, bright, serene. I did turn the china around at one point, and it was Spode or something like that. I feel embarrassed that I did that, but I was just so curious. It was really beautiful china.
This is a person who is, if not idolized, highly respected in the industry. And I had three hours with him in his home. It was a really cool experience to have. Afterwards, I couldn't put my finger on it, what kind of experience that was. After I had a chance to think about it, the phrase that came to mind was, "power at rest." The power — not of telling someone what to do or whatever — but he was a fully realized person. The billionaire part seemed sort of secondary. To be next to that — there's a certain calmness that comes when you're with someone at the pinnacle, that I'd like to emulate in my own small way.
When I tell people, "I have to stay at these hotels for my job," they're jealous. I was at the hairdresser last weekend, and I started telling her about the trip I took to Paris, and describing the hotel room that I stayed in, playing up certain aspects about how wonderfully, ridiculously gorgeous it was.
She started laughing and said, "Wait, wait, wait!" She turned my chair around so I was facing the rest of the salon, and she went, "You guys, you have to hear this!" So I had to describe that beautiful hotel room, and the enormous bathtub, and the wonderful-smelling amenities, and the separate dressing room that had a nail dryer in it, to the seven or eight other people in the salon, and everyone berated me for how wonderful the experience was! Just started making fun of me! I got no sympathy for the fact that shortly after I got back, I got a bad cold. [Laughs.]
I've worked really hard for my entire life, at every job I ever had. And I take what I do really seriously. It's not just flitting around, staying at great hotels and availing myself of the spa. I worked a lot of weekends in the past few months. But to be able to lay your head in a beautifully appointed king-size bed at the end of the 16th arrondissement at the end of the day — I do enjoy that part of the job. I will never stop appreciating that.