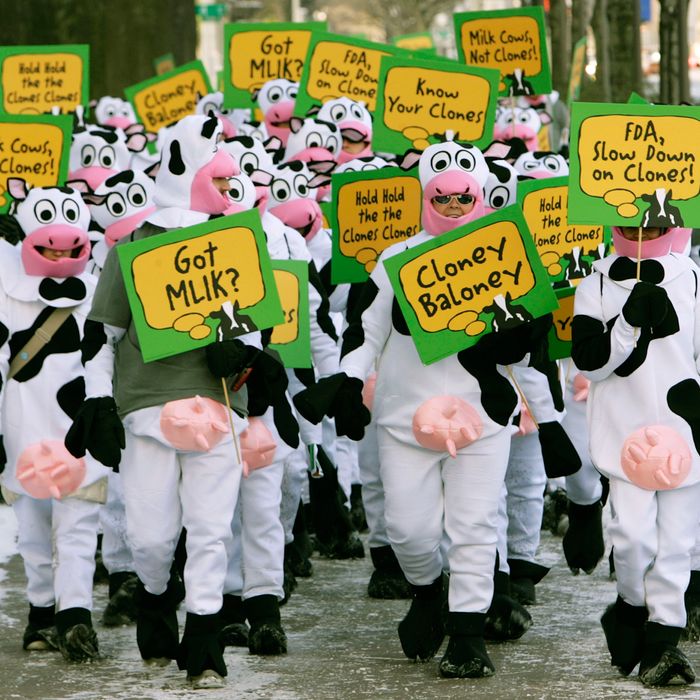 Demonstrators, organized by Ben and Jerry's and food saftey groups, protesting the FDA.
Photo: Chip Somodevilla/Getty Images
Jay Curley, 36
Senior Global Marketing Manager, Ben & Jerry's
South Burlington, Vermont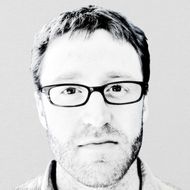 We have a brand that's fun. But people understand — some at least do — that it's more than an ice-cream company. For the last 38 or 39 years, Ben & Jerry's has been a pioneer in terms of how businesses can have an impact on social change in the world.
Our ambition is fairly massive. We're trying to create a new model for how businesses can use their voice to have an impact on important social movements, and show that you can do that and it doesn't hurt your business. As a matter of fact, it may help.
Out of college, I worked out of a design-and-marketing agency here in Vermont. I worked on the Patagonia account. And I read Yvon Chouinard's book, Let My People Go Surfing. I think that was the culmination of understanding that business can have a real impact on social movements, and that in some ways, it has a unique role in society, and a responsibility to speak up around these issues.
I wanted to stay in Vermont. I wanted to be snowboarding. And I wanted to work on the client side for a socially responsible business. So my work options started to dwindle. And then nine years ago, I was lucky enough to land a job here.
There are three parts to it. The first third is probably what comes to mind when you think of an ice-cream marketer: someone who tells the customers about new flavors and gets people excited about our delicious ice cream.
The second third looks more like being a publisher or a media organization, where we're using digital storytelling to connect with our fans, and would-be fans, around our company and our values.
The final third is more like an activist campaign manager, where we're thinking about how we can use the ways that we talk to our fans to further movements that are aligned with our progressive value statement.
It's a hell of a challenge. There has to be balance around those three pillars, because we also have to stay profitable. What we've found is that we're a better ice-cream company because we have values that people can believe in, and we're able to serve the movements because we come with a different perspective, one of a fun ice-cream company.
Last April, there was the Democracy Awakening protest in Washington, D.C., which was this coming together of the environmental movement and the civil-rights moment for the first time, calling on the government to get big money out of politics, to fix issues around climate justice, and to fix issues around civil rights. We were the only business that showed up, which was a little disappointing.
It was my responsibility to bring the team down to do the digital content. It was a couple of days of workshops, and then a big march that ended with an act of civil disobedience at the Capitol Building. There were about 200 activists arrested, including the head of the NAACP, the head of Greenpeace, the head of the Sierra Club, and a couple of members of our board of directors, our social-mission manager, and Ben and Jerry themselves.
The mainstream media didn't cover the event. But we had brought two videographers, a photographer, and a writer, and we published that story that night, with a fairly provocative title: "Why did Ben and Jerry get arrested?" It went viral very quickly, and it crashed our website!
The next day, all of the major media were covering the story. So we were very much leveraging Ben and Jerry's celebrity status to draw attention to a really important social movement.
A couple of years ago, we were focused on getting a deal done at the U.N. Climate Conference in Paris, in December 2015. We were, for almost two years, in relatively constant contact with Avaaz, Greenpeace, and 350.org to understand exactly what they needed. The team was made up of the folks who I sit next to here in Vermont, but also our partners in the movement, our scoop-shop operators around the country — our teams in Paris, in Stockholm, in Sydney — selling Ben & Jerry's ice cream, and doing this work with us.
The big ask that we had of our fans globally was to demand 100 percent clean energy by 2050 at that conference. Ben & Jerry's alone delivered well over 10 percent of the 3 million signatures Avaaz delivered to Ban Ki-moon in Paris. We knew those signatures came from us because people signed up on our website, at our events and that kind of stuff, so we were able to track it.
We sent a big team to Paris to use our digital content to tell people around the world what was happening there. And when they did get the deal in Paris, the team was high-fiving, coughing back tears. Moments like that, it feels like putting those three pillars together is really having an impact, and it feels fantastic.
Ben & Jerry's is a highly collaborative workplace. One of my co-workers and I used to joke that it felt like Aaron Sorkin's version of The West Wing, where we were just going from one meeting to another, talking passionately in the hallway about these important issues. Sometimes, it was about selling ice cream; and sometimes, it was about, What's going to happen when the Supreme Court rules on marriage equality, and that kind of stuff. But we're in T-shirts and flip-flops going through colored hallways, not exactly the set of The West Wing.
It's not all massive social-movement stuff. We recently launched a cereal-milk ice-cream flavor. Pure fun! No higher-level values attached to it! We took over a section of Grand Central, and had a giant ball pit that people were jumping in all day, having a blast. The smiles of the people coming out, the people waiting in line, and our team, those are the moments that we work really hard for.
I live knee-deep in numbers and spreadsheets, looking at media plans or media results or budgets. Even ball pits have numbers tied to them! I know exactly what my ROI [return on investment] was on that spend. We had 7,100 people jump into the ball pits; we served 6,000 people ice cream; we generated 390 million media impressions. We're always thinking about how can we best connect an experience to as many people as possible, and how are we going to know if we achieved that goal? We're going to do some data analysis.
Same with trying to get people to join a movement. We'll do a lot of testing on different ways to get people to sign a petition. We'll try different messages on different channels — like Facebook or Twitter or banner ads — and different images, whether there's just a picture of the Earth or a picture of our iconic cow holding a sign. We apply the science of marketing operations to both selling ice cream and bringing people into social movements. And that's fascinating.
I look at different dashboards to keep track of real-time results of how our content is performing. Back in July of 2016, we published an article on "The Seven Reasons We Know Systemic Racism is Real" on our blog. I didn't write it, but I was overseeing it. That blog post was the seventh most consumed page on our site last year — including the launch of our first-ever vegan, nondairy ice-cream flavors; including all the new flavors; where to find ice cream; all that good stuff. And not only that, but people actually read it. We can see when you go to a website and you spend a few seconds there, and then you go somewhere else. And we can also tell when you actually scroll to the end and you spend engaged time.
We have a mission statement that was solidified in the late '80s, and we have a really activist board of directors. I feel incredibly encouraged by our CEO, by my boss who's the CMO, by the board of directors, and even by Unilever, our parent company — all of those folks are looking to us to push the envelope, to create this new model. I feel totally lucky to have that.
It's also a really heavy responsibility. You are handed this icon of a brand, and it's not just, don't fuck it up; it's, make sure it continues to evolve.
There's no playbook here, and the political landscape, how people consume news and information, how they get involved in movements — all of that is evolving at such a fast pace that we are reevaluating and re-creating how we approach this on a regular basis.
I'm not the best data analyzer out there; I'm not the best creative mind on our team. Far from it. But what I like to come at all of this work with is a balanced approach, and valuing both the analytic, process-driven approach coupled with creativity and free thinking. Being able to bring the two together is one of the things that makes my job awesome. If we're just selling ice cream, for me, personally, that wouldn't be enough.