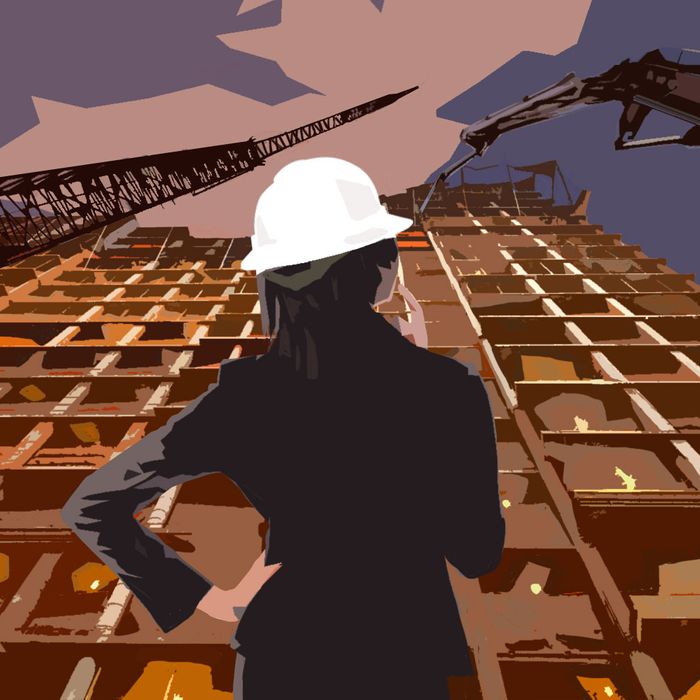 Photo-Illustration: Photo: Lester Lefkowitz/Getty Images
Angelina Perryman
Vice-president of Administration
Philadelphia, PA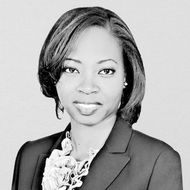 Our company was passed down three generations. It started with my grandfather in Alabama back in 1954. He was a Korean War vet — Purple Heart and a Bronze Star recipient. He learned carpentry and masonry in the war. When he came home, there was no work for him. He did all that fighting and there was no work. So, he became the go-to builder known around town. You can go back Evergreen, Alabama, and see his buildings. It's kind of like the movie Cars where off the highway, the small town isn't what it used to be. But the old buildings are still there. After my grandfather passed, my father worked for some larger firms. He traveled to about six different states before settling in Philadelphia and reestablishing the business.
I used to go with my dad in a hard hat to job sites. I spent a lot of time watching him work, listening on the phone, being around conversations, hearing how he spoke to clients, and making sure people got what they were looking for. I'd hear him take those late-night calls.

Some people would say, "You were working at 10! That's awful." But that was what I grew up with. Not many little girls grow up on building sites. But I think there's a benefit to starting early.
The company's called Perryman Building & Construction. We offer project-planning, management, and construction services. In other words, we oversee the certification and management of building projects. We've had different types of clients from pharmaceutical companies to hospitals, parks, and parking garages. I am in charge of running all the operations.
I officially started working in the office when I was 16, reading contracts and documents. I got to meet new people, and learn how to talk to them. The little things you might not learn in class. I continued to work there while I was studying finance at Temple University. I got more exposure to different departments, and I began telling my dad, "I think we can improve these systems; I think we can make these kinds of changes." Eventually, I worked my way up to my current job.
I usually get up at 5 a.m., which is a pattern that I learned from watching and reading about how other successful people operate. My favorite documentary is about Muhammad Ali. I was also inspired by Walter Isaacson's book about Steve Jobs.
Each day, there's at least one team meeting. Some days, I take a visit to a project site. I'm on the phone a lot. I'm problem-solving the whole time. Most people only understand construction from whatever they've had done in their own home or seen on HGTV. We're really focused on the planning, the thought process that goes into logistics: How will it get executed on schedule, on time?

I have my own office, and the door is typically open. People come and hang out. Sometimes, I close the door, but I worry about doing that because I think it concerns other people, since they are so used to being able to just walk right in. I want to make sure that each person is heard and I want people to feel comfortable enough to raise problems with me. I think my colleagues would say that I work on their behalf. I know they know that I'm always trying to figure out how to fix something, make something better. Talk to me about personal issues with other staff or just unload on me? No, I do not want that.
I think the best part of working with my team, which is about 20 office staff, is when they figure out a solution to a problem. It's almost like watching a child getting a gift that they always wanted. They'll come running to me so excited. They light up. They don't call me boss. I would never want that.
My office isn't really decorated. I have walls that I can write on because we do a lot of team discussions. Most people who work here are visual thinkers. I have a few inspirational quotes from athletes and my family: "The strong will always beat the weak, but the smart will beat the strong," Mike Tyson. Or "Be a standard bear," Angelo Perryman, a.k.a. my dad.
I keep souvenirs from different groundbreakings. There's a mug from our Subaru project in New Jersey and a Rubik's Cube. Sometimes, you remember the different projects, and the sizes and the complexity of them, by what your project partners gave you that day.
I deal with more men on construction sites than I do in the office. That was tough in the beginning. Growing up around it helped, but doesn't really fix it. How you dress, how you carry yourself — I'm still learning, but most of the time, I wear loose-fitting clothes. I wear a jacket. My main focus is nothing too tight. I want people to focus on what I am saying, and I want to command attention.
There was a time when a senator or somebody important stopped by the office. I was wearing my Temple sweatshirt and had jeans on. At that time, I wasn't taking myself seriously. We had some interns who were wearing full suits. But I had seen a lot of examples of business dress from people on the West Coast. I wasn't mature enough to think that anyone would just see me as the owner's daughter. The senator probably didn't care who I was, but I was so embarrassed; it was enough for me to do a lot of soul-searching.
I'd always been warned, "You need to dress right and have your desk a certain way because you never know who will show up." And right around that time, I'd been boasting about how I'm not an intern anymore — and there I was, dressed like a kid.
The first thing they asked was, "What do you do?" Then I realized that people will always look at you one way, but if you also feed into it, you're doing yourself a disservice.
After a while, they stopped looking at me as "Angelo's daughter," and I became Angelina, the operations manager.
Time management is something I'm learning how to get better at. Sometimes, I have to set a lunch reminder on my phone, or I will forget to take a break. When I get home at night, I set a time to turn my phone off. I used to check it constantly, and it's just not productive. The biggest challenge is not talking about work with my family.
The last project we did was a first of a kind — a three-story, ninety-thousand-square-foot building that houses the Children's Hospital in Philadelphia, the city's Health Department, and a free library. It was a public-private partnership. There's a playground, and it's surrounded by residential buildings.
Talk about logistics and planning, and every complexity you could think of. It was expected that I'd lead certain conversations — that I'd talk to the subs, and make sure that everyone in the community knew the status of things. The owner hadn't had a ribbon cutting before. That was a really proud day.
It used to be a rec center and a library. It wasn't very colorful, just a typical one with a basketball hoop. But still, the neighbors told me how they used to play there, and some of them had a really hard time when we had to take it down. Generations of people had used that facility.
Just as we were finishing up and getting ready to open, we put the fence around the playground. And we could see the neighbors' faces peeking through the gate. People were bringing their kids by and trying to see where they were going to play. I heard an older couple talking to each other, saying, "This thing looks really nice." I walked by and didn't say anything.
Right before we demolished the building, took the trees down, and put new trees up, a little girl came up to the fence crying. One of our field personnel was trying to console her. He asked, "What's wrong?" And she said, "You guys took down my sycamore tree." It was her favorite, the one she had always climbed.
I heard the field supervisor talk to her, and he said, "Don't worry, we'll get you a new tree." I later found out that he'd gone and taken a branch of that tree and given it to her.
I could feel the community's nerves and see their attitude change as the building went up. And once it was finished, they were ecstatic. It was such a community-based project. And in that particular project, it was more than just buildings. We left our heart on the field.
My dad says when you finish a project, "You just need to stand back, look at it, and take it in." When you're in the middle of it, you've been so stressed, and you have to keep running because you're already stressing about the next thing. He'd say you have to step back and look at it.
When the building was open, I went to deliver some paperwork, and I saw a bunch of kids playing in this area where you press a button and the water shoots up out of the ground. I remembered when I was a little kid, and dad was talking about how excited he was about a building of his, and I was like, how exciting could it be? But that was one of the times when I could say, "Oh, yeah, I get it now. I get why he would talk about it like that."
When I see our sign, I think about my grandfather. He had to build business using his voice — word of mouth. Imagine if he could have stood back and seen his name on a sign? That would have meant so much.