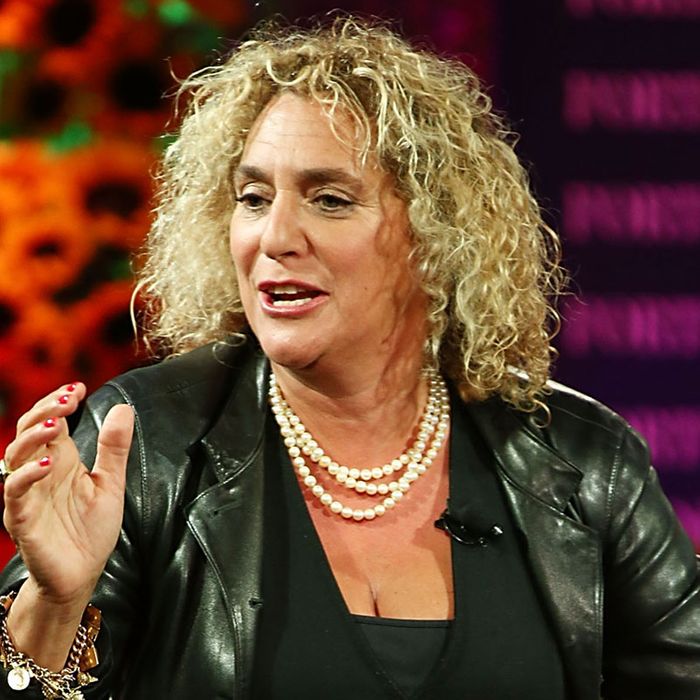 Tamara Ingram onstage at the Fortune Most Powerful Women Summit 2016 on October 18, 2016.
Photo: Joe Scarnici/Getty Images
Tamara Ingram
CEO
New York, NY

I'm the worldwide CEO of J. Walter Thompson. That means I lead the world's first global advertising agency. We've got about 200 offices around the world.
My job is to lead the company and create a sense of where we want to go, what capabilities and talents we need, and what sort of culture can I try and create. My task is sort of like running a football team.
This is a team business, that's the first thing to say. All we have is people, their imaginations, their commitment to each other and to the clients.
What we do as a company is we solve client's business issues and grow their business through creating a close connection between people and the brands we want them to buy.
Pitching for businesses is an interesting set of processes. It's looking at the work and asking whether it really meets the client's needs. How can we impact business, make something popular, affect the culture, and make things very personal, getting messages to individual people on one level, making them be in love with the brand, then making it very popular and resonant in the culture?
The way we're going to be fit to do that as we keep going to the future — and the future is changing very fast — is we diversify our capabilities, and diversify our talent. That's what we're really working on. It's very important that we have great talent. Which means I meet with a lot of interesting people. Every day.
So some of my day is spent thinking about the organization, some of it is thinking about specific clients and their needs, and other bits are dealing with particular pitches. Sometimes I review numbers. Today I reviewed strategic work. Some of it is planning for the future. I reviewed today a meeting for a presentation coming up. Very simple. Very simple! And obviously I met some clients today. Afterwards, I feel like a slouch! I always think that one could always do more.
There are several things I think I do. Firstly, it's inspiring people to be the best they can be and have a big enough vision for their clients. Two is to make sure that through meetings and telephone conversations and through town halls, I don't just sit in this office. I travel around the world. If I'm not in Manhattan, I'm on a plane. I meet our clients wherever I go. I like to meet the youngest people in the office to see what they're excited about. Meeting the team and looking at the work. Three is talking to people and making sure that we can solve problems or barriers that get in the way. Four is enable people to be the best that they can be.
My father was an entrepreneur. I've always grown up with discussing business all my life. I thought I would in the arts or in social work actually. I majored in English and American literature.
I worked in the film business when I left university. I tore out some Yellow Pages and I walked the streets to find companies because I didn't know anyone in film. Can you imagine days I had to walk around? I was freelance and it was very hard to get a union ticket in those days. In between that, I got a temp job at Saatchi. I fell in love with the mix you find in advertising, between creativity and business. I didn't really know what the business was, but I felt it was my home. Later my mom told me I was always obsessed by ads, but I didn't remember that.
I started temping for the whole agency making slides. After about two weeks of doing that, I asked to either work in either the TV department or account handling.
I knew week two or week three this was for me. I was fascinated by business and what makes business grow. Love of creative and storytelling. And psychologically, the study of human beings. It had everything I loved in it. I thought it was most thrilling and exciting place to be. I haven't lost that feeling.
After week two or three, when I moved into account handling, someone said to me, "What are you going to do?" And I said, "Well, I'm going to run the agency."
I was a trainee. I put pads on tables, got photocopies, brought out coffee, listened to people, did a lot of competitive reports. I worked all day and all night until 4 in the morning. I did whatever anybody wanted me to do.
The clients I met were very helpful. They often asked my view. That's quite a hard thing when you first do a job, to learn to have a point of view. The lightbulb was when someone turned around and said, "Tamara, what do you think?" I was trying to get everyone else ready and I didn't realize that I too had a duty to have a point of view. That was a great moment.
It taught me that everyone has a real role. What's fantastic about work nowadays is that young people have skills that anyone a year older than them doesn't have. Because they're a year closer to the invention of what's taking place. Things are changing so fast. Young people really can make a huge difference. When I started, it wasn't quite like that.
The core of advertising is still an extraordinary thought or an idea. It's expressed in many platforms now — it may be a technological idea, it may be a longform film, it may be a rounded TV, it could be an experience. But in the end, it's still that magical thing that solves the problem.
I think we look at a problem in two ways: how they're feeling and how they're behaving. You can see people's behavior online with data — where they go and how they respond and whether they purchase. People are very aware now that we can predict behavior through data. We know certain things make certain responses. So data is incredibly helpful in predicting behavior.
However, it still has a sense of backwardness. Even if it's forward-looking and it has artificial intelligence in it, still it can't predict the magic of what a new idea can make you feel. The important thing is listening to people and understanding how they respond to things and seeing what works and what excites them.
We have many, many methods. You listen to conversations, you go to their homes, you come talk to them. It can be online, it can be offline. The key is to listen with a creative ear. You can't just listen to what people are saying and then respond. You have to take a fresh look, to get a different insight into what they're saying.
In the end, most of our work is driven by what moves us. That gut feel is very important. From neuroscience, we know that emotions make decisions. Data can tell us where to go, where to put it, where people may be, and how they might respond. But how you're going to make people feel comes from a creative leap.
We've just done one little piece of work with a hospital where we created a prosthetic limb for a veteran. It was an idea from Northwell. Rather than saying "We support veterans," they actually solve the problem with them by creating this wonderful prosthetic limb. We created a limb with 3-D printing. It was a creative idea from our creatives, but we did it with them.
It's a real leg, and it will change people's lives and is a wonderful thing, but the thing that emotionally gets you is you see him jumping on the diving board. You feel the release of a human being: This man has come back and he's diving into the pool. Which he would not have been able to do, and to be there with his kids. That moment of diving sums up the human energy. I think that was very moving.
I travel quite a lot of the time. Three out of four weeks. This year, where did I go? San Diego, Singapore, Tokyo, Bangkok, Shanghai, São Paulo. It's never bothered me. I might get tired, but I think, Oh, pull yourself together. This job is about being present for people. I'm going to Japan this week. I was in L.A. for an industry conference. I was talking on a panel about the future of advertising. I've also been in London, doing a review of our office and how we're going to be prepared to be the agency of the future. I've done the same in New York. Same thing in Paris.
As it happens, I'm not a great flier. I do a couple of things. I try not to eat when I fly. I occasionally [laughs] listen to self-hypnosis. It's just a way of getting myself out of the plane, out of the body and my head. That's now scientifically quite good actually.
I ignore jet lag completely. I just go straight onto the time that I'm in and I don't accept that there is such thing as jet lag. My observation is that sun is the greatest kill for jet lag. The other thing that can help is Berocca, if you remember to carry them in your handbag. It deals with your electrolytes.
Since I'm not so fond of planes, I'm likely to do my reading before heading off. Before a meeting, one likes to be thoroughly briefed. It's very important. Whoever you're seeing, it's important to really understand what their needs are.
A brief should be an active thing, so I don't think it's just about reading something. It's about taking a pause, asking what is the objective of a meeting, what are we trying to achieve, what will we feel is important. If I go to visit one of our offices, I think about, Well, have we inspired the office? What will be important to them? – "them" being the clients or our team.
If you're going to give people feedback I don't think it helps just to say "This is great!" or "This is bad!" I think you have to say "I really like this because of X" or "If I were you I'd look at it this way." So people know what to do with it. Otherwise it's negative and doesn't go anywhere.
I confess: I absolutely cannot bear "no." I can't bear negativity. I come from a belief that everything is possible, so when people say "no" or "can't," I don't like that.
I'm not someone who loses it. But I never fume silently. It's no good pretending things are all great. I think you're only a trusted adviser if you have the integrity to tell people what you feel.
If people are asking my view, they'll get my view! [Laughs.] You don't have to agree with me.
People are in their jobs because they believe in what they do. I believe in what I do. Most of the time I'll have a view for a particular reason. I ask people's view because I'm genuinely listening. If someone disagrees with me and says, "No, actually, this is the way we're going to approach it," if I say "Great, go with it" it's because they've persuaded me. Or I let it go to see how it goes.
I did make a mistake yesterday. I was right, but I executed badly. We gave a fantastic health-care conference. Really effective. But I felt one of the moderators was not pulling together the conclusions enough to enable people to get a lot from it. So I said that to the moderator during the process.
For some people that's very good, because they can flexibly adjust, and it's better for the people who are attending the conference. In this case it wasn't good because it upset her performance. It's not really that what I did was wrong, but sometimes to get an effective result you have to think differently about how you're going to get one. The only thing we have in our company is people. And people being the best they can be is the only thing that matters. I didn't get effective results. So I would consider that a mistake.
I'm completely unbalanced about my passion for my work and passion for life. So I do both, completely, full-on. I'm completely enthralled and excited by both those things. I've got two beautiful children, and I'm full-on with that as well. I think you take that attitude, it's not really about time. It's about connection and engagement.