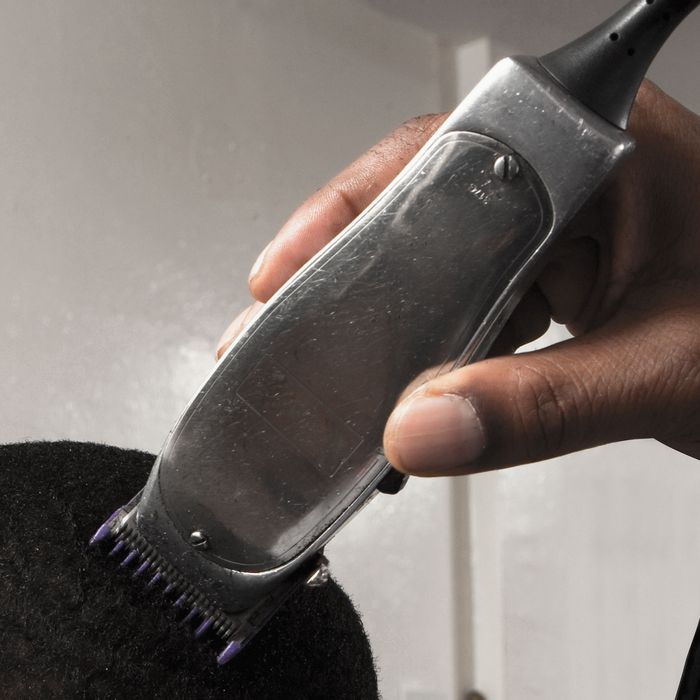 Photo: Moodboard Stock Photography/Getty Images
Dorian Johnson, 44
Barber
Houston, Texas

Barbering is a very interesting job. It can take you down a lot of different lanes. You can be in the fast lane, you can be in the slow lane. You've got to be able to control the speed of it. But it definitely takes you in a lot of directions.
My mother cut my hair with some dog shears when I was 11 years old. I immediately started crying, and she was like, "Stop acting silly and just get your hair cut." My uncle came in and said, "What you doing? They're dog shears! You can't cut his hair with that." She was like, "I'm so sorry, I'm so sorry." It hurt real bad and I had scabs in my hair. I didn't think my hair was going to ever grow back.
She couldn't afford to send me to the barbershop. So later, I happened to come across a pair of clippers and I cut my own hair. And a couple of the kids in the neighborhood, they were like, Can you cut my hair? I was like, Yeah! When you're kids, you really don't have no fear.
Next thing you know, it was the whole neighborhood. And till this day, I've been cutting hair.
I didn't decide to be a barber until '94–'95. I used to work at a manufacturing company. The jobs were slowing down, so they fired me. I didn't want to be fired anymore, I didn't like the feeling of having to depend on somebody else. I just decided, Imma go to barber school and open my own barbershop.
Barber school was fun, but it was draining. I was a little older than a lot of other barbers. They were very immature. But I had the best instructor that I think a barber could ever have. Her name was Ms. Frazier, and she taught us everything. It was Frazier's Barber College.
She genuinely cared about everybody, as well as she genuinely cared about everybody passing the state board test. A lot of other schools out here, they tend to just look at the dollar. Once you pay your money, if you don't pass, that's up to you.
I had met two guys who were in the process of opening a shop. They were looking for investors. At the time, I was getting out of school and I was like, "Well, maybe we do it three ways." So that's what we decided to do. We called it Billboard Cuts. Top-of-the-chart haircuts. We had the shop for about three years. It would have lasted longer, but you've got three guys and we all just tended to bump heads.
After we closed the shop down, I worked for this one lady in her shop for a little over a year, but then I realized a lot of the people were coming there just for me. I tried to change some things up and she was like "No, I like it like this." Well, it was time for me to go at that point.
I worked for another guy for about five months. He had a lot of craziness going on at that point in time. A guy came in there with a gun looking for him, and I was like, "Hey, I can't do this anymore. I need my own space."
I ended up finding this place called Salon Park. It was a new building. I gave them my information, and a couple of days later she called me and she told me, "You need to come in and pick out which suite you want." I picked out Suite 503. I was in there for about five years. And then I changed and I was in Suite 702 for another seven years.
Then I went to another building for two years, and now I'm at a place called Salon Village. The way it is set up is kind of like a mall. You have barbers there; you have hairstylists; you have nail techs; you have aestheticians, massage therapists — all in one area.
Soon as you come into my suite, I have a seven-foot-by-five-foot mirror that's encased in gold framing. People know me by that mirror. When they come in, the first thing they say is, "I love that mirror."
I do men and women. And I do a variety of things other than just cutting hair. I also do facials, and I also do skin care, as well as sell my own products. I do eyebrows, eyebrow color, and color enhancement. We have different services that most places don't have.
Let me put it in my terms — I call it the "Pro-cess." #ThePro-cess.
The "Pro-cess," pretty much, is that we change the whole look of barbers, and the services from barbers. I went to a lot of different barber shows and different classes to come up with it. It took a while to put it all together.
I just introduced it to my clients. At first they were like, "What's going on? We've seen a lot of new changes; you're getting a lot of new products. What are you doing?" They're all loving it. People are asking me for those different services. Right now, the biggest one is the M-4 magnetic facial peel. It's a mud mask that hydrates the skin and pulls out all the impurities, and you use a magnet to take it off. It doesn't hurt at all, and it brings a completely different shine to your skin.
The industry needed to change. I had been working in the suites for so long. There were no other barbers working in the suites but me — everybody working in these big, huge barbershops. And a lot of people sometimes are intimidated by barbershops, especially black barbershops. So I wanted this to have my own identity.
I enjoy my clients. I enjoy meeting new people. I enjoy their adventures. They use me like their counselor, and I'm able to help them look at a situation a little differently. I've watched some clients go from middle school to where they get married and have kids, and the kids are my clients now.
You have to figure people out. If I don't know you and you're just a walk-in, what I usually do is introduce myself, and then I ask you where you work, where you live, family, kids, wife, and what you like to get into. Then I'll let them ramble on throughout the haircut. I really won't say too much about myself. I'll usually give them a little bit, "Yeah, I've been a barber for such and such a while," and, "This is not my haircut; this is your haircut, so however you want it cut is how we're gonna cut it."
As you look at them when they come into the room, you get a feel for what they like. You see it automatically. And once they tell you what it is they want, it's kind of second nature to be like, "Yeah, I figured that's what you were going to get." And you just try to give them the best haircut at that point.
I like the look of when people get up out of the chair and they have a completely different confidence about themselves. They can leave work and have a rough day, and sit down in my shop and get that haircut, and after it's all over, they stand up and look in that mirror, and the smile lights up the room.
A lot of my clients — especially men — they get into a groove of, "This is how I do it," and they don't deviate from that. I just decided I was going to do something different with all of my older clients, and I started telling them, "I'm not cutting your hair the old way anymore."
They've been coming to me so long, they trust me. And their wives all liked it. I got four different text messages from four different wives that said, "I love how you did my husband's hair. Thank you for doing his beard like that. Oh, you put the color on him? I love this, I love that … Thank you, thank you, thank you."
When you own your own business, you're always working. I work seven days a week. But, with me being a single father, I do a rolling day off. So this week, I may be off Monday; next week, I may be off Tuesday; the week after that, Wednesday; and so forth. That way, it gives me days and time to spend with my daughter.
I do a lot. I manage a hip-hop artist by the name of Knesessary. And I have my own line that I'm still working on. It's called Legendary Signature Line. I sell hair products and barber's products. I have hats, T-shirts, barber tapes, razors, shampoo, conditioner, moisturizer, beard-grooming moisturizer, antiseptic, and latex gloves.
I plan on opening a shop. It's going to be suites. I want to have it where it's a nice, safe, clean environment and if you want to hang out, you can hang out. If you want to just come and get your hair done and leave, you can do that. I plan on having that done probably in the next seven to ten years. I don't want to have any investors, I just want to use my own money.
I don't have any regrets. It's been the best thing. I've been all over the world cutting hair. It's definitely been fun. I've had different clients, different NBA players fly me in to cut their hair, different football players fly me in, a bunch of different congressmen, and oil tycoons.
I'm not the type of person who would chase those types of clients. One of my clients is a sports agent, and he would have different clients come in with him. And he was like, "Hey, you might get a phone call from this particular person. I gave them your number, and they're going to be in town." Next thing you know, it'll be somebody from the Celtics, or somebody from the Knicks, or something like that. But I never was the type of person to be like, "Y'all not gonna believe who I met!" because he's an average person just like I am; his job description is just a little different. At the end of the day, we all got a job to do.