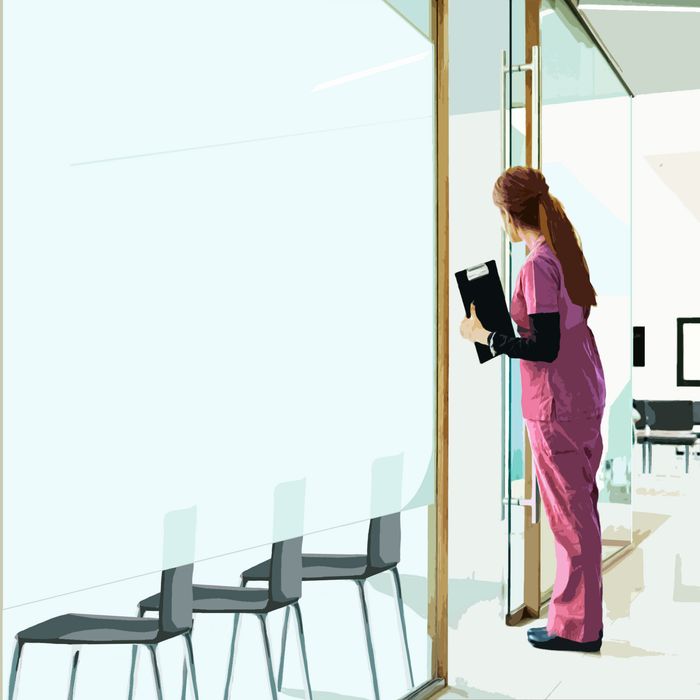 Photo: Dean Mitchell/Getty Images
Paloma,* 25, and Leticia,* 31
Office administration and patient care at a women's clinic
Oklahoma City, Oklahoma
Paloma: I'm a certified medical administration tech. I pass meds to our patients and help take vitals in the recovery room, so one of our nurses can go take a break or go to the bathroom. I do lab work, check patients' pulses, and soon I'll be helping with ultrasounds — hopefully that will free up our medical staff. We are one of only three clinics in the whole state [that perform abortions], and all the doctors who do the procedure come from out of state. We only have one local provider, and Oklahoma has very restrictive abortion regulations.
Leticia: I'm the patient-care coordinator, so I am the first person women talk to on the phone. I set up the appointments, read the 72-hour [wait period] consent information, and take care of admin.
Paloma: Our parents emigrated here from El Salvador in the '80s. We grew up watching them sacrifice everything for their family. My aunt came here alone and raised her kids without a husband.
We were brought up Catholic. At some point, we were even out there with the anti-abortion signs without really knowing what we were doing. You are 7 or 8, and they tell you you're a soldier protecting "babies" — that people inside these clinics are murdering kids. I can remember being by a church and seeing people flip us off, yelling at us. I think most of it was directed toward the adults. I was 8; I didn't know it was just tissue — we didn't know what we know now.
Leticia: I think our parents are still coming to terms with the fact that two of their daughters work in a clinic that provides abortion services, but we are lucky they didn't cut us off. They see it makes us happy and that matters more. Me and my sister are the only Spanish-speakers here, so when I take a call from a Latina, I immediately warm to her. One of the things I have to do is tell her to bring photo ID. Often I hear her heart fall. I say, "If you have a passport, any passport, that totally works. Do you have a consular ID? We are not going to turn you away because you don't have papers."
Paloma: And when they come in and see our faces, they relax, the same way my parents used to relax when they were at the doctor or out shopping and found someone who knew their language. It really helps that Leticia and I work here together because we can talk about it. We can't divulge information to anybody else about our patients — for security reasons. So we can vent to each other, and we won't even need to say people's names.
Leticia: On the drive back to our houses …
Paloma: We have little business meetings. We can talk about how we can make this system more efficient.
Leticia: Mom and Dad know what we do. But we can't tell anyone else because the safety issue is real. We are in a very hostile state, so if anybody asks where we work, we say, "A women's clinic." Dr. [George] Tiller, who was murdered at his church, worked at our sister clinic in Wichita. Our clinic was opened by his former colleague.
Paloma: We need to be careful not to check ourselves in on social media, and we make sure our location-sharing services are turned off. Luckily our faces are not recognized in public … yet. We have to be careful when we are on Instagram or Snapchat. I don't mention where we live, and I make it difficult for people to contact me.
Leticia: I have to be alert, watch my surroundings. I take different routes home from work. When we told our family, we were like, "This is where we work, but please don't tell anybody else." You don't know how other people are going to react. You never know.
We have a fence which keeps protesters off the property, but patients have to drive past them. There's one lady who is out there every day. She carries a little sign that says something like, "God loves your baby." She walks back and forth for 30 minutes, like clockwork.
But the greatest challenge for me is all the laws that we have to follow. These rules make it difficult for us to see as many patients as we'd like. We have a 72-hour consent and wait period law in Oklahoma. That's three whole days. So a patient will come in and they might want to do an ultrasound to confirm where they're at, and then they'll say, "Okay, I want to have the procedure." We still need to raise the 72-hour consent. Sometimes we have to reschedule because we only have doctors twice a week.
When a woman calls to schedule a procedure, I'll get all her information and read her the 72-hour consent over the phone, which is what the state mandates. We have to tell them the doctor who will be doing the procedure, and how many weeks we are estimating that it will be, and we tell them the risk of having the abortion. We have a script. At first, it was taking us about five to seven minutes to read it. I have got it down to two to three. Once we've read it, the 72 hours starts. I always say, "This is information that is mandated by the state — just bear with me, it's going to take me a few minutes …"
Once I have read it, I ask if they have any questions. Most of the time they say no. I've had some patients who will gasp when they hear some of the words being said, and I tell them, "This is stuff that we are required to tell you." I try to read it as quick as possible. I'm not necessarily monotone, but at the same time, you know, I don't … I guess I don't necessarily spend as much time on that, as I do telling them the information about the actual procedure and what to expect.
So when I finish reading it, I say, "Now, this is the information you actually need for the day of the procedure."
Paloma: There's a line in there that says, "As with any medical procedure, there are certain risks." And that's something that I say over and over again before I go to bed. It gets stuck in my head.
Leticia: I've got it memorized like a prayer. Before the clinic even opened, I brought it home with me, and I would read it out loud to my cat because I was so scared I was going to mess it up.
Paloma: Her cat is very aware of the supposed "risks" of abortion.
Not only do we have the 72-hour wait period, we have a 20-week [pregnancy term] limit. The hardest part, for me, is not being able to see a patient because of those regulations. It's strange: Every patient is there for the same reason, but they all have very different reasons as to why they are there. I hate having to send them away, especially if they've already set their minds to it. Can you imagine? They get here, and then they are told, "I'm sorry, no, we can't go ahead with this procedure." For me, that's the most difficult part of the job.
Leticia: Sometimes a woman will call midway through the week and we will have days available for that week, but because of the 72-hour [wait period] we can't see her. And she'll say, "But if you have these days available, why can't I just come in?"
I have to say, "I'm so sorry, but it's the law." There are times when we can only book them at the end of the following week, and that's so hard because I know that if I were in that situation, and I had made up my mind, then to be told that I had to wait an extra week? After I hung up the phone, I'd feel awful. Sometimes there is a patient who might be at 20 weeks, and you are trying to figure out — "Well, our next clinic days are not until the end of next week, so when you come in, you'll be 21-and-a-half weeks," and that's very hard. There's always a reason they've waited so long in the first place.
Paloma: And after 11 weeks, the price goes up.
Leticia: So say someone calls and says she is at 11.6 weeks right now, so this is the price right now — but next week it's going to go up at least $100, and that's the only time we can legally book her in. So the whole 72-hour wait period is really frustrating and we have to be so careful about it, because we are the people standing between the woman and the procedure and these regulations.
It weighs on my mind: I can't mess up the consent form. Even if they are coming in for an ultrasound, I'm like, "Okay, we're going to read you the 72-hour consent information, just to be safe."
Paloma: Many women come alone because the only other person who knows is looking after their kids, but we see many boyfriends and husbands who come and wait all day. They'll sit there, not getting up to leave; sometimes they fall asleep, often they pace around. They're worried, you know — they want to make sure that everything is going okay, so some of them, as soon as you call them, you know they're ready to go back there with their partners. But unfortunately you can't do that for privacy, and of course, safety reasons. Nobody wants a man back there.
Once a patient started crying at the end of the procedure, and I held her hand and said, "Hey, you've done great," and she said, "No, you've been here for more than 12 hours, and you're still being so nice to me."
I don't do it for the money, or so people think I'm a great person — I mean, I can't even tell anyone what I do. I do it because I love being able to help other women.
*Names have been changed