KEY
Beach …….
   Local ……..
    Cheap ……
Hunter
New York

  Hear Russian virtuoso Vladimir Pleshakov channel Rachmaninoff at the newly opened Pleshakov Piano Museum in Hunter, New York (518-263-3333). The building houses 30,000 records and over a dozen historic instruments, including a piano built for Russia's Nicholas I and the world's oldest playable harpsichord, which now resides near the Hunter Mountain parking lot. Spend a harmonious night in the Frederic Church–inspired Olana Room at the new Mountain Brook Lodge (from $250; opening late November; 518-589-6740) in nearby Tannersville.
Riga
Latvia

  Fast becoming the party city of choice for Europe's easyJet set, the Latvian capital also has its medieval charms (the thirteenth-century Doma Cathedral), its complex Soviet past (the Occupation Museum), and a weak currency that keeps it all cheap. Progress comes in the form of a convent turned boutique hotel (Konventa Seta; rooms from $90; 371-708-7501 or konventa.lv), and trendy upstairs boîtes like the nearby Skyline Bar on the 26th floor of the Reval Hotel Latvija (371-777-2222 or revalhotels.com/en), where a pour of black balsam costs about $6.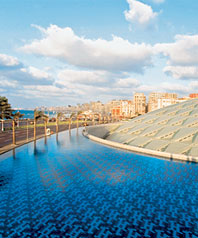 Alexandria
Egypt

  Egypt's Mediterranean coast is as historic and scenic as its heartland. Start at the new 118-room Four Seasons in Alexandria (from $320; 203-581-8000 or fourseasons.com), which opened in July mere steps from the city's best shopping and beaches. Located in the posh San Stefano district, the nineteen-floor urban hotel and spa gives you easy access to the city's cultural wonders, including its new glass-sheathed Bibliotheca. The concierge can arrange various cultural tours, including a dive in the city's ruin-filled Eastern Harbor. Or, go belowground with a morning tour of the Roman-era Kom al-Shoqafa catacombs with elaborate and well-preserved Greek and Phoaronic motifs dating from the first century AD.
Berlin
For backpackers

  For cheap lessons on social history, youth culture, and street food, head for Berlin. Delicious doner kebabs in the city's predominantly Turkish Kreuzberg district are just €3 each, and big steins of beer at many of the teeming bars of Prenslauer Berg go for about €2. Stay at Ostel (49-30-2576-8660 or ostel.eu), a hip new communist-chic hotel where doubles cost $80 and rooms with dorm bunk beds—Eastern Bloc style—cost as little as $20 per person.
Buenos Aires
Olé
Catch the Superclásico soccer match between Buenos Aires's heated crosstown rivals Boca Juniors and River Plate in Boca's home stadium, La Bombonera. The displays of fandom from the bleachers in the historic coliseum are so intense—with pounding drums, war chants, downpours of confetti, and homemade fireworks—that the ground actually trembles. Buy a blue-and-yellow Boca jersey if you're sitting anywhere but the fenced-off River section (tickets generally $2 to $40 each, are available through hotel concierges).
London
Theater immersion
With some help from a connected concierge, find out if Ewan McGregor can pull off Iago in a new Othello production at the Donmar Warehouse (opening December 3), or catch rising-star director Katie Mitchell's radical makeover of Euripides' Women of Troy at the National (opens November 28). For Almodóvar or Avengers fans, the new Haymarket Hotel in the theater district (44-207-581-4045 or firmdale.com) offers a doubles room package (from $750 for two people) that includes tickets for the Old Vic's popular—though not critically adored—stage adaptation of All About My Mother, starring Mrs. Emma Peel, a.k.a. Diana Rigg (closing November 24).
Muscat
Oman
Skip Dubai. For the flavor of 1,001 Arabian Nights, hop on an hour-long flight east to this 2,000-year-old city. Drop your bags in a castle room at the new beachfront Barr Al Jissah resort (from $360; 968-2477-6666 or shangri-la.com), which has Dubai-like luxury but also puts you near important historical sites like the sixteenth-century fortresses dotting Muscat's surrounding hilltops. Call the concierge to hire a guide.
Seville
Spain
Opened on the fringes of the old Jewish quarter in the Barrio Alfalfa, the Corral del Rey (from $395; 34-954-500-708 or corraldelrey.com) is a former private palacio from the seventeenth century with a traditional Moorish-style courtyard set below six mostly modern-design suites. It's steps from Seville's near millennium's worth of cultural must-visits, from its iconic tenth-century Alcázar Palace to the elegant shopping of the Plaza Nueva—where the sleek creations of local duo Victorio & Lucchino's flagship boutique proves why they are known as Seville's answer to Dolce & Gabbana (Plaz Nueva, 10; 34-954-502-660 or victorioylucchino.com). Indulge in Seville's sartorial delights, but not at the expense of its true historic wonder: the fifteenth-century gothic cathedral. The third largest in Europe, the cathedral is capped by a truly godly number of spires and towers outside; inside, everything from priceless Goyas to the tomb of Christopher Columbus are proudly displayed.
Lucerne
Switzerland
Skip town Thanksgiving week for the world's foremost classical piano festival, PIANO (lucernefestival.ch). Luckily for latecomers, there are practically no bad seats in Jean Nouvel's understated, underground, and acoustically magnificent Culture and Congress concert hall. Take a moment before András Schiff's all-Haydn program to linger in the sunset reflecting into Lake Lucerne. Make your headquarters the distinguished Palace Luzern hotel (from $342; 41-414-161-616; palace-luzern.ch).
Pittsburgh
Pennsylvania

  The Steel City's bluesy, greasy jazz sound is still played weekly by living legends like Roger Humphries and Joe Negri at the Rhythm House Café (412-221-5010 or rhythmhousecafe.com) in Bridgeville. Catch next-generation stars like Paul Thompson and James Johnson III at MCG Jazz (412-322-1773 or mcgjazz.org) on the North Shore, or get stuffed on pulled-pork nachos and ten-pound apple pies while listening to, for example, sweet, smoky Kenny Blake at Gullifty's (412-521-8222 or gulliftysrestaurant.com). Catch some sleep and one last jam session at the Palm Court at the Omni William Penn Hotel (from $199; 412-281-7100 or omnihotels.com) before bed.
Vienna
Austria
Fight off the goosebumbs as you're enveloped by the soaring, soprano voices of the Vienna Boys' Choir on their home turf. They perform throughout the winter at Sunday morning mass in Vienna's Hofburgkapelle (hofburgkapelle.at). Get seats in advance for as little as €5, or line up early for standing room, which is free. Sleep and eat at the Hotel Rathaus Wine and Design (from $209; 43-014-001-122 or hotel-rathaus-wien.at).