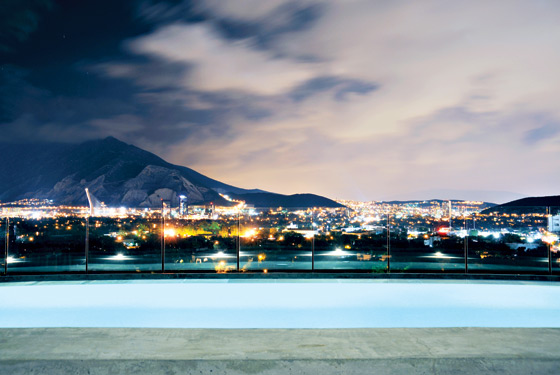 Århus, Denmark
Four nights + Olafur Eliasson + Nordic jazz = $440 for a long weekend.
Denmark's second-biggest city, Århus, a three-hour train ride from Copenhagen, is like a Nordic version of Austin, Texas, crammed with artists, musicians, and students instead of tourists, which means culture and beds (and beer) cost half the kroner. The main draws: the jam-packed beer bars lining Århus Å River; the beautiful four-year-old ARoS (from $15; aros.dk), a cube-shaped museum with works by all the great Danes, from landscape painter P.C. Skovgaard to Olafur Eliasson; and Denmark's longest cathedral, the Århus Domkirke, where you can admire a unique painted-glass (not stained) window behind the altar. Hear what Nordic jazz and chamber music sound like at the glowing, glass-walled Musikhuset (from $25; musikhuset-aarhus.dk). Relive your semester abroad by putting back a Tuborg ($6) alongside apple-cheeked coeds at Café Svej (Aboulevarden 22) on the river. Stay at the waterfront Havnehotellet (from $100; havnehotellet.dk), which looks like an Ikea catalogue come to life.
San Francisco
Two nights + bacon doughnuts + new Renzo Piano building = $226 for a two-nighter.
In a city with no shortage of attractions, Renzo Piano's new, much-hyped, ultragreen California Academy of Sciences building is the one everybody can't stop talking about ($25, free every third Wednesday; calacademy.org). Go to gawk at the undulating flower-and-plant-covered roof, sample the locavore offerings at the hot new Moss Room (themossroom.com), then skip down to the constantly evolving and always cheap Mission district. The low-priced treat of the moment comes from the seatless Dynamo doughnut store (dynamosf.com), which bears a striking resemblance to the Lower East Side's Doughnut Plant. Snack on organic maple-bacon doughnuts ($3 each), then take a bart train downtown toward SFMoMA for the huge group show "The Art of Participation," which includes a daily performance of John Cage's silent score, 4'33" ($12.50, November 8 through February 8; sfmoma.org). Stay a few blocks away at the new Good Hotel (from $99; jdvhotels.com), a former motor court made into a stylish eco-hotel on a Boweryesque avenue still lit by SROs and check-cashing joints.
New Orleans
Two nights + po' boys + art biennial = $175 for a two-nighter.
December is the best time to hit New Orleans if you want les bons temps minus the Mardi Gras chest-flashers. Hotels slash prices all month, and there are also cheap eats and inexpensive art everywhere. The free Prospect.1 New Orleans biennial (November 1 through January 18; prospectneworleans.org) is spread out among museums, churches, and historical buildings throughout the city (a free shuttle bus is provided between locations). For more contemporary-art galleries, stroll the warehouse district. LeMieux Galleries (lemieuxgalleries.com) showcases interesting Gulf Coast artists. For an inexpensive after-art repast, order the eponymous grub at Johnny's Po-Boys ($5.25; johnnyspoboy.com). Put back a few hot toddies sold by street vendors in Jackson Square, or go the dessert-wine-and-cheese route at the Delachaise (thedelachaise.com). Magazine Street still has the best shopping; the cool home store Hazelnut (hazelnutneworleans.com) is co-owned by actor Bryan Batt (Salvatore Romano on Mad Men). The Funky Pirate (tropicalisle.com) in the French Quarter is many locals' blues bar of choice; the Maple Leaf Bar in Riverbend (right near the classic "N'awlins" restaurant Jacques-Imo's Cafe) is a neighborhood favorite with lots of brass bands and funk. Stay at the shockingly cheap—but clean—Le Richelieu, also in the French Quarter ($85, down from $250 during Mardi Gras; lerichelieuhotel.com).
Monterrey, Mexico
Four nights + goat tacos + Mexican art, sans Frida = $785 for a long weekend.
A cosmopolitan hybrid of sprawling, manic Mexico City and mountainous, buttoned-up Geneva, Monterrey is the financial and cultural capital of northern Mexico. Your first stop should be the stellar Latin American art collection at the MARCO ($3.50; marco.org.mx), where you can find the works of María Izquierdo, a contemporary of Frida Kahlo's, through January. Stop for lunch at Horno Tres (horno3.org), a massive former steel mill that houses the modern-Mexican restaurant El Lingote. Or, for more-adventurous fare, try a couple of roast cabrito (goat) tacos ($1 each) from a vendor in the city's packed Main Square. Then hit the Museo del Noreste ($3; 3museos.com), which chronicles the region's rich pre-Columbian culture as well as its recent industrial history. Dress in layers—winter temps can swing from the sixties to the thirties in a matter of hours. Stay at the city's first contemporary nonbusiness hotel, the Habita Monterrey (from $195; hotelhabitamty.com), a sleek yet reasonably priced property designed by Philippe Starck protégé Joseph Dirand, within the quiet San Pedro district.
Philadelphia
Two nights + Iron Chef tasting menu + Colombe coffee = $320 for a two-nighter.
Philly's reputation as a cheaper version of New York is well deserved, and not just because of its cut-rate artists' lofts and liberal BYOB policies. The city's cheap-dining scene has also gotten awfully New York–y lately. In July, Iron Chef winner Jose Garces opened Distrito, where nothing runs more than $16, and even a three-course chef's tasting menu of flatiron-steak tacos only costs $40 (grg-mgmt.com/distritorestaurant.com). The Japanese meat-on-a-stick trend just arrived, too; Yakitori Boy does $1 yakitori skewers on Tuesdays (yakitoriboy-japas.com). And Philadelphia Java Company (215-928-1811)—serving La Colombe coffee and Middle Eastern snacks—might as well be on St. Marks Place. Buzz by the big Frank Gehry show at the Philadelphia Museum of Art ($14; opens November 8; philamuseum.org). Stay at the new, modestly priced Independent (from $139; theindependenthotel.com).
Hollywood
Two nights + weird magic + morning chilaquiles = $357 for a two-nighter.
There are two L.A.'s: the glitzy-glammy one and the kitschy-trashy one. Only the latter—centered on eternally seedy Hollywood—qualifies as both fun and cheap to visit. Base yourself at the Magic Castle Hotel, part of a private magician's clubhouse that lets guests crash nightly magic shows (from $164, shows from $20; magiccastlehotel.com). Everything else you need is right on Hollywood Boulevard. For breakfast, eat Mexico City–caliber chilaquiles at the new Lotería Grill ($9; loteriagrill.com). Watch cutting-edge video art at the LACE center (artleak.org). Catch a Disney movie in 3-D, sometimes preceded by a floor show and the dropping of confetti, at El Capitan Theater (818-845-3110). If you must leave the boulevard, a $1.35 Metro ride gets you to the architecturally stunning Walt Disney Concert Hall, where legendary conductor Esa-Pekka Salonen is wrapping up his final season with the L.A. Philharmonic (go to laphil.com for a schedule). Splurge a little on drinks at Amanda Demme's latest hot spot, the Stork (323-462-3663).
Istanbul, Turkey
Seven nights + ottoman China + rooftop tea = $1363 for a week.
In Istanbul, Europe meets Asia, ancient meets modern, and expensive, happily, meets cheap. For a quick introduction, catch a tram and circle the Eminonu historic district, passing the Grand Bazaar, Galata Bridge, and the Istanbul Modern Museum. If saving money is your main concern, explore artsy Cukurcuma, bustling with antique stores, nightclubs along Algeria Street, and dozens of boutiques. Snatch up some eighties-ish off-the-shoulder T-shirts or salwars at Kop-Art, a shop–cum–art space (kop-art.com). Grab some Ottoman-era ceramic dishes for about $100 at Anadol Antik (90-212-251-5228). Take tea ($2.50) at 5.Kat's rooftop tables on the Bosphorus (5kat.com). Stay at the accurately named Lush Hotel (from $180; lushhiphotel.com).