Bogotá, Colombia
Steamed snook and other delicacies, for a fraction of Paris prices.
The scary, cartel-dominated years of the eighties and nineties are clearly over for Bogotá, which has recently rolled out a much-admired public-transportation system, a network of hilltop parks and museums, and now a world-class restaurant scene that's considerably cheaper than other dining capitals. The most evolved cooking is happening in La Macarena, where Cartagena transplant Leonor Espinosa invents dishes like the fish-egg tartare ($14) at Bar de Leo (571-334-3085), and steamed snook gift-wrapped in a plantain leaf ($21) at Leo Cocina y Cava (571-286-0050). Chefs in the northern part of the city are hyphenating like crazy; at the Franco-Colombian Criterion, the European-trained Rausch brothers prepare a nightly five-course surf-and-turf tasting menu ($50). Spend the night at 104 Art Suites (from $150; 104artsuites.com), which has twenty rooms, each featuring the work of a different Colombian artist.
Extras
• 5 p.m. hot-chocolate santafereño at La Puerta Falsa $2.50
• Pre-Columbian artifacts exhibit at the Museo del Oro $3.50
• Bicycle for cruising the Sunday Ciclovia from Bogotá Bike Tours $14

Tel Aviv, Israel
The off-season, plus a centennial celebration, equals loads of deals.
Tel Aviv's first hundred years may be a mere blip in Israel's history, but, hey, any excuse to throw a party. In December, the new Museum of the History of Tel Aviv Jaffa opens with "Revealing the Hidden City," an exhibit of breathless photography documenting Tel Aviv's evolution into the Mideast's cultural hub. Track the city's artistic underground in Neve Tzedek, a villagelike enclave of galleries and boutiques tucked behind the beachfront-hotel district. Survey the celebrated nightlife with the Tel Aviv Pub Crawl, a rowdy open-air bus tour ($22; pubcrawltlv.com/) that lets you cut past the velvet ropes at clubs like the multilevel High Window, known for its revealing glass dance floors. The mod new Art+Hotel is outfitted with pieces from local artists and offers a weeklong stay through February starting at $163 a night (breakfast included; (atlas.co.il/art-hotel-tel-aviv/).
Extras
• Iron-skillet brunch of spiced eggs, tomatoes, and red peppers at Dr. Shakshouka $8
•Three-course "business lunch" at the Hotel Montefiore $18
• Set of three pomegranate-shaped stacking bowls at the Nahalat Binyamin market $35

Valparaíso, Chile
An underrated cultural epicenter with favorable currency rates.
Like a Latin American version of San Francisco, artsy, freewheeling Valparaíso teeters on 45 precipitous slopes overlooking the Pacific. Always a good bargain given Chile's out-of-the-way location and weak currency, the city expects its creative juices to be overflowing in January, when it hosts an international triennial called the Universal Forum of Cultures (fundacioforum.org). Pay 50 cents to ride an antique funicular up to Cerro Alegre, where the Museo Municipal de Bellas Artes (56-32-225-2332) will soon open to the public. From your cliff-top perch, compare historic paintings of Valparaíso to the real thing out the windows. On top of another hill, Cerro Cárcel, is the ex-Cárcel (parqueculturalexcarcel.blogspot.com), a onetime penitentiary that's now an informal cultural center. Replenish with a chorillana (fries, eggs, grilled onions, and sautéed steak piled high) at rowdy café Casino Social J Cruz (56-32-221-1225), then head out to the disco pub El Huevo (www.elhuevo.cl). Stay at the meticulously designed Cirilo Armstrong Hotel (from $73; ciriloarmstrong.com), whose owners will organize tours to their artist friends' ateliers.
Extras
• Tour of poet Pablo Neruda's nautical-themed house, La Sebastiana$4.50
• Pisco sour and live bolero at the city's oldest bar, El Cinzano $3.50
• Metro ride to neighboring seaside resort Viña del Mar $3.50

Palermo, Sicily
Epic operas, all-you-can-eat seafood, and fewer tourists inflating the prices.
Home to some of Italy's most underrated cultural attractions (not to mention lower prices than you'll find in overtouristed Florence and Venice), the Sicilian capital is a masterpiece of hodgepodge architecture and noisy street culture. Make your first stop the sprawling Palermo Cathedral, a onetime mosque, and the Cappella Palatina, a twelfth-century gem inside the Palazzo dei Normanni. Then stroll twenty minutes to the newly renovated, and aptly named, Teatro Massimo, Italy's largest opera house, where you can buy tickets to see Verdi's Nabucco, now running through January (from $30; teatromassimo.it). Wander the Galleria d'Arte Moderna, which moved last year from the edge of town to a fifteenth-century cloister in the city center (galleriadartemodernapalermo.it). Hide out in the wood-paneled back room of Cana Enoteca (canaenoteca.it) to sample new wines from the up-and-coming Mount Etna region. Now eat! Antica Focacceria San Francesco (39-091-320-264) serves Sicilian classics like arancini di riso (rice balls filled with tomato sauce and peas or mozzarella). Join the nightly street party/gossip session at Trattoria da Salvo on Via Torremuzza, where there's just-caught seafood on the grill (no phone). Stay at BB22, a chic bed-and-breakfast down a blind alley near Vucciria, Palermo's colorful food market (from $165; bb22.it).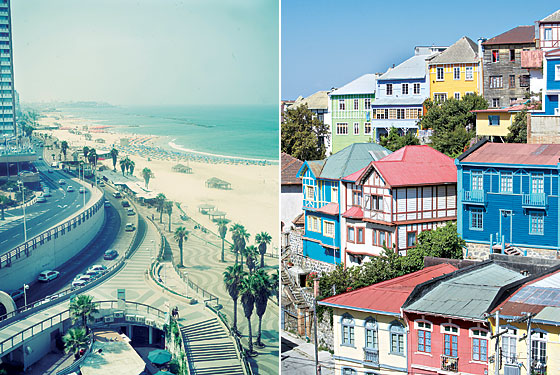 Extras
• All-you-can-eat seafood spread, including wine, at Zia Pina $22
• Nosebleed seat at one of Teatro Massimo's operas $30
• Happy hour with unlimited apps at Kursaal Kalhesa $7

Glasgow, Scotland
Chockablock with galleries, starving artists, and the pubs they drink in.
The Glasgow School of Art used to be a feeder school for the big-league art galleries in London. Now its graduates are sticking around to take advantage of Glasgow's cheap rents, prodigious pubs, and burgeoning art market. If you can, time your trip to hit the Glasgow International Festival of Contemporary Visual Art in April 2010, when hundreds of young artists will be jockeying for their big art biennial moment (glasgowinternational.org). Duck away to the still-grungy West End (reminiscent of a pre-condo Dumbo) to visit former New Yorker Kendall Koppe's Washington Garcia (washingtongarciagallery.com) below a series of disused railway arches. In the same art ghetto sits SWG3 (swg3.tv), a crumbling warehouse commandeered by a rotating group of artists, musicians, designers, and dancers, who often throw circus-themed parties. The finer points of screen-printing and woodcutting are debated in Merchant City at the vegan eatery (and microbrewery, concert venue, and record shop) Mono (monocafebar.com). If you overdo it on heather ale, the Brunswick Hotel (from $80; brunswickhotel.co.uk) and its compact minimalist rooms are a five-minute walk away.
Extras
• A dozen local oysters at just-opened Crabshakk $22.40
• The Malt of the Month at the Ben Nevis whiskey bar $2
• Indie show at the music venue of the moment, Captain's Rest $10