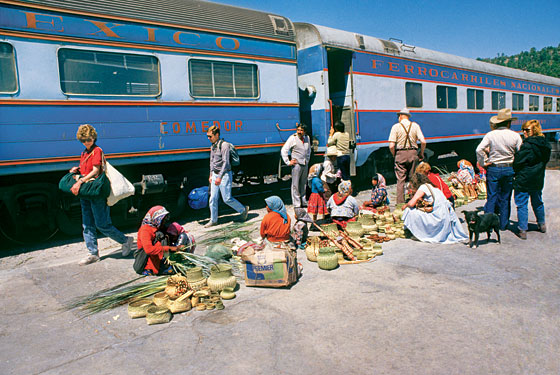 Snorkeling Through Sculptures in Cancún
Perhaps the world's eeriest sculpture park, the newly installed Museo Subacuático de Arte is an underwater collection of 400 life-size concrete "villagers" by artist Jason deCaires Taylor. The last of the figures were submerged in October in the crystalline Caribbean waters north of Cancún, all of it explorable by both snorkelers and scuba divers. Aside from the obvious thrill of inventing a whole new ecosystem (the sculptures are already being claimed by colorful marine life), the artist is hoping to alleviate some of the heavy diving traffic on the Yucatán Peninsula's Mesoamerican Reef. Aquanauts Dive Adventures runs two-tank afternoon tours from Puerto Morelos, just south of Cancún, to the museum's four dive sites ($120 per person; aquanautsdiveadventures.com). Stay nearby at the year-old Dreams Riviera Cancun Resort & Spa, also in Puerto Morelos (from $255; dreamsresorts.com).
Perusing Private Art Collections in Lima
Peru's trove of ancient artifacts may be as dazzling as the Egyptians' or Greeks', but unlike in Cairo or Athens, Lima's most important collections are privately owned—though thankfully open to the public. Start your museum crawl at the Museo Larco ($11; museolarco.org), where Incan, Nazca, and Chimu pottery and gold are displayed in an eighteenth-century hacienda. Close to the coast in posh Miraflores is the Museo Enrico Poli ($18; 51-1-422-2437), home to the country's most important assemblage of pre-Columbian gold and silver, much of it looted by grave robbers. The works are far more delicate at the nearby Museo Amano (free; 51-1-441-2909), whose centuries-old woven textiles mostly originate from Peru's coast. Make your base the JW Marriott (from $160; marriott.com), with prime Pacific views.
Taking a Trolley to the Action in Rio
To get to the drop-dead-sexiest neighborhood in Rio de Janeiro, you need to ride a little yellow time machine. Lurching away from the city's bustling business district, nineteenth-century trolleys, or bondes ($.40; www.sectran.rj.gov.br), make a precarious pass along the Carioca aqueduct on their way to Santa Teresa, a hotbed of restaurants, bars, and, of course, samba. Bar do Mineiro's (Rua Pascoal Carlos Magno 99; 55-21-2221-9227) gallery-cum-restaurant serves feijoada and pasteis—addictive fried cheese snacks—into the wee hours. Samba spills into the streets outside Simplesmente (55-21-2508-6007), while Asia Restaurant (asia-rio.com) has the honor of bringing quality dim sum to Brazil. Stay at the new Hotel Santa Teresa, a sleekly remade former coffee plantation (from $450; santa-teresa-hotel.com).
Riding the Rails in Mexico
Sure, there are more decadent ways to vacation in Mexico, but none are more heartachingly romantic or transporting, literally, than rumbling along the Chihuahua-Pacific Railway ($165; chepe.com.mx). Riders on El Chepe train hop on and off eight stops throughout the first-class, 400-mile journey, spending nights at pueblos like Divisadero, featuring breathtaking views of the sienna-colored cliffs of Copper Canyon, and Cerocahui, a tiny mission town dominated by a 1552 church. Watch the scenery outside the dining-car window unfold like an old Western as you tuck into a breakfast of chilaquiles verdes. After elevations of nearly 8,000 feet, 37 bridges, and 86 tunnels, a final descent terminates at the coastal town of Los Mochis, its waters abundant with shrimp and frolicking dolphins.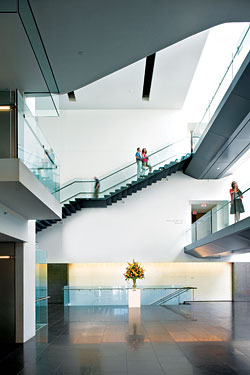 Cheating on the Met in Richmond, Virginia
You've been to the Louvre, the Tate, the Getty, the Prado, and, God knows, the MoMA, but have you ever checked out the art scene in Virginia? Unlike the Met, you can canvas the entire Virginia Museum of Fine Arts (vmfa.state.va.us)—whose offerings include the largest display of Fabergé outside Russia and, starting February 19, works from Pablo Picasso's personal collection—in an afternoon, with time left for a hearty bowl of Brunswick stew in the café. Fresh off a $150 million renovation by London architect Rick Mather, the museum is ready for its art-world close-up, with flowing, light-filled galleries and a beaconlike illuminated tower. Another standout show this season: the largest-ever U.S. exhibition of Virginia-born photographer Sally Mann (starting November 13). Overnight a few blocks away at Maury Place B&B, close to Carytown, Richmond's burgeoning restaurant district (from $159; mauryplace.com).
Listening to Baroque Opera in Vienna
Minted by superstar directors (Gustav Mahler), backed by musicians from the world's most brilliant orchestra (the Vienna Philharmonic), and performing a massive annual repertoire of 50 operas, the Vienna State Opera easily holds its own on the classical scene. But for years, brain-bending Baroque (think marathon staccato coloratura) was banned—until this winter. Under fresh leadership, the opera is reintroducing dramatic eighteenth-century story lines, sometimes on original instruments. Handel's Alcina—packed with three sopranos and countless arias—debuts in November. Spend nights at Hotel Altstadt (from $165; altstadt.at), a high-design townhouse where no two rooms are alike.