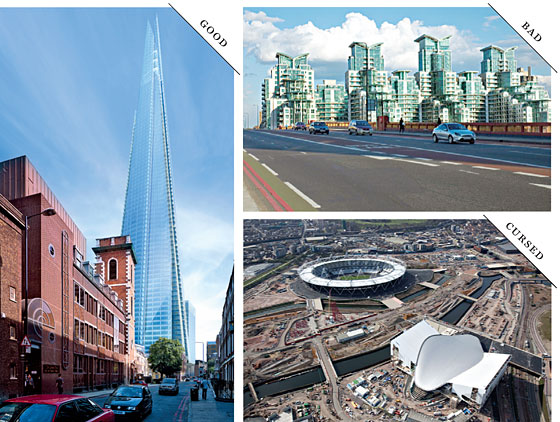 THE GOOD: The building that's truly changing what London looks like is Renzo Piano's the Shard (pictured, left; opening May 2012; 32 London Bridge St.). It is going to be the tallest building in the E.U. You can see it from everywhere. London doesn't have much of a skyline, apart from the Gherkin building, but this is a fantastic addition. I'm also excited about the Raven Row gallery (56 Artillery Ln.), which is a refurbish­ment of two old ­Huguenot houses, burnt timbers and all.
THE BAD: The thing we make fun of the most is the Boxpark in Shoreditch (opening in August; Bethnal Green Rd.). It's going to be a pop-up mall built out of shipping containers. People are saying, "This is disgusting; it's a big developer cashing in on the hipness of the area." But perhaps the most hated development is St George Wharf (top right) by the River Thames in Lambeth. It's one of the best sites in the city, with a view of Parliament, but it's hideously decorative and unnecessarily high-tech.
THE CURSED: The Olympics is basically a poisoned chalice. They're trying to be design-­focused and match Beijing, but it's all done on the cheap. The stadium's major selling point was a kilometer-long video screen wrapped around the outside. But then the public funding was removed. There are a couple of buildings that are interesting, like the Zaha Hadid–designed Aquatics Centre, but many are misses, like the Basketball Arena wrapped in white PVC fabric, and the "Olympic-size" pool in Portsmouth that cost 5 million pounds to build but is two inches too short.