Tulum, Mexico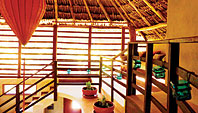 Like to jet-ski? Stick to the all-inclusives along the Riviera Maya. Prefer nature-buffered silence, low-key bohemianism, and a polyglot dining scene? Then push 80 miles south of Cancún to Tulum, where a community of expat Euros and Yanks revel in the tropical hush of the Sian Ka'an Biosphere, a 1.3-­million-acre preserve of waterways used by the ancient Mayans. Two new overpasses on Highway 307 cut the ride from the Cancún airport down to just over an hour. The latest draw is the food scene, led by Posada Margherita trattoria (posadamargherita.com) and the wood-ovened Hartwood from ex–Vinegar Hill House chef Eric Werner (hartwoodtulum.com).
Where to Stay
Assuage ecoguilt at beachfront two-bedroom Behla Palapita (above, right) powered by sun and wind (from $475; four-night minimum; homeaway.com).
Move your entire extended familia into the six-bedroom Casa Buena Suerte owned and styled by Bucks County designer Marc Kenneth, which comes with a pool, kayaks, concierge, and maid(from $7,000 per week; flipkey.com).
You can't get much closer to nature than a canvas-walled cabin at the Cesiak camp within the Biosphere (from $80; cesiak.org).
Harbour Island, Bahamas
The privacy-seeking beachgoer's answer to the gargantuan hotel complexes of the Bahamas, three-mile-long Harbour Island practically defines the word quaint. Flights arrive in North Eleuthera, and water taxis at the port provide a shuttle across the bay. You can reach its unblemished pink sand on foot from just about anywhere—or rent a golf cart (Ross's Rentals; 242-551-3215) if you're feeling impatient. Stroll the streets of Dunmore Town and its pastel colonial ­cottages, grab an Allegra Hicks-designed tunic at the Sugar Mill Trading Co. (242-333-3558), then try to fathom the sublime deliciousness of the lobster quesadillas at Sip Sip (242-333-3316).
Where to Stay
Spread out at Heartsease, a Colonial-style four-bedroom with a huge outdoor living area (from $4,500 per week; harbourislandrealty.com).
Sunny Bullens Cottage sits romantically on a bluff above the beach(from $1,500 per week; mybriland.com/bc.htm).
If you can't commit to a week, opt for a nautically inspired room at The Landing, an 1800s landmark hotel(from $225; harbourislandlanding.com).
St. John, Virgin Islands
"Sleepy" used to be the choice adjective for St. John, known as the most untouched Virgin Island. But then, within the last year, Zak Pelaccio arrived with a fashionable outpost of the Fatty Crab (fattycrab.com), and three new hotels opened in Cruz Bay, and suddenly St. John is in the midst of a Montauk-like boom. Don't worry, though: The best thing about the mountainous little island—its virginal 7,000-acre-plus National Park—remains. Rent snorkels from Low Key Watersports (divelowkey.com), bypassing crowded Trunk Bay in favor of Hawksnest or Caneel Bay. Snag an alfresco seat at funky Miss Lucy's in Friis Bay (misslucys.com), where a Grouper Reuben comes with views of the surrounding islands.
Where to Stay
Take in the south shore's unreal sunrises at Thalassa, a two-bedroom, four-deck aerie on Hawk Hill (from $2,040 per week; vrbo.com/171288).
The hilltop three-bedroom Calypso del Sol has a screened porch, plus its own pool and hot tub (from $3,400 per week; vrbo.com/262712).
Concordia Eco-Studios is made up of eight solar- and wind-powered studios overlooking Salt Pond Bay(from $165; maho.org/estate.cfm).
Ensenada, Mexico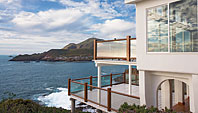 Like any cruise ship's port of call, Ensenada is, on its face, a tourist trap, replete with thumping spring-break bars and ten-peso tchotchke shops. But for those who know where to look, this region, about 80 miles south of San Diego, is also a culinary hotbed. In addition to the city's huge downtown fish market, there's the nearby Guadalupe Valley, whose Provençe-like climate supports more than two dozen wineries—the best among them, Monte Xanic (montexanic.com.mx) and Viñas Pijoan (vinospijoan.com). The flavor of the day is Baja Med, best represented by restaurants like Laja (lajamexico.com), where chef Jair Tellez (hailed by Rick Bayless as one of the finest in the country) has a menu with chilled beet soup and braised rabbit pasta, and the hip, spare Manzanilla (rmanzanilla.com), whose mustachioed chef, Benito Molina, has a food show on Mexican TV. Don't miss the 120-year-old Hussong's Cantina (646-178-3210), where the margarita was purportedly invented in 1941—the rare locals-approved tourist attraction.
Where to Stay
Built by the Nobel Prize–winning physicist Richard Feynman, Casita Barranca, a modest three-bedroom beach house on Playa la Mision (about 30 minutes north of Ensenada), has floor-to-ceiling windows in most rooms (from $185; casitabarranca.com).
Perched on a cliff near the La Bufadora ocean blowhole, Baja Off the Grid (above, right) is a solar-powered home with five bedrooms, each with pillow-top beds (from $150; bajaoffthegrid.com).
La Villa del Valle innkeepers Phil and Eileen Gregory decked out this six-room B&B in the Guadalupe Valley with a winery, yoga studio, hot tub, and heated pool. (from $175; lavilladelvalle.com).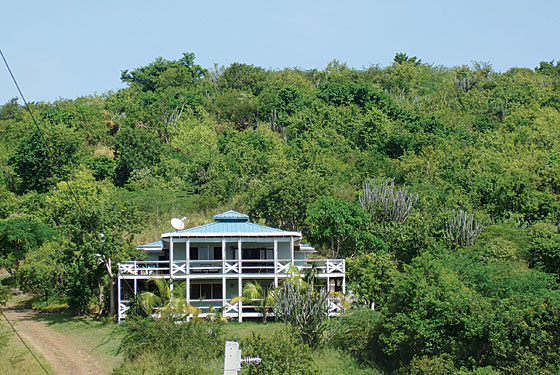 Cartagena, Colombia
Beneath the boutiques and Botox, Colombia's flashy coastal hangout is a swirling mix of coffee-stained cobblestones and urban panache. In the Centro Histórico, watch Afro-Caribbean dancers perform for tips in front of Las Bovedas, an arcade of onetime prison cells, now candy stalls. Take a meal at La Cevicheria on Calle Stuart, a hole-in-the-wall slinging ceviches of every sort. Swing by Gelateria Paradiso on Calle del Estanco del Tabaco, where a leggy, onetime political scientist from Venezuela churns out artisanal ice creams in flavors like curuba and hibiscus-basil-thyme. Leave your pride at the door of the open-sided Chiva tour bus (cartagenamastertours.com), which drunkenly crawls its way, with unlimited rum, to salsa spots and drinking dens before finally stopping at a packed discoteca.
Where to Stay
The modern, 32nd-floor Marbella Beach Loft floats above the beach and has a balcony Jacuzzi (from $199; vrbo.com/358789).
This Old City Penthouse is a 2,000-square-foot three-bed, three-bath duplex and has Colonial architecture, terraces, colorful tiles, and a spa-quality shower (from $135; airbnb.com/rooms/116127).
The ultrahip Casa Lola offers a rooftop pool, ten snug rooms, and globally sourced art and furniture (from $155; casalola.com.co).
Culebra, Puerto Rico
Unplugged castaways on the four-by-seven-mile island, a half-hour puddle-jump from San Juan or an hour ferry ride from Fajardo (though recent service cutbacks have reportedly made the journey longer), seem perfectly happy to leave the piña-colada-sipping scenesters to neighbor Vieques and its recently opened W hotel. BYOB—as in boat—or take a diving lesson (culebradivers.com) to discover the coves of Luis Peña and Cayo Norte. Hike to the sands of Carlos Rosario, Resaca, or Brava, or kayak to Soldiers Point for views stretching to St. Thomas and the British Virgin Islands. Do the most untrendy thing imaginable and watch birds (some 50,000 fliers of thirteen species dwell here), then brag about your species list over fresh grouper and hogfish at El Eden (eledenculebra.com).
Where to Stay
The Singing House comes with two bedrooms, a wraparound porch, and a private dock for sunbathing in solitude (from $275; allvacationreservations.com).
A massive great room and 1,500-square-foot terrace mark this spacious three-bedroom, three-bath house (above) near Zoni Beach(from $1,000 per week; vrbo.com/151448).
The quaint cottages at Club Seabourne, a full-service boutique hotel, are equidistant from town and beach (from $175; clubseabourne.com).