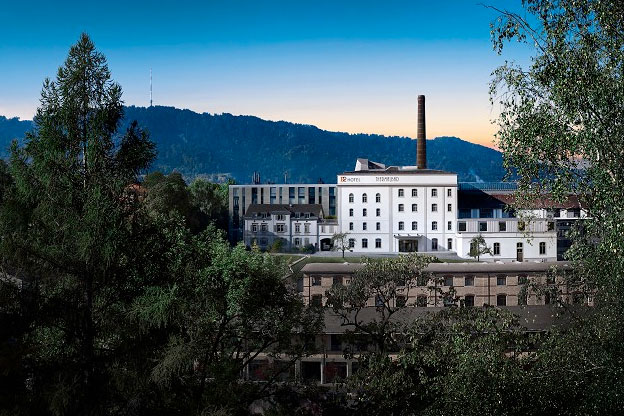 Paul Tobin, 42, president and CEO of a nonprofit, and Lorraine Tobin, 50, interior decorator
Budget: Splurge
Time to burn: 7–10 days
"Wheelchair accessibility is the driving consideration for me. How can I get around? Will I be limited in my ability to move or see things? Otherwise museums and fine restaurants are a must. Both my wife and I are foodies."
Go here: Zürich, Switzerland
Why now: The Swiss city's dining and hotel costs are notoriously high, but in the face of a slumping tourism sector, prices have finally lowered, if only a little. There's a dynamite art and design scene, and the food—if you're willing to pay for it—is world-class. Europe's most progressive city is also one of the world's most handicap-accessible ones, too, with just about every form of public transportation fitted for wheelchairs.
What to do: Don't confuse the Kunsthalle Zürich (Limmatstrasse 270; 44-272-1515) with the Kunsthaus Zürich (Heimplatz 1; 44-253-8484). The former, located in the new multilevel Löwenbräukunst, a brewery turned art complex that opened in September, sits aside relocated "It" galleries like Hauser & Wirth (44-446-8050) and the soon-to-open Migros Museum für Gegenwartskunst (44-277-2050). Not to be outdone, the latter, generally known for its epic modernists exhibits, is running "Paul Gauguin: The Prints" through January 20.
Where to stay: Zürich has seen two important design hotels open this year. At the pricier end, there's the B2 Boutique hotel (from $358; b2boutiquehotels.com) in the Hürlimann Areal, while a new 25Hours Hotel (from $195; 25hours-hotels.com), a low-budget, high-design property on aesthetic par with the Ace Hotel, is opening in November in nightlife-centric Zürich West.
What to eat: Fondue is for visiting bankers on expense accounts and other unhip tourists, so don't even ask. Veer off the lakefront and Altstadt tourist paths and head to bohemian Kreis Three for crispy veal schnitzels and steak tartare with cognac at Piazza (Idaplatz 2; 44-558-9529) in residential Idaplatz. Or linger over a local Züri-Oberland cheese-plate served with pear bread at Restaurant Markthalle (Limmatstrasse 231; 44-201-0060). If you can't resist Altstadt's charm, follow the working-class locals to tried-and-true Rheinfelder Bierhalle (Niederdorfstrasse 76; 44-251-5464), where heaping plates of pomme frites, salad, and cordon bleu are so huge they've nicknamed them Jumbo Jumbo.
Buy this: The 72-hour ZürichCard ($43) includes free transport (including to/from airport) on all trams, buses, boats, trains, and cable cars and admission to 40 museums. It's worth every rappen.
Also consider: Frankfurt, which gets an unfair rap as the armpit of Germany. Truth is, the city's contemporary-art scene is spectacular, and while its quality of life may not meet Zürich's, it's at least cheaper to visit.