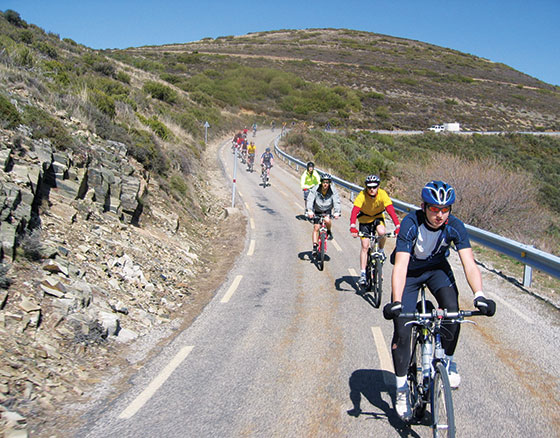 El Camino de Santiago
Of the 250,000 pilgrims who flock to St. James's Way, a path that runs along northern Spain from France to the Atlantic, most make the journey by foot. But the 500-mile thoroughfare is manna for bicyclists, with paths wending through eucalyptus forests, flagstones laid by Romans, and cobblestone streets in quaint towns. Companies like Tour 'n' Ride (tournride.com) and Bike Iberia (bikeiberia.com) will ship everything from mountain bikes to kiddie wheels anywhere along the well-marked path, starting at about $130 a week.
Los Angeles
Despite its notorious car culture, L.A. is home to 123 miles of bikeways, 158.7 miles of bike lanes, and, starting this month, a new bike-share program. Bike Nation (bikenationusa.com) eventually plans to rent 4,000 bikes from 400 stations, which would make it the country's second-largest share after Washington, D.C. Pick up your wheels downtown (memberships are $6 for 24 hours, $12 for three days, or $25 weekly), and then pedal to the Museum of Contemporary Art (250 South Grand Ave.; moca.org), which reopens April 21 with an Urs Fischer retrospective. Afterward, cruise over to the new twelve-acre Grand Park (grandparkla.org), where you can wade through the fountains and catch a show on the performance lawn.
Mackinac Island, Michigan
While the rest of the country embraced automobiles, Michigan's isolated Mackinac Island lobbied to ban them in 1898, lest they scare the horses. Today, bikes and buggies are still the only way to get around the 4.4-square-mile, holiday-happy plug in the Straits of Mackinac connecting Lakes Huron and Michigan. Rent a cruiser from Mackinac Island Bike Shop (from $7 per hour; Main St. nr. Shepler's Ferry Service; bikemackinac.com), and be prepared to weave around the occasional dung pile.
Île d'Yeu, Drance
Yes it's a pain in the derrière to get there: From Paris, you take a high-speed train to Nantes, a coach to Fromentine, and, finally, a catamaran to Île d'Yeu. But once you set foot on this rocky isle, home to some 5,000 Frenchmen, a bike is the best way to take in its sandy coves, wild greenery, and sweeping views of the cobalt Biscay. When hiring wheels from Hôtel L'Escale ($4 per hour or $50 per week; 14 Rue de la Croix du Port; 02-51-58-50-28), ask for a basket: You'll need it to schlep the roe-gilded scallops and sweet crab sold at the daily Poisonnière Hennequin market (3 Quai Carnot; 02-51-58-53-88) back to your villa (from $600 a week; france-voyage.com/vacation-rentals), where you'll do like the locals do and cook your own dinner.