Town:
Lima
In ever-more-glossy Lima, new developments range from the Hotel B (from $315; hotelb.pe), where ­Italian marble meets Peruvian Pop Art inside a Belle Époque mansion; to burgeoning galleries like Mario Testino's nearby MATE; to a growing mass-transit bus system that's alleviated some of the gridlock (JetBlue is also flying there now). But all of this pales in comparison with Lima's exploding culinary scene, anchored by Gastón Acurio's recently reincarnated Astrid & Gastón Casa Moreyra, which is set inside a 300-year-old Colonial hacienda and has a rotating tasting menu. Other additions include IK, helmed by a Blue Hill at Stone Barns alum, where guinea-pig pâté and smoked oysters in a cochayuyo-and-katso-bushi dashi are served alongside the latest crop of quinoa- and purple-corn-infused craft beers.
Country:
Paracas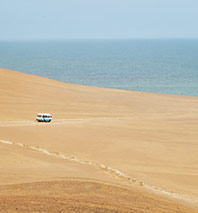 A three-and-a-half-hour drive south of Lima along the Pan­americana Sur Highway, the coastal desert town of Paracas is crawling with adventure in and around the nearly 828,000-acre Paracas National Reserve. For some of the best kite-surfing in the world—considered such because of the shallow waters and reliable ­afternoon winds—you can rent gear on the shores of Paracas Bay (from $53 per session; perukite.com) at the edge of the reserve. About an hour drive from Paracas, there are towering sand dunes near Ica, where you can race 4x4 dune buggies and ride sandboards down the steep slopes (combination tours from $22 per person; huacachina.com); the ­Ballestas islands, a marine wildlife sanctuary, are also close. Back within the reserve, head to secluded beaches like La Mina, Atenas, and Mendieta to spot desert foxes or condors. Come down from your adrenaline rush at the recently opened Aranwa Paracas Resort and Spa (from $180; aranwahotels.com), where the in-house pisco bar serves Peru's signature spirit.
Alt-Escapes
1 hour: Located in the Andean foothills, Cieneguilla is home to a new restaurant co-opened by top chef James Berckemeyer, called La Ladrillera. Base yourself at country-style resort Casa de Campo (from $71; casadecampo-peru.com).
1 hour: Spend a few lazy days in the small fishing and surfing village of Pucusana, staying at the laid-back Peñascal Surf Hotel (from $55; surfpenascal.com) and dining on heaping plates of ceviche.
2.5 hours: The valley town of Lunahuaná offers rural markets, rustic wine bodegas, and, deeper into the mountains, Refugio Viñak (from $137; refugiovinak.com), where you can explore the rugged area on horseback or mountain bike.