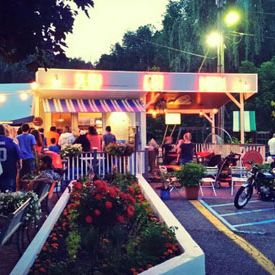 Photo: Courtesy of Four Brothers Drive-In Movie Theatre
Where to Stay
Gather a group of friends for a stay at Salvato Mill (two-night stays from $1,500), a pre-Revolutionary mill house reimagined as a mid-century chateau that sleeps up to nine. Ariana Salvato, an artist and prop stylist whose family has owned the building since 1966, covered the rough stone walls in her father's pen-and-ink drawings, and filled shelves with Mobach pottery from the Netherlands and Cathrineholm enamelware. Stroll the grounds—11 acres of country woodland—and dip your toes into the stream that once powered the mill.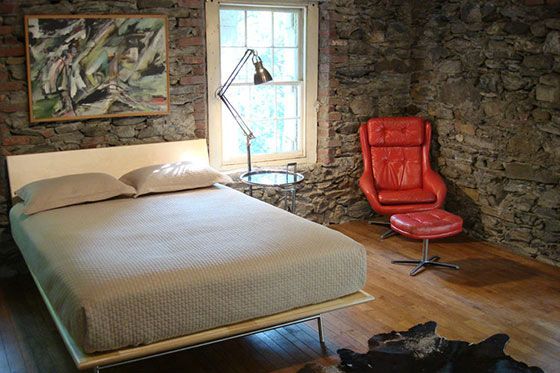 Take in small-town life from the wraparound porch of No. 9 Restaurant and Inn, a six-room bed-and-breakfast (from $170) in a gingerbread-style house in neighboring Millerton. Linger in beds wrapped in Frette sheets, or request one of the two balconied rooms and take your morning coffee al fresco. Choose room No. 2 in chillier weather and fire up the stunning marble fireplace. For dinner, repair to the in-house kitchen for farm-to-table fare, like fried-chicken ballotine from nearby R'Eisen Shine Farm served with cheddar grits, kale, and truffle jus ($26).
Enjoy an updated take on the motor lodge at Sharon Country Inn. The one-level motel is all cheerful white shingles and black trim and recalls the mid-century heyday of family road trips. The 22 rooms (from $159) are thankfully free of the dusty pastel shades that often dress budget hotels. Instead, beds are made of dark wood and dressed with plain beige duvets, with zings of red accent pillows and throws. Grill what you like on the patio or request free passes to Sharon Beach Athletic Club on Mudge Pond. Sign out a bicycle and pedal off to the rail trail a five-minute ride down the road. At night, drift off to dreamland to the sounds of summertime crickets on the property's six grassy acres.
Where to Eat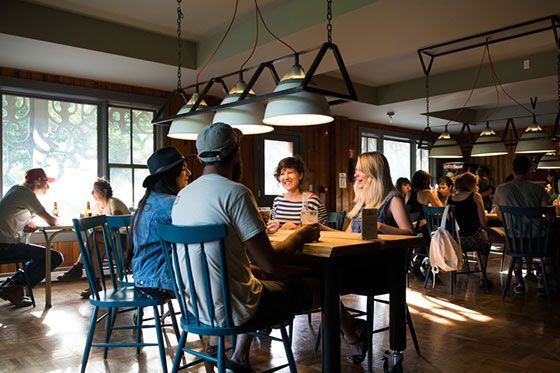 Take a seat at the Lantern's communal table to share charred pizzas (from $10) with locally sourced toppings, like sausage from nearby maker Jacuterie or basil from Olde Forge Organics. For a hearty indulgence, try the carbonara pie loaded with thick-cut bacon, creamy mozzarella cheese, and oozing egg yolks ($12). Husband-and-wife owners Jeff Barnett-Winsby and Bowie Zunino consulted with Roberta's alum Angelo Womack to set up their recipes and cooking methods. Before you go, roast some s'mores ($6 for about eight) over the backyard bonfire or break shots on the billiards table; you're as likely to mingle with locals as you are with weekenders.
Ask for a seat near the fireplace in Serevan's cottage dining room. Twice James Beard–nominated for best chef in the northeast, chef Serge Madikians molds continental and Mediterranean cuisines to fit the seasonal yields of Upstate New York farms. The results: dishes like a creamy spaetzle with fava beans and sweet corn ($26) and an update on duck à l'orange that substitutes apricot and ginger for citrus. Don't skip the falafel plate ($15), an homage to Madikians's Middle Eastern upbringing, served with ten salads and dressings for just two perfectly executed falafel.
Take breakfast to go from Back in the Kitchen and pair cups of Intelligentsia coffee with homemade breakfast pastries, like dainty apricot muffins ($2) and buttery, flaky croissants ($2.75). Eat in for fluffy scrambled eggs ($3.50) and griddled pancakes ($7) at tables made from tractor gears, or take in Wassaic's small-town Americana from the tiny outdoor bistro table. Lunch brings a slate of sandwiches ($7–9) using mostly local produce and meats, like the house-roasted turkey on whole-grain toast ($8). Peek into the kitchen to find owners Kieran and Peggy McEnroe kneading dough for sticky buns–the brother and sister were born and raised on a dairy farm nearby.
What to Do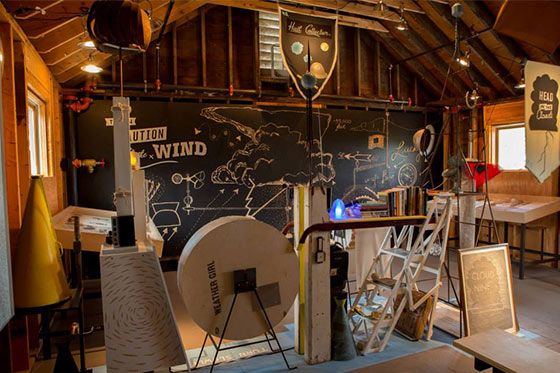 Clamber around the Wassaic Project's seven floors of contemporary art (admission is free). Housed in a repurposed grainery, the gallery features themed shows curated from the project's residency program, as well as emerging artists chosen by a jury process. On the ground floor you'll see Kelly Goff's rotted-out Dumpster lacquered with bright blue glitter; on the sixth floor is Ian Etter's handmade, seemingly NASA-quality space suit. Time your trip for the first weekend in August and immerse yourself in the Project's annual festival ($25 suggested donation), a sprawling showcase of over 100 film screenings, concerts, dance performances, and art installations that utilize indoor and outdoor venues across Wassaic.
Discover artistic gems in the most rustic of places at the Re Institute, an art gallery housed in a faded red dairy barn. Closed since the 1980s, the space sits on a working organic farm and still features metal stanchions where cows were locked in for feeding. Large-format pieces from Judy Pfaff and Gillian Jagger are currently on view; both works are studies of nature and animals. The rotating shows featuring contemporary art from upstate and New York City talents are curated by Henry Klimowicz, a working artist himself—he creates vast, three-dimensional abstract sculptures out of cardboard. Ask politely and he will walk you through his cache of works displayed in a warren of what used to be farm storage.
Get hands-on with some of the area's artisans. Visit Gilmor Glass's open studios to see John and Jan Gilmor create pressed glass and mouth-blown glass artworks (call for hours). Housed in a former car garage built in 1910, the husband and wife work with a team of artists to create individually made tableware, bowls, and vases, as well as custom items like chandeliers and art installations (prices upon request). Sign up for a semi-private instruction session and spend an afternoon making a cup or ornament to take home ($100 per hour). Or pick up blacksmithing skills at Battle Hill Forge, an artistic metalworks studio in nearby Millerton. Fire hooks and coatracks in their 2,500-degree forge when you sign up for welding and blacksmithing classes (from $175).
Expert's Tips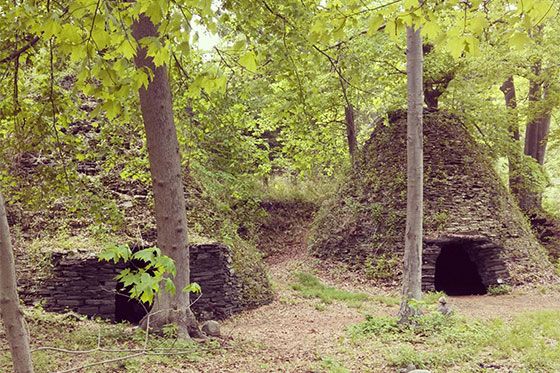 From husband-and-wife artist duo Ghost of a Dream, otherwise known as Lauren Was and Adam Eckstrom, who moved to Wassaic from Brooklyn in 2012.
Our favorite spot to walk the dog is Pond Mountain. A loop trail with several offshoots snakes around a gorgeous lake and through bucolic fields. There is also a path that takes you to the summit for a great view of the area. Even the parking lot is beautiful.
A quick but beautiful hike starts in the small downtown of Dover Plains, about a ten-minute drive from Wassaic. The path leads you through a tree-lined field along the stream and straight into the Stone Church—a stream-fed cave that was a hiding place for the Pequot Indians in the 1600s and a place of relaxation for tourists from the city in the 1900s.
At the intersection of Deep Hollow Road and Route 22 stand two giant beehive charcoal kilns. Built in 1825 for the Gridley Iron Furnace, these kilns produced charcoal so efficiently that all the surrounding hills were soon bare and wood was shipped into the area. You can walk into the ancient structures and experience the incredible acoustics. If you keep your eyes peeled while walking around Wassaic, you will find bright blue "rocks," which are really the slag—glasslike impurities from the iron melting process.
Hunter Bee, a highly curated, quirky place that sells antique furniture, knickknacks, and odds and ends, is a collector's paradise. We bought a glass decanter there that makes our whiskey look even more delicious, and we always have our eye on the beautiful furniture and lamps that move through there.
One of our favorite things to do in the summer is to load up the cooler and lawn chairs into our Volkswagen van and relax at a double feature at
Four Brothers Drive-In Movie Theatre (pictured at top). The snack bar makes an incredible wine milkshake. (It sounds gross, but it's great.) We like the Chocolate Cabernet flavor.
Resources
Peep a stylized photo catalogue of upstate life from one of the Wassaic Project founders. Get to know the locals by clicking the "Ask a Regular" link or the archive page, where old black-and-white images of the hamlet are commingled with portraits of current residents.
Cultural goings-on are chronicled by former New York Times and New York writers Marilyn Bethany and Dan Shaw at Rural Intelligence.
Stay well fed with farm-fresh foods by checking Dutchess County Farm to Table, which maps all the farms, farm stores, and farm-to-table restaurants in the area.
Explore beyond Wassaic using AndNorth.com, a curated guide to the best of Upstate New York by a young team of design-focused artists and writers.