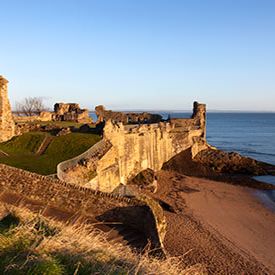 Photo: Mark Sunderland/Getty Images
Where to Stay
Make yourself at home at the Dukeside Guest House, where Susan and Andrew Bissett have six guest rooms (from $167) in an annex of their family's house, located down a quiet lane just a short cab ride from the center of town. A stay there has the easy feel of a visit in a friend's well-appointed spare room decorated with cleanly modern furniture and hints of tartan. Ready for your day's activity in the morning with French-press coffee and proper Scottish-breakfast dishes like porridge oats with Drambuie and cream and Stornoway black pudding topped with poached free-range eggs on hot buttered, toasted muffins.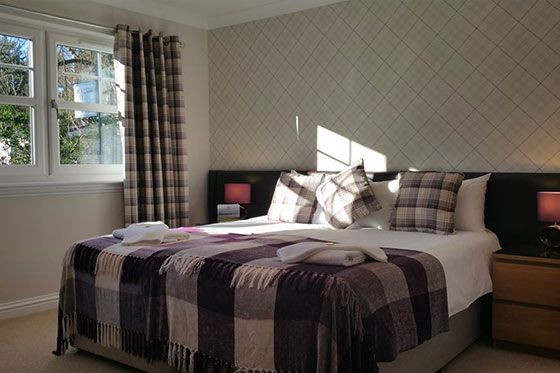 Chill out at the Hotel du Vin, which recently underwent a head-to-toe refurbishment and now offers 37 rooms (from $195) decorated in the manner of a not-so-old-fashioned gentleman's study. Custom-made tufted-leather bed frames cradle hand-sprung mattresses (the better to rest your tired body after a day outdoors). Get clean with powerful drench-jet showers and Miller Harris bath products made exclusively for the hotel, then repair to industrial-chic Ma Bell's pub for a pint and a burger, or, on special nights, live music and cocktail master classes.
Take in the view from the Russell Hotel, which overlooks the bay. Run by the same family for over 30 years, the Russell has 11 rooms (from $157), homily dressed in soft plaids and thick woolen blankets; ask for one of the four rooms boasting a verdant view of the famed St Andrews links. End a day of adventure with dinner at the Russell's restaurant, where chef Michael Smith's menu focuses on seasonal Scottish specialties like beetroot-cured gravlax, lightly smoked Grampian venison saddle, and Perthshire lamb (three courses, $48). Peek into the private dining room in the back; the tiny alcove, dressed in faux-wooden lockers "dedicated" to British Open winners, is where Zach Johnson dined before he won the 2015 match.
Where to Eat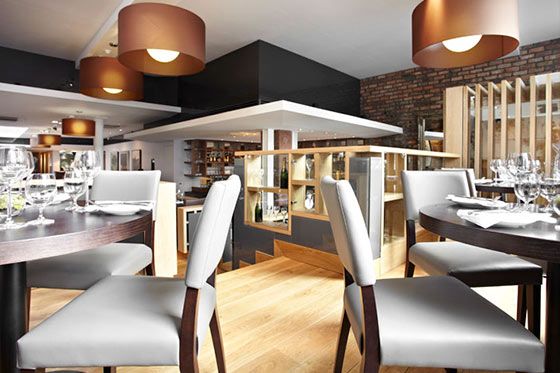 Clean up from outdoor pursuits with a refined meal at the Michelin-starred Peat Inn. After an amuse-bouche and drink in the loungey antechamber, you'll be escorted to one of three dining areas; ask for the Garden Room, where the tall arched windows let in the evening sun and make you feel like you're dining alfresco. The three-course menu of the day ($70) will spotlight the flavors of the surrounding farmland, like honey-glazed duck breast from Gartmorn Farm served with truffled potato beignets and young celery ($40) and quail eggs Benedict with saffron brioche and langoustines ($27). Be sure to hail the cheese trolley when it comes around: The all-Scottish selection includes local samples like crumbly, bold Anster, made of unpasteurized milk in nearby Anstruther ($16.50 for as many as you'd like to sample).
Indulge your inner carnivore at the Steak Barn. Situated on a working farm, the restaurant does one thing and it does it well: steak, barbecued on a 750-degree grill fueled only with wood found—already fallen or dead—on the premises. The slabs of meat, from Highland cattle raised mostly on-site, are presented on butcher blocks with thick hand-cut fries, though there are plenty of shareable, protein-centric plates if you've worked up an extra-large appetite (a Scotch egg, wispy salami slices, $20). Go deluxe with the fat-infused rib eye ($26), upgrade the chips to truffle and parmesan ($1.50), and wash it all down with an appropriately rustic Crail Ale from St Andrews Brewing just down the road ($5).
Make a night of it at the Adamson, a repurposed old stone post office where chefs now convert the bounty of nearby farms into stylish small plates. Grab a table in the minimalist, moodily lit dining room, then taste beautifully composed dishes like Scottish quail with roasted sweet corn ($13), and Shetland mussels with crème fraîche, herbs, and bacon ($25). After a dessert like fresh raspberry trifle ($11), move to the adjacent bar room and hope Rob Webb is working; he'll craft a delectably smoky whiskey sour and serve it to you in an elegant glass bell jar full of peat smoke ($12).
What to Do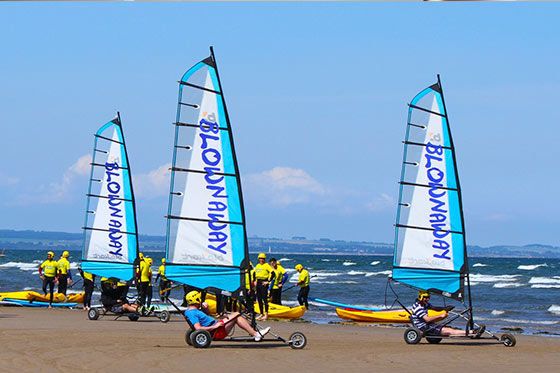 Get extreme with the adventure-sports outfit Blown Away. Twins Guy and Jamie McKenzie both have degrees in sports coaching and will use them to teach you how to operate a land yacht—a contraption not unlike a go-kart with a sail rig that you steer across the packed sand at 20 to 40 miles per hour ($86). If the winds are too mild, they'll happily take you for a ride on one of their Zap Cats ($155), ultra-high-speed catamarans that whip passengers around the water.
Arrange well in advance to rent a mountain bike at Spokes Cycles (from $31) to cycle along the Fife Coastal Trail. The experts in the shop will give you a map and their advice on the best trail-entry and -exit points, depending on your level of skill and how much time you have. Start at the southernmost end of the promenade in St Andrews for the most rugged terrain, dotted with rocky scrambles, steep uphill climbs, and narrow cliffside paths (plan ahead, as some sections flood during high tide); or try a ride starting at Boarhills, where the path cuts into the cliffs and breaks down into gravel, sand, and rocks. From then on, the trail smooths out (and up) with sporadic "dykes"—waist-high stone walls that force you to dismount and foist yourself (and your bike) over. (There are small steps to boost you.) Along the route you'll find striking sea views from above and see fields of heather, bracken, and gorse bush—spiny, thorny bushes that smell like coconuts. Make a day trip of it with a four-hour jaunt to the small fishing village of Anstruther, or stop after three hours when you get to Crail. Double back the way you came, or cut through on paved routes to hasten your return trip.
Plunge below the surface of the North Sea with the cold-water SCUBA specialists at DiveBunker. You'll first have to complete a mandatory one-day dry-suit training, during which you'll acclimate to the chilly 42-to-57 degree temperatures ($258). Arrange in advance to launch one of DiveBunker's fleet of boats directly from nearby Anstruthers to two wreck sites off the Isle of May: The Primrose was a fishing trawler that went down in 1904, and the Anlaby was a coal-carrying steamer that sank in 1873 ($125 for the boat ride, equipment, and two dives). Your reward for braving the frigid depths: vast visibility of up to 25 yards, the better to see schools of cod or pollack and the occasional octopus.
Expert's Tips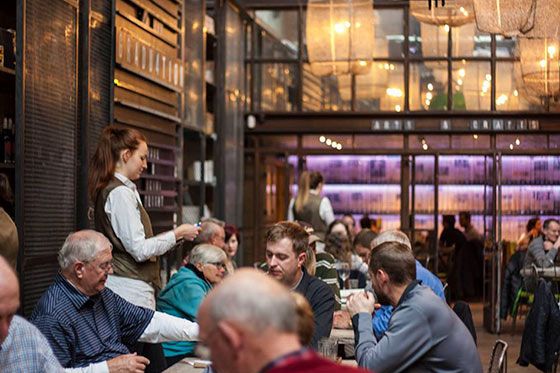 Tjeerd Kruiswijk is a Dutch expat and outdoor-sports enthusiast (he off-roads, rock climbs, white-water rafts, and kite surfs) who has been living in St Andrews for seven years.
St Andrews is the home of many surfers and kite surfers. West Sands Beach is the best spot to kite surf using the westerly winds. There is plenty of space to launch and land and hardly any rocks.
If you're after a true Scottish night with good food and some fun, Forgan's is a great place to go. On Friday and Saturday nights, they push the tables aside, a band sets up in the corner, and everyone joins in a traditional Scottish Ceilidh dance.
On a sunny day, check out the beer gardens at the Rule and the West Port. Both patios are hidden behind the pubs, which is why you'll mostly find locals and students at the picnic tables. And West Port has a selection of 28 Scottish and international gins, so you'll see a lot of G&Ts in their hands.
Those who want a noisy night out should visit the Lizard and the VIC, the two nightclubs in St Andrews. They are smaller than your average nightclub (and can get cramped), but on a good night when the students are in town, it's guaranteed fun. Dance to DJ sets of pop music, electronic, or indie depending on who's in the booth.
If you want a slightly quieter night with live music, visit the Criterion on a Thursday to see the Black Sheep, a group of local guys who play old-time rock-and-roll music. (Think Johnny Be Good.) A French bistro with sidewalk seating during the day, it becomes a great intimate environment after hours.
Resources
Consult local Sara Scott for the best St Andrews to-dos: She runs the Rose Cottage bed and breakfast and its eponymous blog, on which she chronicles seasonal adventures and specialties on offer in St Andrews and its environs.
Check the swells at Magic Seaweed, an international surfing site that allows customizable local wave watching.
Tune into the microclimates along Scotland's coast by referring to XC Weather, which tracks everything from wind to temperature to visibility.