Photo: Courtesy of Rebelde
Where to Stay
Make friends at Maderas Village, an 18-room cluster of palm-roofed palapas in the jungle hillside (from $35). Rooms are minimalist chic, with floors of poured concrete or dark stones, and works by artists like painter and sculptor Tofer Chin on the walls (Chin also created the installations of concrete stalagmites scattered about the property). Take morning yoga classes in the elegant open-air studio ($10), and in the evenings take part in nightly family dinners ($13.50); you might find yourself in conversation with a producer, filmmaker, or performing artist over homemade fried chicken or vegetable lasagna. Stay up late with newfound buddies, sipping a rum cocktail ($8) and playing rounds of croquet on the lawn overlooking the ocean.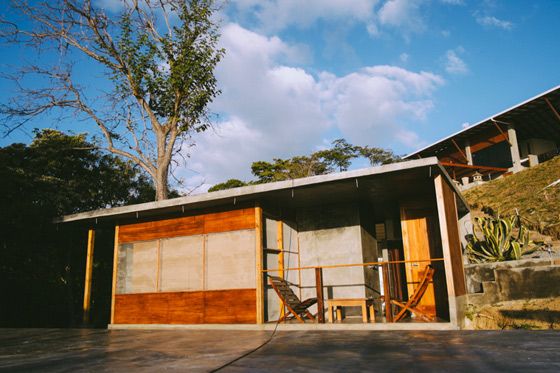 Lounge by the pool at HulaKai Hotel, which opened in February 2015. A grand pavilion (designed by Japanese surf photographer and architect Junya Oishi) and nine basic rooms (from $80) are situated on 12 landscaped acres on a hilltop with an exquisite view. When the midday heat gets too intense, paddle into the swimming pool's grotto for shade—sometimes the small cavern is used as a watery screening room for movies or football games. Five nights a week, traveling chefs like Edd Naud (an Alain Ducasse alum) prepare shared meals; soon, an art center on-site will host artists-in-residence and a gallery.
Get a taste of secluded luxury at Morgan's Rock, a 15-bungalow resort on a private beach just outside of Maderas (from $167 per person). Enter your cabana through an ocean-view patio and lounge on your swinging daybed while the sun sets before you. Drift to sleep to the sound of crashing waves and the sea breezes that come through three walls' worth of screens, which give it an open-air, tree-house feel. On-site instructors will be happy to instruct you in the basics of surfing (there are boards for guests), or navigate a kayak around the estuary snaking through the property's acreage. Scan the sand for nesting sea turtles and visit the working farm on premises, including a shrimp hatchery and reforested tree stands.
Where to Eat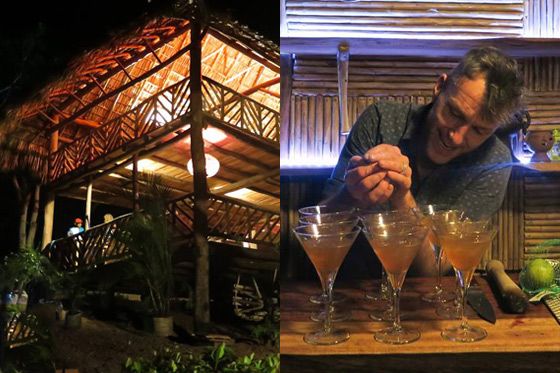 Taste home-cooked Nicaraguan cuisine at Cherranga's, where a family serves guests out of their own kitchen. The dishes—like whole fried red snapper with sautéed onions, fried tostones, and avocado, or freshly caught rock lobster ($20)—are simple, as is the setting, but satisfying. Grab a Coca-Cola or a 40-ounce Toña (the local beer) and lose track of time on the shaded concrete patio of the family's home. There is no address or website, but Cherranga's is easy to find on the road toward Playa Marsella.
Walk to the end of Marsella beach, just a five-minute drive from Maderas, to find El Secreto. Set up for an idyllic beachfront sunset by sipping a piña colada doused in local Flor de Cana aged rum ($4). Since opening in 2014, this family-owned spot has been serving more refined versions of local fare such as line-caught Silver King steaks with a Provençal sauce and homemade pasta with fresh lobster ($22.50). The space is done in dark woods and rough paving stones, but the main décor element is the open patio layout, oriented westward. Just watch out for Paco, a meddlesome blue Urraca bird who tends to hover about.
Arrange in advance to dine at Eden on the Chocolata. Irish expats Aine O'Neill and Cormac O'Reilly opened their bed and breakfast in January; the bar and dining room is set up in a raised, thatched-roof pavilion where four- and five-course meals ($25) with well-chosen wines (from $10) are served. The menu might begin with a savory pineapple salad before moving on to grilled fresh-caught fish, but will always reflect ingredients available locally (pork and chicken from a farmer across the street; eggs from a neighbor's hens). The self-taught cooks make almost everything from scratch, including chocolate, which is oddly hard to find in the area (try O'Neill's honey-and-cocoa-butter truffles). Drop in on the first Friday of each month for pizza nights, when O'Reilly's homemade pies come straight from her outdoor pizza oven ($12).
What to Do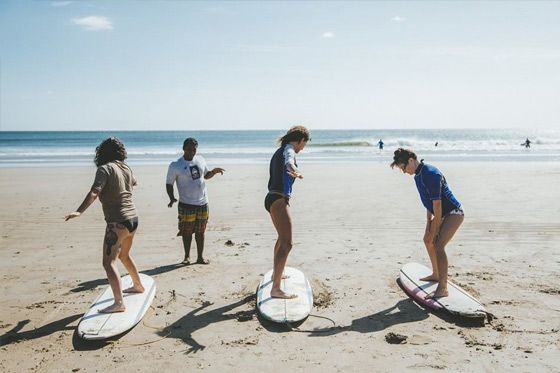 Pick up surfer bona fides learning from Nicaragua native Juan Carlos Sandino ($30 per hour), who's been surfing for 14 years since moving to Maderas from his home on the lake island of Ometepe. His surf school, Rebelde, is named for his young pupils, who fearlessly attack the local swells, but beginners will appreciate Sandino's patience, guidance, and precise attention to the foundations of good form. Sign up in advance to secure a time with Sandino himself (though his two instructors are great, too) and to snag a board, because Rebelde's popularity means he regularly runs out.
Spend the day with Tom and Colin Eberly, a father-son duo from California (Tom's a renowned surfboard-maker) who began their company, Nicasurf International, in 2002. Climb onboard their custom-outfitted 25-foot Super Panga motorboat and take advantage of their deep knowledge of the geography, tidal patterns, and surf breaks. They'll scout the best waves from Yankee Beach to Playgrounds Beach—a span of 30 miles, or two hours by boat—and get you to them fast enough to hit three or four spots in one day ($50). Though advanced surfers will get the most out of the trip, the Eberlys are experts at matching your skill level to the most suitable beaches and breaks.
Strap your surfboard to the rack of an ATV from Pepe's Rentals (from $20) and motor around the region. Their oversized wheels smooth over the bumps of rough roads that make driving bothersome, and open up access to nearby pristine beaches less crowded with surfers. Take one of the three roads that network through the area with spurs that pop you into the various beaches, some of which allow driving, so you can do doughnuts on the sand. Sign up for a two-to-three-hour guided tour and ride up a steep hill to a 78-foot statue of Jesus and around to a nearby beach (from $60).
Expert's Tips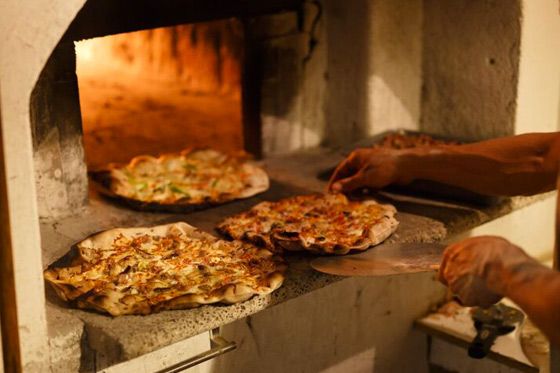 Dunia Burgos is a surf instructor who focuses on female pupils, teaching them how to "dominate" the waves; she has lived in Playa Maderas for eight years.
I've created a very personal workout routine that stretches my limbs with yogalike poses and quiets my concentration, which you really need to surf well. But for interval training and calf-muscle strength (both of which are important for catching waves), I recommend uphill sprints. I use the road toward Cinco Baias, which is steep and extremely challenging. It really gets your heart pumping.
I try to fill my body and mind with healthy food and drink, so I make my own hibiscus tea. I go to the main mercado in San Juan del Sur and buy dried hibiscus leaves, chamomile buds, and pour boiling water over them. Then I add raw brown sugar and let it chill.
When I want a smoothie, I go to Maderas Sunset, right on the beach. They have a lot of delicious options, but my favorites are passion fruit with mango and simple banana with orange juice (about $3).
Pizza is not a traditional food around here, but we used to have an Italian man named Sergio who made the best thin-crust pizzas in his special oven. He died last year, but two American expats keep the tradition going—they have turned his space into an outdoor beer garden, and they do pizza nights on Mondays and Fridays ($20 all you can eat). There is no address, but it's easy to find on the main road in Maderas, between Mango Rosa and the Disc golf course.
Resources
Use the international wave tracker, Surfline, to plan your boarding with maps, tide times, and swell and weather reports. For on-the-ground news, check out Nicaragua Surf Report, where locals offer a play-by-play update on the swells.
See what inspires Maria Delgado, a Managua-based artist and illustrator who spends her weekends near Maderas; follow her local meanderings for ideas about great area beaches, restaurants, and pit stops.
Keep track of what Stephanie Jean is eating through her blog, where she introduces readers to local fruits and ingredients she uses in her cooking. Follow along on Instagram for meals made over a fire in a repurposed oil drum, deconstructed gazpacho, and other treats.