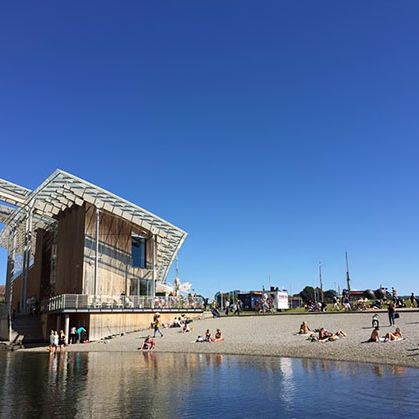 The man-made pebble beach at the Astrup Fearnley Museum of Modern Art is a popular lazing spot for Oslo locals.
Photo: Courtesy of Astrup Fearnley Museum of Modern Art
Where to Stay
Sleep in style at the Thief (from $305), where a massive Richard Prince painting of a cowboy greets guests in the lobby of this design hotel in the Tjuvholmen neighborhood. More original art is found throughout the property — including a few pieces in some of the guest rooms. Expect Norwegian décor like signature woolen blankets by Røros Tweed and down duvets by HØIE. Relax with a steam bath (from $161) in the hotel's Turkish hammam. During the summer months, head up to the rooftop for a view of the water and snacks like oysters on the half shell ($6) or chicken skewers with harissa ($7).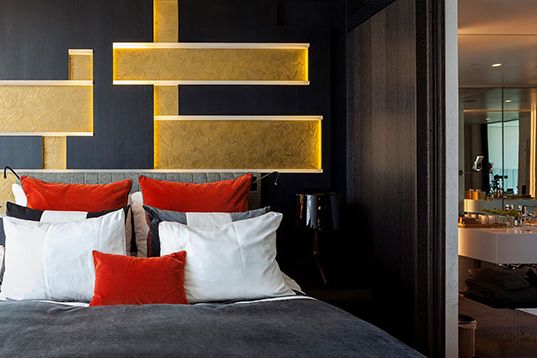 Step back in time at Camillas Hus (starting at $243), a boutique hotel near the Royal Palace that occupies a historic house, built in 1845, that has been in the Steen family for several generations; before that, one of the first tenants was famous Norwegian author Camilla Collett. Each of the seven rooms is individually decorated with classic furniture and stocked with L'Occitane bath products. Try the complimentary breakfast downstairs in Restaurant Ni & Tyve, which includes Norwegian items like smoked salmon and made-to-order eggs.
Get a deal at Carlton Guldsmeden (starting at $110). The Oslo outpost of this Danish chain also boasts individually decorated rooms, featuring wooden four-post beds and animal skins. Warm up in the hotel's sauna or Turkish-inspired hammam; in the morning, breakfast—think eggs, Danish ham, and homemade vanilla yogurt topped with brown-bread cereal and acacia honey—is complimentary for all guests.
Where to Eat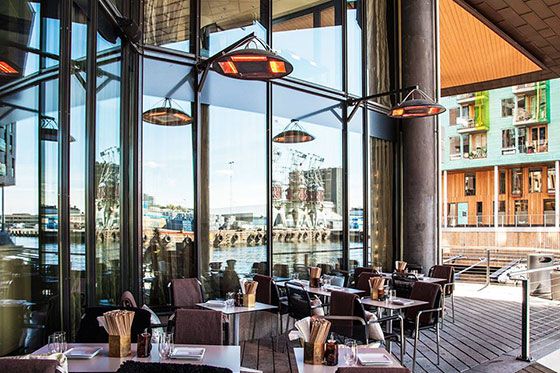 Taste several eclectic dishes at Smalhans, where the cuisine leans Scandinavian with some international flourishes. At dinnertime, the easygoing restaurant serves three-course ($50) and six-course ($74) tasting menus that could include dishes as diverse as a plate of Norwegian cured meats, Vietnamese-style spring rolls, trout sashimi, and chicken cordon bleu. During the day, find lunch dishes like burgers on homemade rolls served at the bar. There's a list of organic and biodynamic wines and a variety of bottled beers and Norwegian brews like Schous, Aass, Ægir and Haandbryggeriet on tap.
Find Japanese-inspired dishes made with fresh Norwegian seafood at
Hanami in Tjuvholmen. Watch cooks in an open kitchen prepare sushi, sashimi, and plates like sweet scallops with an herbaceous green shiso dressing ($29) and rich black cod with miso ($44). At a table with waterfront views, sip a cocktail: Try the Scandinavian Ninja ($18), which blends white rum, dill-infused sake, ginger liqueur, honey water, and pineapple. Then end with desserts like a bright yuzu curd with lemony verbena pesto, raspberries, pine nuts, and meringue ($17) and passion-fruit-and-yogurt sorbet with licorice foam ($17).
Go rustic and dine inside a converted former barn at Kolonihagen Frogner, a seasonal Norwegian restaurant with both indoor and outdoor seating. Everything is made from scratch (including the must-order bread and butter), and local and organic produce gets a strong emphasis in dishes like a salad of roasted beets, quinoa, and locally made feta ($19). Finish with a piece of carrot cake with oat crumble and fresh Nyr cheese ($11).
What to Do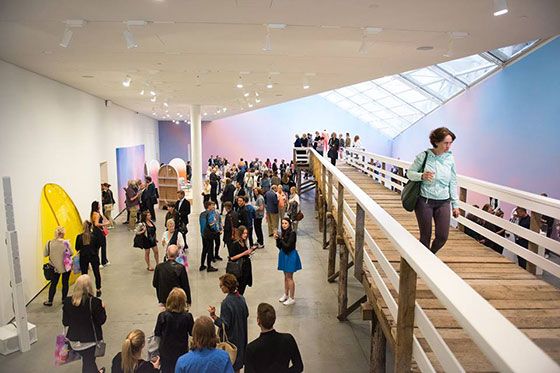 In the Tjuvholmen neighborhood, newly redeveloped with ultra-modern buildings, visit the experimental Astrup Fearnley Museum of Modern Art ($14). Designed by architect Renzo Piano, the airy waterfront facility houses works by artists such as Damien Hirst and Anselm Kiefer. In summertime, join locals sunbathing on the man-made pebble "beach" of the Oslofjord.
Explore boutiques In the Grünerløkka neighborhood like
Skaperverket, a collective selling clothes, jewelry, and gifts by independent designers. Then walk across the Akerselva River and check for new exhibits at the Norwegian Centre for Design and Architecture. Be sure to stop by the organization's design shop, carrying books, jewelry, and gifts by Norwegians artists and designers. Then walk ten minutes north on Hausmannsgate to the slick Mathallen food hall and and grab a snack from one of the many vendors: Vulkanfisk has fish and chips, mussels, and Norwegian fish soup, while Smelteverket pours craft beers on draft. Finish the day with a leisurely stroll back across the river to
Popsenteret ($12), a museum dedicated to Norwegian pop music where you can create your own song and even design the record sleeve.
Compare modern and traditional Norwegian art and architecture, starting with a visit to the newly reopened Kunstnernes Hus ($9), an artist-run space. Then walk down the hill to the Norwegian National Gallery ($12) to see the work of Edvard Munch (The Scream is on display here). Use the same ticket to enter the nearby Museum of Decorative Arts and Design and peruse a huge collection of Scandinavian furniture and clothing designs from the 20th century.
Expert's Tips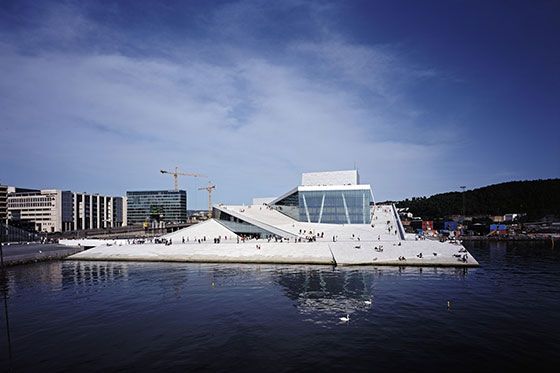 From Pia Myrvold, a Norwegian artist and designer whose work has been exhibited internationally. Myrvold's art employs new and unexplored media like 3-D animation, painting, video, and more to examine the exchanges between humans, emotions, and new technology.
Oslo has some fine galleries that keep a good international profile, such as Galleri K, OSL Contemporary, Standard, Gerhard Gerner, and Galleri Riis. These galleries are well-known among the globe-trotting art-fair visitors and show much of the same trending art you will find in London or Berlin.
Many smaller galleries work hard to promote lesser-known and young artists. The Galleri Fineart at Tjuvholmen has a large selection of Norwegian artists and interesting exhibitions that reward the home scene.
For walking in Oslo, one must pass by Snøhetta's landmark opera building, the famous Art Nouveau monuments by Gustav Vigeland, and the collector Christian Ringnes's Ekebergparken sculpture park. If you have a car or want to pass some unique landscapes by train, there are great one-day art destinations around Oslo: Henie Onstad Art Center, Galleri F 15 in Moss, Telemarksgalleriet Notodden, Galleri Svae in Gjøvik, Vestfossen, and Kistefosmuseet.
Resources
Read up on Oslo's dining scene with this thorough website maintained by restaurant expert Anders Husa, complete with gorgeous food photography and a map of his favorite restaurants in the city.
Learn about current events from Norway's largest student newspaper, Universitas, based in Oslo.
Grab a copy of the fashion magazine