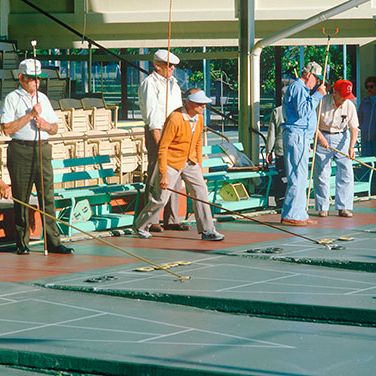 The St. Petersburg Shuffleboard Club was founded in 1924; this vintage photo is from the '80s.
Photo: Visions of America/UIG via Getty Images
Where to Stay
Nestled into a quiet side street in downtown Sarasota, Hotel Ranola is a 1920s-era Art Deco hotel with just nine rooms (from $150), each appointed with full kitchens and retro-colorful décor, and some with en suite Champagne bars. It's one of relatively few boutique options downtown, and it's conveniently located within walking distance of the bayfront marina, the funky Burns Square arts district, and the lush Selby Botanical Gardens.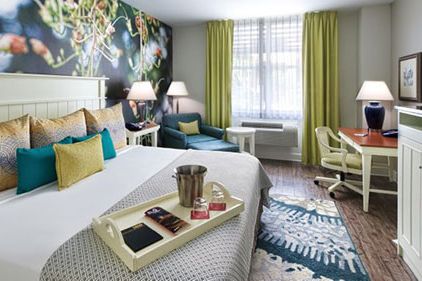 Chain options abound in and around Sarasota, but the Hotel Indigo is a great mid-range option (from $200) for its modish sensibility. Located downtown with views of Sarasota Bay (ask for a north-facing room), Indigo gets high marks for its oversize showers, ecofriendly touches, and natural aesthetic.
For something on the quieter side, head to the beachfront Rolling Waves Beach Cottages (from $175) on Sarasota-adjacent Longboat Key. Each of the eight units has a cozy Old Florida vibe with its own kitchenette and patio, and the property comes with BBQs, a fire pit, and plenty of umbrellas and chairs for the private white-sand beach mere steps away. The attentive manager, Shelley, lives on-site and has a wealth of information and advice about the area.
Where to Eat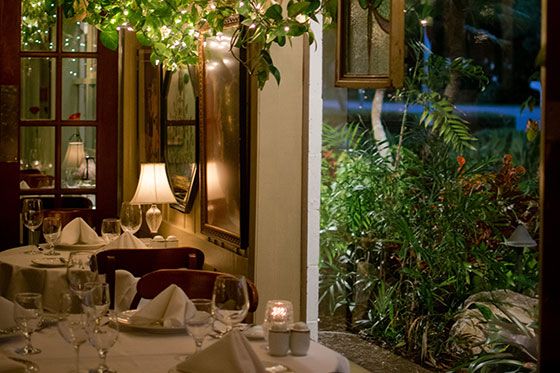 Occupying a former Pizza Hut in a not particularly glamorous stretch of Route 41, Le Ahn's is a family-run Vietnamese restaurant that turns out a large selection of Vietnamese classics, along with some lesser-known regional specialties. The phô ($8.50) is solid. But you should try No. 80 (grilled pork chop with shredded pork skin and meatloaf on broken rice, $10.25), No. 12 (grilled ground-shrimp patties with vermicelli and rice paper, $15), and a jackfruit milkshake ($3.50) while you're there.
Located at the end of a residential side street near the boatyard in Cortez, a working fishing village, the Star Fish Company, a casual market and dockside restaurant, is the place for local seafood like blackened grouper sandwiches ($13), meaty peel-and-eat shrimp ($8), grilled pompano ($14), and chilled stone crabs (market price, when in season). Order at the counter, then grab a picnic table and watch the fishing boats unload while you wait for the freshest catch in town.
In a historic wooden cottage surrounded by swaying palm trees is Euphemia Haye, one of Longboat Key's most secluded restaurants for nearly 40 years. Chef-owner Ray Arpke and his wife, D'Arcy, turn out pepper steak rolled in cracked peppercorns with orange-brandy-butter sauce ($54) and roast duck filled with bread stuffing ($37). If a sit-down dinner isn't in the cards, grab a cocktail and dessert at the walk-in-only Haye Loft upstairs, which has live music on weekends and a more casual, lounge-y vibe.
What to Do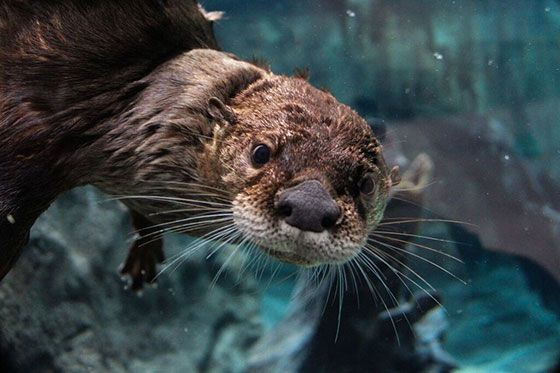 Start your trip with a dose of culture thanks to this arts-and-crafts-focused day. Begin at the John and Mable Ringling Museum of Art ($25), housed in the circus magnate's pink Renaissance-style estate, which in December 2016 opened its first permanent wing dedicated to modern and contemporary art. From there, shoot west to visit Korean master ceramicist Ki Woon Huh, who has transformed his personal home into a public studio, filled with stunning nature-inspired porcelain pieces that veer from the functional to sublime (free; email in advance for an appointment). Achieve a moment of serenity now in his hand-built wooden teahouse in the backyard before breaking for lunch at the delightfully tacky Linger Lodge, a taxidermy-filled southern dive in the middle of an RV campground. Finish your day with a hands-on workshop at the Sarasota School of Glass ($40 to $80), where you'll fuse, grind, and fire glass scraps into surrealist, gift-worthy bowls or vases.
Take a trip to the Mote Marine Laboratory & Aquarium on City Island ($20), where you can visit with resident manatees Hugh and Buffet and sea turtles Hang Tough and Harry, or take an ecoboat tour in Sarasota Bay. After admiring the sea life, head to the Florida Maritime Museum (free), a converted schoolhouse chock-full of boating and fishing paraphernalia, with exhibits on waterfowl decoys and heritage-skills classes like net mending at the adjacent Folk School. Pick up a nautical antique at The Sea Hagg, a curiosity shop across the street, then enjoy the sunset at the white-sand and mercifully empty Whitney Beach on Longboat Key. Grab a beer and a namesake fried hot dog at The Old Salty Dog on your way back to town.
Stop by the Women's Exchange consignment shop in downtown Sarasota's funky Burns Court area, a veritable wonderland of home furnishings, costume jewelry, and vintage clothes, with all proceeds benefiting local arts organizations. Then head to nearby Palmetto to visit the Southeastern Guide Dogs campus, where whip-smart Labradors and retrievers are trained as service dogs; the school encourages visitors to play with puppies and take a blindfolded walk with a dog-in-training. Then drive over the Sunshine Skyway Bridge to nearby St. Petersburg to play on one of the 70-plus vintage courts at the St. Petersburg Shuffleboard Club, the largest shuffleboard club in the world — aim to come on a Friday, when it's free and open to nonmembers. On your way back to Sarasota, stop at Memories Lounge (a fantastically divey bar adjacent to a liquor store in a strip mall near the airport) for karaoke and pool with a mix of locals and Ringling College art students.
Expert's Tips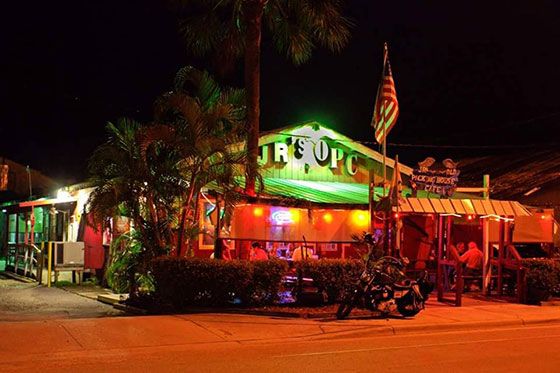 From Judi Gallagher, chef, writer, and culinary director for ABC 7.
JR's Old Packinghouse Cafe is the quintessential dive. Located in an old celery-packing house, it offers cheap drinks and live rockabilly music. But the best part is that JR [the owner] has his Cuban auntie in the kitchen, and she makes the most incredible authentic homestyle Cuban specials. Note: JR's was recently closed due a fire, but is expected to reopen in February 2017.
Not as affordable as before the rustic-chic trend took wind, but Sarasota Architectural Salvage has lots of unique pieces, and they can ship.
In the morning, I like to watch the old Italian men who come in to Piccolo Italian Market & Deli for their daily espresso and gossip. They take off before the lunch rush for meatball sandwiches and homemade sausages, on custom-made bread that tastes straight out of New Jersey.
When the Ritz Carlton Beach Club was built, this old-school tiki bar, which was located on the property, was grandfathered in — so it's still there and open to the public. This is the place to watch the sunset on Lido Key, and there's always a great mix of hotel guests and local characters hanging out at the bar.
Resources
SRQ Magazine and Sarasota Magazine are the two leading lifestyle monthlies; both do a good job covering arts, culture, and food, and both have useful websites for restaurant and activity recommendations.
Marina Jack, on downtown Sarasota's bayfront, is the starting point for deep-water fishing excursions, waterfront dining, live music, and more.
Sarasota Bike Tour offers tours of historic downtown, Siesta Key at sunset, Myakka State Park, nighttime rides, and more.