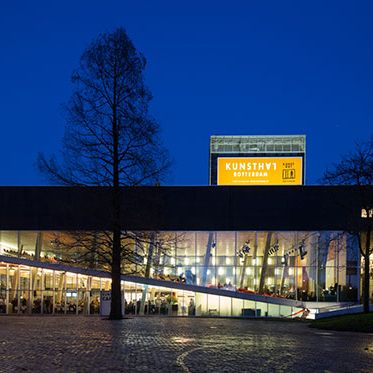 The Kunsthal, in Museumpark, was designed by Rem Koolhaas.
Photo: Ossip van Duivenbode
Where to Stay
Spend the night inside one of Rotterdam's most famous architectural landmarks — the Cube Houses, designed by architect Piet Blom. Inspired by trees in a forest, the sunny yellow cubes are tilted 45 degrees and rest on hexagon-shaped pylons. Loftly Hosting rents one of the houses, accommodating up to four guests, through Airbnb (starting at $120). It comes equipped with wireless internet, a television, and two bedrooms (one with a queen bed and another with two twins). The entire complex is located directly across from one of the city's newest architectural attractions, the bustling Markthal food marketplace.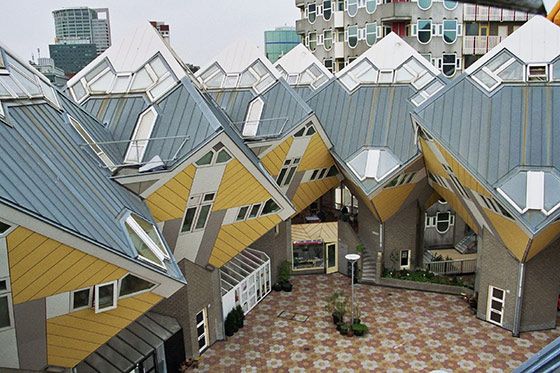 Wake up inside one of Rotterdam's newest architectural wonders. Located on the Wilhelminapier, the Nhow Hotel is inside the soaring De Rotterdam building by Rem Koolhaas. There's an airy, two-room suite (starting at $239) outfitted in sleek white furniture and a gray Montis armchair. The top-floor location offers panoramic views of the famous Erasmus bridge and the rest of the Rotterdam skyline. Order a drink at the Nhow Bar and sit by the floor-to-ceiling windows at sunset. You can't go wrong with the Dutch Blossom cocktail ($12), made with VL92 gin from the Netherlands.
Where to Eat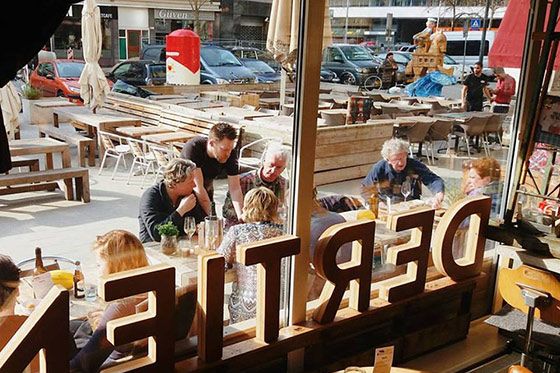 Taste a contemporary take on Dutch cuisine at Dertien in central Rotterdam, where chefs and owners Pepin Schmeink and Remco van Erp rely on fermentation techniques and whole-animal butchery. The ever-changing seasonal menu will please both carnivores and vegans alike with starters like mackerel with rose hip ($9) and curried cauliflower roasted in a wood-burning oven ($9), and entrées like slow-cooked venison stew ($20) and a rich root-vegetable cassoulet ($18). Pair it with a glass of natural wine or an exceptional cider by Abavas from Latvia.
Treat yourself to a feast at De Matroos en het Meisje in the up-and-coming Katendrecht neighborhood. Chef Michael Shook changes the menu at this local-favorite tasting-menu restaurant (from $35 for three courses). Each course is a surprise but always inspired by what's in season or available at the market. Past dishes have included Indonesian grilled beef with pumpkin-coconut purée, local hake with apples and roasted onion sauce, and crème anglaise with tarragon meringue.
See and be seen at the Suicide Club on the roof of the Groothandelsgebouw, one of the first major buildings completed after the bombing of Rotterdam. A ride up the hidden freight elevator leads you to a stylish restaurant complete with a bar lined in turquoise bamboo tiles. Start with an inventive cocktail like the Unicorns & Lions ($15), made with gin, falernum, Aperol, lime, jasmine, pepper, and rhubarb. Then move on to one of chef Freek Dekker's potent dishes, like venison with chestnuts and quince ($32) and eggplant with smoked feta and pine nuts ($28). No matter the weather, don't leave without checking out the rooftop terrace, which offers an unrivaled view of the skyline.
What to Do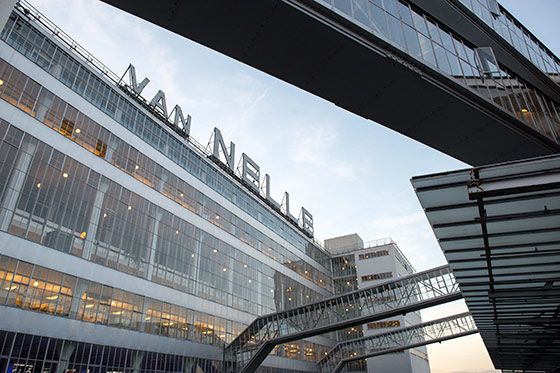 Indulge your artistic side and head to the Museumpark, where the buildings themselves nearly rival the art collections. Start at the Kunsthal (admission $12) designed by Rem Koolhaas. There's no permanent collection, so peruse the diverse selection of temporary exhibits that have included fashion photos by Peter Lindbergh and African contemporary design. Then tackle the
Bojimans Van Beuningen Museum (admission $16), with a collection ranging from medieval to contemporary art, with works by Rembrandt, Monet, and Van Gogh. Finally, stop by the Sonneveld House
(admission $10), one of the best-preserved examples of a house in the Dutch Functionalist style. The admission ticket also grants admission to the rotating exhibits inside the nearby Het Nieuwe Institute.
Hop on a bike and traverse Rotterdam like a local with Bike & Bite, owned by husband-and-wife team Laura and Paul Fitzpatrick. On the four-hour Off the Eaten Track Tour (about $52 with all food included, plus $5 for bike rental), they lead visitors through neighborhoods beyond Rotterdam's center. Depending on the day, the tour might include a few stops in the prewar Oude Noorden neighborhood to try homemade Dutch apple cake, other sweets, and tea at Lof der Zoetheid. Then you might warm up with some curried lentil soup at Buiten Deli & Lunch in Oude Westen, or get a top-quality caffeine boost at coffee shop and roastery Man Met Bril.
Explore a prime example of Dutch modernism, the Van Nelle Factory, with Urban Guides. The 60-minute tour ($21) walks visitors through the UNESCO World Heritage site, which was designed by architect Leendert van der Vlugt and built in 1931. For most of the 20th century, the glass-and-steel structure was a working factory processing coffee, tea, and tobacco (today it acts as an office building).
Expert's Tips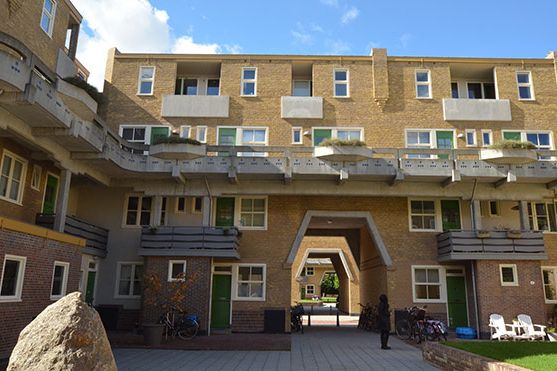 Nathalie de Vries is an architect, urbanist, and lecturer living in Rotterdam. She is the director and co-founder of the renowned architecture and urban-planning firm MVRDV, which has overseen projects around the world.
I live in an area near the Witte de Withstraat, and there's an event on Friday nights, Kunstavond-XL, when all the arts centers and institutes are open. There's the Witte de With Center for Contemporary Art (I'm on the supervisory board) and then TENT, Showroom for Media and Moving Art (MAMA), and V2 are also open. Entry is free.
Apart from being an architect, I like art quite a lot and collect it. Wilfred Lentz has his art gallery in the Justus van Effencomplex, a monumental building by architect Michiel Brinkman in the Spangen neighborhood. It's a modernist-style housing block located in a former bathhouse.
Lately I've been going to a restaurant in Veerhaven that I like very much called Z&M Restaurant. Afterward, you can walk along the beautiful boulevard with a view of the River Maas and the Kop van Zuid neighborhood.
The Wereldmuseum is also located on the riverbank at the Veerhaven. It has an amazing art collection comprising pieces from all over the world, obtained during colonial times. There are masks, jewelry, and religious objects from Africa, Asia, Oceania, and Australia.
Deliplein in the Katendrecht area in South Rotterdam is a lively square across the River Maas with a great atmosphere. It was recently connected to the Kop van Zuid area by the Rijnhaven footbridge. There's the Theater Walhalla and lots of little restaurants where you can hang out in the evening. During the day you can grab a snack from one of the stalls at
Fenix Food Factory selling baked goods, cheese, beer and cider, even Moroccan food.
Margreeth Olsthoorn is a shop on Schilderstraat. Lots of ladies in Rotterdam shop there, so you have to be careful you don't wind up wearing the same thing. But the owners keep track of it for us — that's how small the city is! It's really the queen of fashion shops in town, and they curate their selection of clothing. If you see an artist or singer from Rotterdam, they get their clothes there. They really know what's cool.
Resources
Check out the list of hotspots recommended by
Rotterday in their city guide and pick up a free copy of its beautifully designed map at businesses around town.
Gers! magazine is an independent magazine by Rotterdammers. Read the latest articles to stay updated on the latest in food, art, culture, architecture, and lifestyle.
Blogger Liesbeth of Talks & Treasures explores Rotterdam's restaurants and shops from a local perspective.