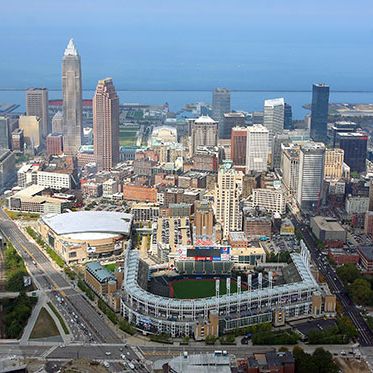 Travel to Cleveland for a super-diverse music scene.
Photo: William Reiter
Where to Stay
Smack in the center of downtown Cleveland, the 120-room Kimpton Schofield Hotel (starting at $180) occupies a 1902 Victorian landmark building designed by the first Cleveland architect to be admitted to the American Institute of Architects, Levi Scofield. Indie touches include a lobby filled with native son Harvey Pekar's "American Splendor" comics and ottomans made from recycled saris. There's a free wine hour nightly at locally sourced restaurant Parker's, a stash of cruiser bikes that guests can take for a spin around town and, true to Cleveland's musical roots, gratis guitar rental for spontaneous jam sessions in your room. Bonus: The Schofield is pet-friendly, with no weight restrictions and no additional deposit required.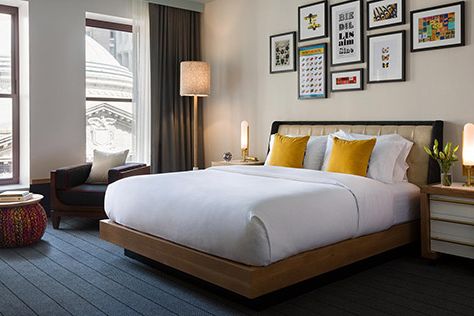 The 60-room, French Gothic Glidden House (starting at $144) in leafy University Circle has gorgeous outdoor gardens, a gazebo, and a carriage house that is the current address of chef Jonathon Sawyer's latest venture, Trentina (see Where to Eat). The National Register of Historic Places–ranked boutique hotel offers "vintage suites" in the 1910 building and newer guest rooms in a tasteful addition, built onto the back of the original home. Glidden House is within minutes of East Side jazz institution Nighttown, the Cleveland Orchestra's Severance Hall, Cleveland Institute of Music's Mixon Recital Hall, and the Cleveland Museum of Art, whose Performing Arts Series features concerts in the museum's galleries.
The LEED-certified Hilton Cleveland Downtown (starting at $149) opened in autumn 2016 in a 32-story, 600-room steel high rise with a glass-walled, top-floor bar — the highest in the city, the hotel says — and an American restaurant, the Burnham, helmed by noted Cleveland restaurateur Zack Bruell. In a nod to Cleveland's Slavic heritage, Bruell serves such dishes as shiitake-mushroom pierogis ($8) and grilled kielbasa with sauerkraut ($17). Guest rooms are sleek and modern, displaying contemporary works by local artists, but the best view by far is that of Lake Erie and the downtown skyline. Die-hard music fans will want to book the 22nd-floor Rock Suite, with its collector's-edition Gibson guitar and wallpaper made from hand-scrawled lyrics by Jimi Hendrix, Tom Waits, and the Grateful Dead. There's even a pop-art, red-lips couch for makeout sessions with your main groupie.
Where to Eat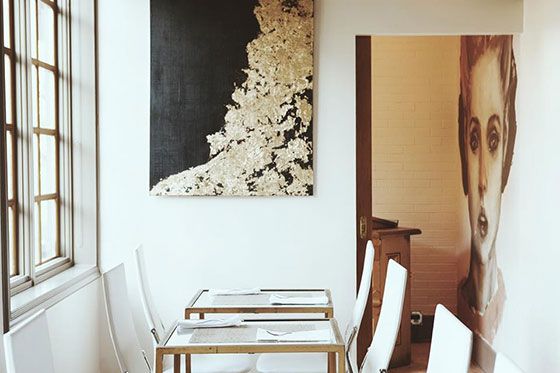 The bulk of ingredients in chef Ben Bebenroth's seasonally shifting menu at Spice Kitchen + Bar are harvested from nearby farms, including the restaurant's 13-acre farm in Cuyahoga Valley National Park, just south of Cleveland. Served in an industrial-chic space in the burgeoning Gordon Square district, dishes include buttermilk-marinated fennel with shaved red onion, chili flake, and dill ($10); and grilled pork tenderloin with squash marmalade and candied pecan ($23). There's local wines and craft cocktails, too, which make copious use of the restaurant's crop of fresh spices.
Ushabu in trendy Tremont specializes in traditional Japanese shabu-shabu. Diners order, then cook themselves a variety of meats, fish, and vegetables in a simmering broth on an induction burner at the table. Available broths include ginger chicken and spicy miso, while immersibles might be Ohio Wagyu beef ($27) and Tsukiji Fish Market Omakase ($30), flown in fresh from Tokyo. Ushabu seats only 25; reservations are highly recommended.
From the tiny kitchen of a modernized carriage house — aptly called Trentina — James Beard Award–winning chef Jonathon Sawyer pays homage to the Northern Italian province where his wife Amelia's family still lives. The restaurant sources from Ohio farms and select Italian purveyors, transforming vegetables into earthy delicacies like wood-fired golden beets with bruléed onions, smoked almonds, and arugula ($8). All pasta is made in-house, and a wood-burning oven is used for artisanal pizzas ($10 to $13), which pair nicely with Trentina's list of Old World wines. Snag a seat on the shrub-shrouded outdoor patio in summer and enjoy the ride.
What to Do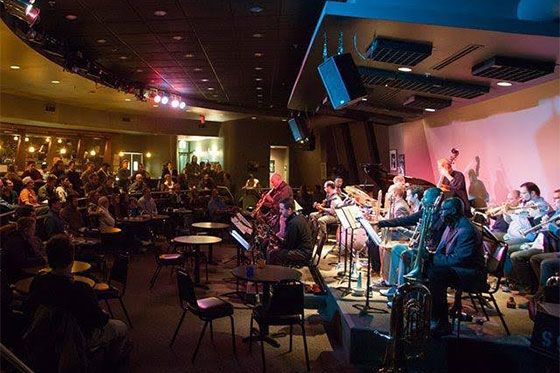 Tour the Rock Hall or experience the Cleveland Orchestra at its summer home, Blossom Music Center, then conquer C-town's live-performance landscape from a neighborhood angle: See three plans below.
Head to Cleveland's fledgling Hingetown enclave for top-notch up-and-coming and well-established acts at Bop Stop, the hippest haunt on the Cuyahoga. With its superb acoustics, semi-circular terraced floor plan, and newly acquired Steinway grand (the only club in Ohio with said instrument), Bop Stop has hosted, among others, jazz headliner Fred Hersch, fusion band Brand X, and classical group Project Trio. Booked by promoter Gabe Pollack and owned by the Music Settlement — a prominent music-education institution that was gifted the building in 2014 — Bop Stop has quickly created buzz among astute musicians and listeners alike. Before the show, enjoy tapas and charcuterie at newcomer Astoria Café & Market just up the road and, while you're in the area, pop by Hingetown's contemporary art galleries SPACES and Transformer Station. Round out your evening on the patio of Jukebox, a bar with a rotating jukebox selection that highlights bands coming to town for shows.
If you happen to be in Cleveland on a Wednesday in summer, grab a lawn chair and make your way to Wade Oval just outside the Cleveland Museum of Art (CMA) at about 6 p.m. Here, you'll encounter one of the hottest tickets in town, called Wade Oval Wednesdays (WOW). On a sweeping lawn under towering oak trees, hundreds of picnickers relax and enjoy free live music by local and touring acts ranging from bluegrass bands like Honeybucket to reggae musician Carlos Jones to salsa group Son Gitano. The nearby Natural History Museum, Cleveland Institute of Music, Cleveland Botanical Gardens, and CMA stay open late on Wednesdays for impromptu visits by concertgoers. Grab a bite and a beer at one of a handful of food trucks that set up shop at WOW and join the garden party.
Take a leisurely drive 20 minutes east of the city to Chagrin Falls for dinner at Umami Kitchen, then head three miles north to Hunting Valley, Cleveland horse country, to hear the critically acclaimed baroque-period instrument ensemble Apollo's Fire. Founded in Cleveland by harpsichordist and Oberlin Conservatory graduate Jeanette Sorrell in 1992, Apollo's Fire has played to sold-out crowds in New York, London, and Vienna. Enjoy this chamber-music group in the 250-seat, open-door Baroque Music Barn during the yearly Apollo's Fire Countryside Concerts in June. Book early as tickets go quickly.
Expert's Tips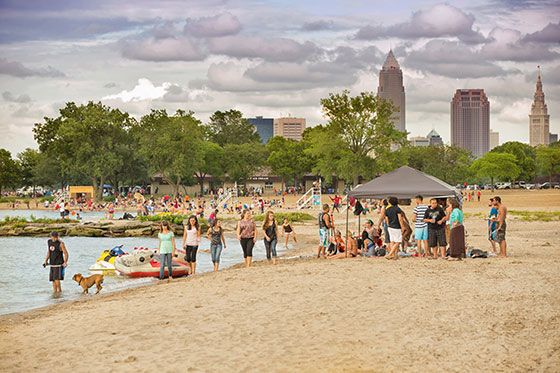 From Bridget Ginley, a sculptor who works out of Cleveland loft space Studio 404 and DJ at WRUW-FM, Case Western Reserve University's radio station, on the Erie Effusion Retro Radio Show (Sunday nights from 6 to 8 p.m.).
When the weather's nice, I bike the Towpath Trail along the old Ohio & Erie Canal starting in the Flats downtown, winding through abandoned factory land and meandering into the suburbs. Just in time for summer, Cleveland Metroparks has completed an amazing upgrade at Edgewater Beach with a two-story retro beach house, while the excellent Edgewater Live concert series has bands playing every Thursday night from June to August.
For emerging local art, head to Waterloo Arts District in Collinwood. Waterloo is known as a music lover's haven due to Beachland Ballroom, but there's a fringe gallery scene, too, and great street art. The best gallery, hands down, is Maria Neil Art Project, opened in 2012 by a pair of collectors to showcase underrepresented artists.
If you're craving craft cocktails, try Vault at the 9 in the old bank vaults on East 9th Street or the Spotted Owl, a Tremont bar that once housed a Bible factory. And always, of course, there's Velvet Tango Room, a speakeasy with live jazz in a quiet corner of Ohio City. Sometimes, I take friends to the Balcony Bar at the new, upscale Heinen's in the refurbished Cleveland Trust Bank. Yes, it's a grocery store, but the neoclassical design is so beautiful it's been compared to the Pantheon in Rome.
Resources
Grab a copy of Kulchur, a monthly magazine with profiles, opinion pieces, and photographic essays, available at select Cleveland bookstores.
Click on Cool Cleveland to see cultural events on tap weekly.
Tune in to 90.3 WCPN for discerning interviews with Cleveland area influencers.
Access classical-music station
104.9 WCLV for live concert streaming and archival audio and Cleveland Classical for listings, previews, and reviews of classical music in Northeast Ohio.
Pick up the free weekly Cleveland Scene for smart, candid culture and news coverage.