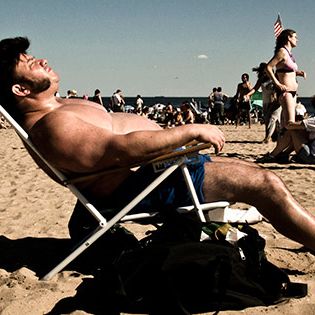 Photo: WIN-Initiative/Getty Images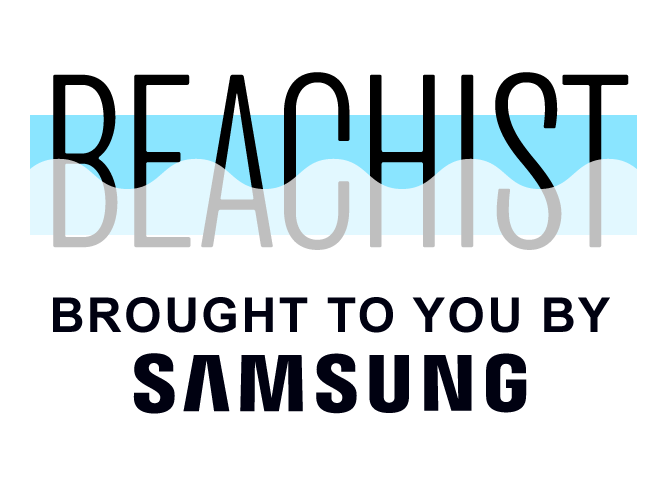 If you don't like kitsch, you won't like Coney Island. But then again, if you don't like kitsch, you don't deserve Coney Island. Coney, likely the city's most iconic beach, was once popular with Victorian New Yorkers, who flocked there to ride roller coasters at one of the country's first amusement parks. These days, you're more likely to see someone barf on the Cyclone than romp in a wool swimsuit. For a perfect Coney day, Linda Mandracchia, a retired teacher and Brooklynite who has been going to Coney since she was 10 years old, recommends you grab a knish at Paul's Daughter, a boardwalk classic, and, if you can find him, a Fudgsicle from the Fudgie Wudgie man who sells ice-cream bars along the beach.
The Coney art walls have been a canvas for a rotating collection of painters and muralists since 2015 and on summer afternoons host food trucks—try the Mediterranean food and barbecue, says Mandracchia. And of course, it's hard to go wrong with a Nathan's hot dog. And if you want a cold beer to wash it down, grab a Mermaid Pilsner from the Coney Island Brewing Co., a stone's throw from the beach. The annual glittering, outrageous Mermaid Parade is this Saturday (June 17). Throughout the rest of the season, there are movies on the beach and concerts in the Ford Amphitheater. If you can't get tickets, spread out your blanket on the beach and listen from across the street. The view's great under the stars too.
Getting there:
D, F, N, or Q trains
Travel time:
Around an hour
Fees:
Access to the beach is free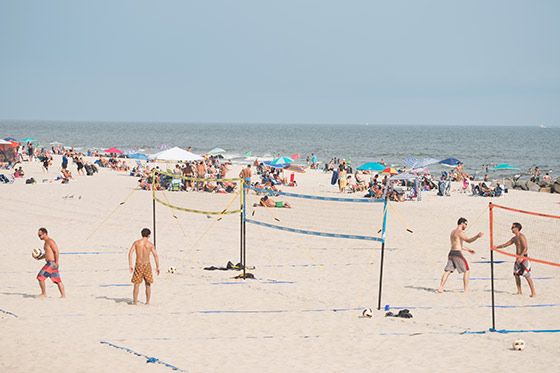 Just an hour's train ride from the sweltering, tourist-packed streets of midtown is, according to Long Beach local Christina Tisi-Kramer, "the best sand ever—better than the Caribbean!" Five years after being ravaged by Hurricane Sandy, Long Beach, a small strip of island just east of the Rockaways, is back and thriving. City dwellers taking the Long Island Rail Road from Penn Station or Atlantic Terminal can score a bargain with the MTA's beach-package discount—round-trip train tickets, discounted beach admission (you'll need a daily beach pass), a Long Beach town bus pass, and discounts at local businesses, for $26.25.
If you've managed to get out to the beach in time for breakfast, enjoy a cup of house-roasted coffee and a plate of hearty waffles at Gentle Brew. After you've sunned yourself for a few hours, play a round of volleyball (Tisi-Kramer met her husband during a Long Beach volleyball game) — or, if surfing is more your speed, head to the beach at Lincoln Boulevard to catch some waves — and then grab kosher pastrami sandwiches and açai smoothies from the Shoregasboard food trucks along the boardwalk, which opened in 2016.
If you're looking for more of a shoes-and-shirt-required eating experience, Christina recommends the farm-to-table food at Lost & Found (you'll need a reservation) or WildFeast (try the locally caught grilled-monkfish tacos).
Long Beach's cultural renaissance is attracting attention. Earlier in June, the town hosted the Long Island Pride parade for the first time, and don't miss the sixth annual Long Beach International Film Festival from August 1 to 4. On the last day of the festival, you can watch short films for free — but bring your beach blanket: The theater is the sand, and the films are projected onto a temporary screen. If the trek back home seems like too much, grab a drink and crash at the Allegria Hotel.
Getting there:
Long Island Rail Road from Penn Station or Atlantic Terminal
Travel time:
Around an hour
Fees:
Round-trip train and discounted beach-admission package, $26.25 from Manhattan or Brooklyn; beach admission only, $15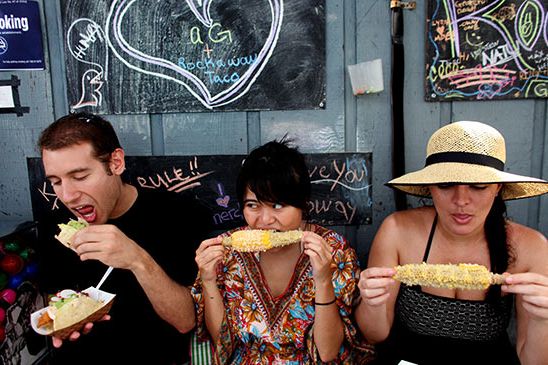 It's a hike from Manhattan, but Rockaway Beach — immortalized by the Ramones in 1977 — has become increasingly popular with the under-30 hipster set. (This is particularly evident if you head to the Riis Park/Fort Tilden area, home to topless bathing.) Rockaway's home to a die-hard surfer community of the sort you'd expect to find in California — but you can take the subway. Or board the new ferry, but the best way to get there, especially if you're coming from Brooklyn, might be by bike, an experience one New York Magazine employee described as "euphoric."
In the past few years, Rockaway has exploded with exciting new food options. Jimmy Donnellan, who grew up in Breezy Point, a heavily Irish Rockaway community, has worked for the last two summers at Caracas Arepa Bar serving those warm Venezuelan corn cakes to famished beachgoers. Donnellan recommends the concession stands at Beach 97th Street, for everything from Peruvian ceviche at La Cevicheria to fried and stuffed Uzbek pieroshki at Uma's. If you're craving an all-American bite, head down to Boardwalk Pizzeria at Beach 68th Street. Check out Rockaway Brewing Co., which opened just last year, for hyperlocal microbrews. Don't miss the sunsets from the deck at Bungalow Bar.
Donnellan describes Rockaway culture as "really opening and welcoming," and quotes the end of Rockaway resident Mac DeMarco's 2015 album Another One: "6802 Bayfield Ave, Arverne, New York/Stop on by, I'll make you a cup of coffee. See you later."
Getting there:
Ferry from Wall St. or Sunset Park; A train; biking, or private bus companies
Travel time:
An hour and a half to two hours on the subway; 59 minutes from Wall St. to the beach on the ferry
Fees:
Access to the beach is free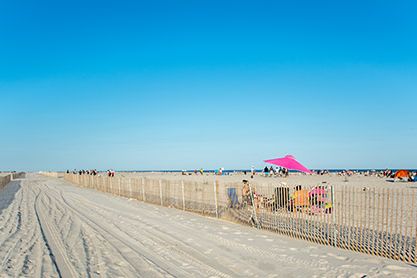 Originally built by Robert Moses in 1929 to be accessible only by car (Robert Caro has written on Moses's racist motivations), Jones Beach is now accessible to the masses via the LIRR and a shuttle bus (the bus runs Friday, Saturday, and Sunday, after June 24). Jones Beach is a state park, so it has a less developed feel than some other NYC area beaches. The amphitheater plays host to big acts every summer. This summer, look for James Taylor, Kings of Leon, and others. But if what you want is a relaxing afternoon at the beach, all you'll need is your beach towel, sunglasses, and a good book—leave the speakers at home; Jones Beach has a no-radio policy. Other attractions include bike paths, a swimming pool, a nature center, and mini-golf.
Getting there:
Long Island Railroad to Freeport Station, then transfer to the N88 NICE Bus. $21.00 from Penn Station and Atlantic Terminal; $17.50 from Jamaica.
Travel time:
An hour and a half
Fees:
$10 per car if driving, none if arriving by public transportation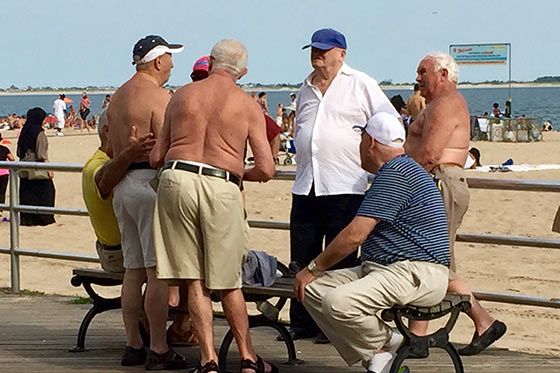 Like its neighbor Coney Island, Brighton Beach is not for the faint of heart. Also known as Little Odessa, the area is heavily Russian and Ukrainian, and is the place to go for Slavic delights like borscht, potato dumplings, stuffed cabbage, and, of course, vodka. Visit Café Kashkar to sample some of the city's best (and only) Uyghur cuisine or Cafe Euroasia for solid Eastern European food. After sundown, the main drag lights up with glitzy, campy nightlife. Visit the iconic National Restaurant and Nightclub for an over-the-top experience. Oh yeah, and there's a beach too.
Getting there:
B or Q train to Brighton Beach
Travel time:
An hour
Fees:
Access to the beach is free
This post has been updated to reflect the closing of the Playland Motel.