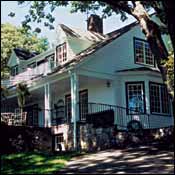 Inn crowd: The Pine Hill Farm Inn.
BY SUSAN DOMINUS

Although it's technically part of the poconos, Milford, Pennsylvania, draws a crowd that's much more Yaddo than Mount Airy Lodge. "It attracts a lot of artists and writers," says Jerry Beaver, a New York City casting director who has owned property here for nearly two decades. "It's so rustic and pristine -- it's probably easier for them to be creative someplace where you can find great peace of mind." The downtown area -- officially a historic district -- is lined with landmarked Victorian homes on almost every street. But many of the homes in the surrounding area are set back in the woods, with plenty of wildlife for company: bears, foxes, or trout in a stream nearby. "In the Hamptons, you spend all this money, and then you end up feeling like you're missing something," says Barbara De Vries, the original designer for CK. "In Milford, there's nothing to miss. And I like it that way."

Familiar Faces: At the turn of the last century, Milford was briefly a proto-Hollywood celebrity magnet while D. W. Griffith was shooting films nearby (bringing Lillian Gish, Mary Pickford, and Pearl White with him). Now Milford draws literary types like Frank McCourt, John Berendt, Eric Bogosian, and Spartina author John Casey (who likes to write in a tent he's pitched in the woods near his home). Todd Oldham has also discovered Milford, and built a live-in tree house 60 feet off the ground on his ranch. "It's still the kind of place where no one at the Milford Diner is even going to know who Todd Oldham is," says Sean Strub, a second-home owner in Milford (and founder of the magazine Poz).

Talk of the Town: "There really isn't much of a scene," says Deborah DuCharme, a magazine executive who's been making regular visits to Milford for fifteen years. "If you want to know where all the people in black run into each other, it's at the garden-supply store." And when they do, it's probably conservation, not the cable industry, that they're discussing. Milford's well-organized advocates have so far managed to successfully oppose Home Depot and other signs of suburban sprawl. "The hottest topic last year was whether to put in Victorian- or Colonial-style lamps on the main street in town," says DuCharme. "Colonial won, but there was grumbling that someone had fixed the votes."
Things To Do: You can hike to the Upper Delaware Scenic and Recreational River and Delaware State Forest, where there's a nature center and more fishing and hiking and biking trails than anyone on vacation should have energy for. On rainy days, there's always antiquing on Hartford Street or a visit to the Peters Valley Craft Education Center on the Jersey side of the river, where local artisans give courses in photography, weaving, and ceramics.
What's New: As much as Milford's New Yorkers say they want to escape, they'll no doubt welcome the new Brasseria, co-owned by Scott Morgan, former wine manager of the Royalton. To complement the formidable antiques scene in the area, Donna Hamilton, set decorator for Zoolander (among other movies), and her husband, Yilmaz Guver, recently opened Indigo Arts, a store with all the opulence of ABC Carpet & Home. The new Mountain Laurel Center for the Performing Arts is scheduled to open in full glory in 2003, with the Pittsburgh orchestra committed to perform. Grey Towers, a restored château with landscaped gardens, is launching a chamber-music series; violinist Anastasia Khitruk performs in July.
Property Values: Within the town confines, "we still have MasterCard houses," says Strub, citing a twenties three-bedroom home on postage-stamp-size property that recently sold for $65,000. On the other hand, a southern-plantation-style 10,000-square-footer is currently priced at $995,000. More typically, the small Victorians in town go for around $200,000, with houses outside town (on three or four or more acres) running about the same. The housing stock ranges from classic Adirondack-style lodges to airier, modern structures with an emphasis on glass and open views. Rentals range from $1,200 a week in town to $3,000 a week for properties on Twin Lakes, five miles down the road.
Recommended Realtors: Davis R. Chant Realtors (800-372-4268) or re/max (570-296-9290; ask for Vicki LaSpina).
Weekend Visits: Right in town, there's Muir House Inn and Restaurant (570-296-6373 or muirhouse.com; doubles start at $85), a former barn turned boarding house that's been renovated. The in-house Italian restaurant is fairly upscale, but also will let you catch your own trout in the backyard brook. A bit farther out of town, the Pine Hill Farm bed and breakfast (570-296-5261 or pinehillfarm.com; rooms start at $140) has breathtaking views and sink-into-sleep king-size beds