Mets' Spring Training
Port St. Lucie, Florida
GETTING THERE
Fly to West Palm Beach, then take I-95 North about 55 miles to Exit 121 and Tradition Field. The Mets' spring home is so small-townish, you might see Jose Reyes at Wal-Mart. American, Delta, JetBlue, and Continental fly direct ($200 round-trip).
GETTING GAME TIX
Buy in advance at Mets.com. Bleacher seats run $6, box seats $25—except for the Red Sox tilt on March 10, when they ratchet up to $10 and $35. Most days you'll be able to get tix at the park, even if it means spreading out a picnic blanket on the grassy knoll behind the outfield ($6).
WHERE TO STAY
The SpringHill Suites (772-871-2929) is a player favorite just a mile from Tradition Field. You won't bump into Johan Santana at the ice machine—the big shots live in their own condos—but you might see minor leaguers. For more luxury, try the Sheraton PGA Vacation Resort (772-460-5700).
AT THE FIELD
Autograph hounds loiter at Field 2, where players run and stretch after games (David Wright's the most accommodating signer). If you're hoping to see one of the Carloses—Beltran or Delgado—in a game, plan your trip for mid-March. Early in camp, veterans are already behind the wheels of their Ferraris by the fourth inning.
WHERE TO EAT
Listen in on nearby cell conversations while eating seafood at the West End Grill (866-548-8752), a regular haunt for Mets beat writers. Thirty minutes southeast, in Jensen Beach, is Peter's Steakhouse (772-225-2516), run by Peter Buchner, who did twenty years at Peter Luger.
AFTER THE GAME
The hypercompetitive Wright goes bowling at Superplay USA (772-408-5800), which also has mini-golf and a sports bar. There's good shopping (Polo Ralph Lauren, Reebok, Bose) at the Vero Beach outlets (772-770-6097) 30 minutes north.
Yankees' Spring Training
Tampa, Florida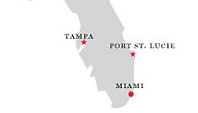 GETTING THERE
From the Tampa airport, follow signs to Legends (soon to be Steinbrenner) Field. The 11,076-seat ballpark has the same outfield dimensions as Yankee Stadium. American, Delta, and JetBlue fly direct ($200 round-trip).
GETTING GAME TIX
Spring training has been big business for the Yankees for years, and most games are sold out; what tickets are available are at Yankees.com ($17 to $30). If you get shut out, prepare to pay as much as $75 for a scalped ticket (and a lot more if it's the March 17 game against Boston).
WHERE TO STAY
There are hundreds of hotels in Tampa in all price ranges, but Clearwater or St. Petersburg, both 30 minutes away, have better beaches. Try the Sea Captain Resort on the Bay (727-446-7550), near Clearwater Beach. Another similarity to New York: Expect traffic to and from games.
AT THE FIELD
Gates open two hours before game time, so show up early and get close to the dugouts if you want autographs. Kyle Farnsworth, Jason Giambi, and Johnny Damon probably sign the most of any Yankee; A-Rod is hit-or-miss. The team built a new deck area beyond the right-field fence this year that should be a mellow spot to watch games.
WHERE TO EAT
Brian Cashman likes to mull over trades at the Capital Grille (813-830-9433). Other Yankees bigwigs prefer the Palm (813-849-7256). A-Rod has been spotted at Roy's (813-873-7697), which bills itself as a Hawaiian fusion restaurant (hey, you're not here for the food). Bennigan's (813-872-7566), near Legends, fills up with fans looking for late snacks.
AFTER THE GAME
What do Tampa teens and Yankees players have in common? They both spend too much time at the International Plaza mall (813-342-3790). If your kids are sick of baseball, check out the white-tiger cubs at Lowry Park Zoo (813-935-8552).