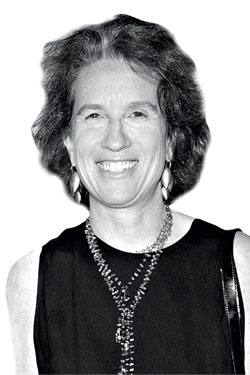 How did you get involved with this place?
Somebody at City Hall said to me, "There's an island in the harbor." I had never heard of Governors Island before, even though I'm a native New Yorker. So I came out on a February day. It was cold and there weren't many people here, but it was beautiful, and I kind of fell in love. This is going to be one of the great walks in North America. Walking or biking along the promenade is just the most unique, memorable experience. You get a sense of the harbor, you see lower Manhattan and Jersey City and the Brooklyn waterfront in new ways.
What's been the best part of the job?
We are putting the island back on the map—and I mean that literally. Like, the Google van came two weeks ago to put us on Google Street View. But more importantly, psychologically, this island wasn't part of New York City before. Now to sort of imagine what this place can be to the city is really tantalizing. If you go to every other city in the world, they're kind of ahead of New York in opening up their waterfront. And the transformation of the West Side from Hudson River Park, and that bikeway, gives you an idea of what happens when New Yorkers can be near the water.
Have there been bad proposals?
There was a proposal for a SpongeBob hotel. People had a strong reaction to that.
What do you get asked for the most?
Our No. 1 request has been for ice cream. The new Water Taxi Beach will be serving Blue Marble.
What would you like to see changed right now?
I'd love to have free biking all the time. The city's doing an incredible job with bike lanes. But it's not Copenhagen yet.