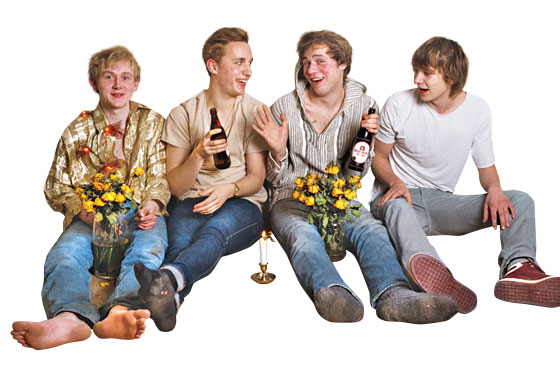 Dance to the Musik
Berlin's core techno clubs—Berghain, Tresor, Watergate, Weekend, and, reopening this month, Bar 25—still throw some legendary all-night dance parties. But the most exciting music of the moment can be found elsewhere.
Hot Sound
Berlin's fallen hard for upbeat Scandinavian dance-pop lately. The irregular "Sweden Sweden" parties in Magnet Club were joined in spring by "I'm From Scandinavia," a roving Nordic-beats affair held every first Saturday and featuring bands like Vinnie Who, who look nothing like the skinny-jeans English bands of the aughts. "A Norwegian band will get onstage and there's a metal dude on bass, a punk drummer, and the band plays funk," says promoter Spencer Theile. "These bands love life."
Hot District
About six years ago, event spaces Festsaal Kreuzberg (Skalitzer Strasse 130) and West Germany (Skalitzer Strasse 133) opened in a run-down area near the Kottbusser Damm subway station. Now micro-clubs like Monarch and Paloma Bar (Skalitzer Strasse 134 and 135) have helped it reach critical mass. "People can spend a complete night in the same few hundred meters now instead of coming for a concert and then disappearing to another part of town," says club owner Paul Carlin.
Hot Band
Chuckamuck, a sloppy, punky, melodic bunch barely out of their teens (above), are the current stars of the indie guitar set. "When I first saw them, I was caught totally off guard," says Mathias Schwarz, a partner at Powerline Agency. "They were playing what on the surface was a mix of garage, psychedelic, and surf. But they were jumping around in boxer shorts and ponchos. They were kissing each other onstage, and then backstage they were trying to hit on all the young girls who flock to their gigs."
Urban Analogs
In-demand neighborhoods and their New York City equivalents.
Do this: Down mugs of the house pils at picturesque biergarten Prater (Kastanienallee 7-9); buy vintage vinyl across the street at Da Capo records (Kastanienallee 96); visit Germany's largest synagogue near the Wasserturm (Rykestrasse 53).








Do this: Bike along Karl-Marx-Allee for an architectural primer in Stalinist classicism; relive the Cold War at East German–themed bar Die Tagung (Wuehlischstrasse 29); journey to the anarchic edge of club­land at Salon zur Wilden ­Renate (Alt-Stralau 70).








Do this: Pick up flatbreads at the canal-side Turkish market (Tuesdays and Fridays along Maybac­hufer); lick poppy-seed ice cream at Fraeulein Frost (Friedelstrasse 39); duck into bars, galleries, and parties on Weserstrasse.






Stuff Berliners Love
Four only-in-Germany activities.

Listen to Techno Underwater
At Liquidrom, Berlin's sceniest bathhouse, you can detox in Finnish saunas, experiment with fruit-based spa treatments, and glide around the warm saltwater pool, all while live weekend D.J.'s and musicians play everything from classical music to electronica (from $28; liquidrom-berlin.de/en).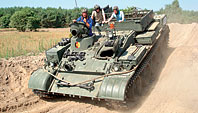 Drive Your Own Russian tank
Billing itself as "Germany's biggest men's playground," Panzerfahrschule Heyse puts you in the driver's seat of a 34-ton, 600-horsepower T55, or a slightly more manageable fourteen-ton, 300-horsepower BMP, and lets you plow it through an obstacle course (from $197; panzerkutscher.de/en).


Camp Out by the Train Station
Play volleyball in an emptied-out public pool, take in an experimental-music concert, or barbecue near the diving boards at Tentstation Berlin, an urban-pastoral campsite just walking distance from the Hauptbahnhof train station (from $16; $6 for tent rental; tentstation.de/­englisch).




Zoom Around Town in a Trabant
Trabi-Safari rents a fleet of the rickety, 26-horsepower sedans that GDR citizens waited up to fifteen years to own. Follow a guide (actually a voice that comes through the radio) along the "Wild East" route as it takes you down the longest remaining stretch of the Berlin Wall (from $43; trabi-safari.de).