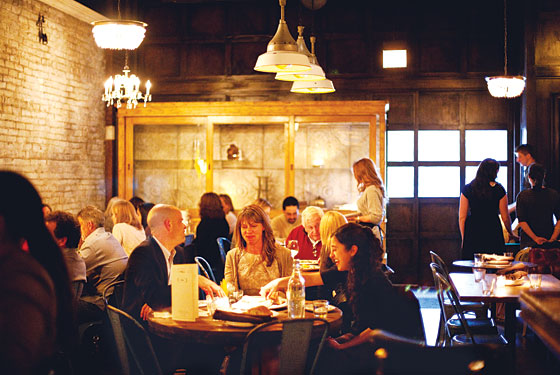 Three Restaurants Chicagoans Clamor For
And where you might want to end up instead, as recommended by Grub Street Chicago's Nick Kindelsperger.
Can't Get Into This One?
Next
953 W. Fulton Market; 312-226-0858
Nearly 19,000 people have signed up on the restaurant's website just to buy tickets—yes, tickets—to Grant Achatz's latest modernist-dining experiment. The menu changes cuisines and time periods every three months (current theme: Paris 1906). Hands down Chicago's toughest reservation.
Try This One
Maude's Liquor Bar
840 W. Randolph St.; 312-243-9712
The dimly lit bohemian haunt from former Achatz underling Jeff Pikus (Alinea) serves seriously robust rustic French food. Don't pass up the chance to feast on the hearty cassoulet or the absurdly rich Lyonnaise salad with crispy pork belly, ideally washed down with a Chartreuse Smash.
Can't Get Into This One?
Girl & the Goat
809 W. Randolph St.; 312-492-6262
Helmed by Top Chef winner Stephanie Izard, the year-old foodie magnet could have survived for a while on hype alone. But the highly original ingredient combinations (e.g., wood-oven-roasted pig face with tamarind) and electric atmosphere explain why you still have to reserve months in advance.
Try This One
GT Fish & Oyster
531 N. Wells St.; 312-929-3501
Part of the same restaurant group as Girl & the Goat, Giuseppe Tentori's new venture serves inventive seafood at shockingly affordable prices—and stays open past midnight. Though it's been packed since opening in March, you can still generally snag same-day off-peak reservations.
Can't Get Into This One?
Doughnut Vault
401 1/2 N. Franklin St.; no phone
You'd think Chicagoans had never tasted a real doughnut before: Lines regularly stretch around the block from the moment the shop opens, at 8:30 a.m. All the goods are made by hand, fried in small batches, and often sell out between 10 a.m. and 1 p.m.
Try This One
Xoco
449 N. Clark St.; 312-334-3688
If you're simply in the mood for fried dough, walk four blocks to gobble the flawless Mexican churros at Rick Bayless's Xoco. Made to order, each one comes out of the fryer delicately crisp, then gets lightly dusted with cinnamon, sugar, and cacao nibs.
Guilty Pleasures
Four major Chicago chefs on their favorite off-the-clock eats
Tony Mantuano, Spiaggia: "You have to have an Italian beef at Mr. Beef (666 N. Orleans St.); get it with sweet and hot peppers, and have it dipped."
Charlie Trotter, Charlie Trotter's: "Egg omelettes served on a blazing-hot skillet from the legendary Lou Mitchell's (565 W. Jackson Blvd.). They use double-yolk eggs!"
Giuseppe Tentori, GT Fish & Oyster: "Lou Malnati's (various locations) stuffed pizza. The crust is baked to order, and the size and chunks of tomatoes in the sauce are incredible."
Graham Elliot, Grahamwich: "For hot dogs, the Wiener Circle (2622 N. Clark St.). Nothing says Chicago like employees' cursing you out while you wait in a late-night drunken stupor for a delicious dog."