High-Low Edibles
Janice Leung, a food blogger and founder of a local farmers' market, suggests two ways to sample some of Hong Kong's staple dishes.
Har Gow
High:
"The translucent skins and blush-pink shrimps of Lung King Heen's (Four Seasons Hong Kong, 8 Finance St., Central; 852-3196-8880) dumplings are the best kind of lunchtime splurge."
Low:
"Hole-in-the-wall Dim Sum Square (88 Jervois St., Sheung Wan; 852-2851-8088) steams its plump shrimp dumplings to order, ensuring you get a basket of juicy morsels every time."
Char Siu
High:
"With perfect marbling, and each slice of honeyed barbecue pork just as tender as the next, Fu Sing (1/F, Sunshine Plaza, 353 Lockhart Rd., Wan Chai; 852-2893-0881) wins the juiciness contest. Go early to get it fresh from the oven."
Low:
"Kwong Hope Kee Ki Roast Pork Factory (240 Hollywood Rd., Sheung Wan; 852-2547-3040) specializes in whole pigs, but you can get takeout, too. Their char siu has charred edges and an alluring maltose glaze that gives candied bacon a run for its money."
Egg Tarts
High:
"Eat the tarts at Island Tang (Shop 222, 2/F, the Galleria, 9 Queens Rd., Central; 852-2526-8798) whole to enjoy the flaky base and creamy egg all at once."
Low:
"The crisp little tarts at Honolulu Coffee Shop (176-178 Hennessy Rd., Wan Chai; 852-2575-1823), a cha chaan teng or dinerlike eatery, are light on the outside and warm and wobbly within."
Almond Milk With Egg White
High:
"At Hoi King Heen (InterContinental Grand Stanford, 70 Mody Rd., Tsim Sha Tsui E.; 852-2731-2883), a bow-tied waiter whisks whites into freshly made almond milk atop a lit stove. It's frothy like liquid marshmallows."
Low:
"The almond milk at popular dessert shop Cong Sao (11 Yiu Wa St., Causeway Bay; 852-2278-2622) is made fresh from scratch and heated with just the right amount of egg-white squiggles running through."
Drink Like a Hong Konger
Barman Antonio Lai keeps all the standard modern bar gear—centrifuges, evaporators, and gelification tools—on deck at Quinary, Central's ground zero for science-inspired cocktails. This is where he goes when he's off the clock.
Honi Honi
3/F, Somptueux Central, 52 Wellington St., Central; 852-2353-0885
Why? "French co-owner Max Traverse makes great cocktails using Asian fruits and market produce, and it's the only bar in Hong Kong where you can drink out of a watermelon, coconut, or tiki mug."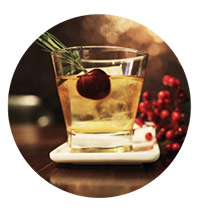 Angel's Share
2/F, Amber Lodge, 23 Hollywood Rd., Central; 852-2805-8388
Why? "The speakeasy-style Angel's Share has one of the largest whiskey portfolios in Hong Kong. The bar makes six versions of an Old Fashioned, including ones with Chinese dried mushrooms, salted plum, and Japanese yuzu."





Woobar
W Hotel Hong Kong, 6/F, 1 Austin Road W., West Kowloon; 852-3717-2889
Why? "There are many molecular-gastronomy options here, made with such ingredients as spicy honey-mango chutney, apple-wasabi marmalade, and even solids like steamed buns and Singaporean noodle dish char kway teow."