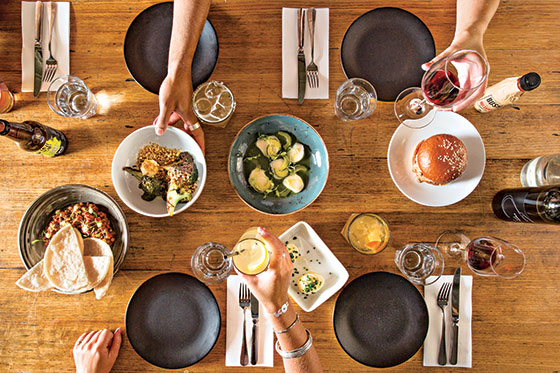 Cured Wallaby and Beer Gelato
Melbourne's restaurant scene is a crowded one, where, as in New York, chefs often have to go niche in order to stay relevant. Here, local restaurant critic Larissa Dubecki reveals the culinary fads that are stirring up the city's discerning gourmands.
The trend:
Highbrow Australian
"The stuffy, traditional white-tablecloth restaurants have been replaced by a new crop of fine-dining spots that fuse the formal with the whimsical."
Where to try it:
"Vue de Monde (525 Collins St.; 9691-3888) is perched at the top of one of Melbourne's tallest buildings with sweeping views of the city, kangaroo-hide chairs, and river-rock centerpieces. The menu stays away from the tempura-fried Australasian clichés in favor of smoked eel with white chocolate, salt-cured wallaby, local island lamb, and elevated versions of throwback Aussie desserts like the lamington (a shredded-coconut-covered sponge cake)."
The trend:
Haute fast food
"George Calombaris's new souvlaki venture joined a slew of thriving taquerias and bao and burger bars across the city. Last November, there was a two-week night market devoted to noodles."
Where to try it:
"Rockwell and Sons (288 Smith St., Collingwood; 8415-0700), located in Melbourne's creative epicenter, is backed by Casey Wall, a graduate of the Spotted Pig. It's full of stylish raw wood and bearded hipsters and dude-food: Try the double-patty smash burger; it's awesome. While you're in the neighborhood, there's also Huxtaburger (106 Smith St., Collingwood; 9417-6328), which makes killer burgers named for characters from The Cosby Show. I like the Denise ('the hot one'), which comes with jalapeños and Sriracha mayo."
The trend:
Experimental gelaterias
"It started about a decade ago, when two brothers opened Trampoline in Fitzroy. Others, like Gelateria Primavera, popped up nearby. And 70,000 people showed up for last year's battle of the gelato artisans in Carlton."
Where to try it:
"There's a new Melbourne outpost of the Sydney-based gelateria N2 Extreme Gelato (329 Brunswick St., Fitzroy; no phone), where the classic Italian dessert is made using liquid nitrogen. Many of the ingredients, like Ribena (black-currant cordial), are nostalgic for kids who grew up in the Commonwealth. These appear on the menu alongside wasabi, Victoria Bitter beer, and yuzu flavors."
The trend:
Breakfast cafés
"Maybe it's because they're tired of the late-night slog, but a number of local chefs have abandoned their formal dinner-service training in favor of daytime venues."
Where to try it:
"The new Two Birds One Stone Cafe (12 Claremont St., South Yarra; 9827-1228) specializes in dishes like toasted banana-and-coconut bread with pistachios and passion-fruit labna, and smashed avocado on toast with local-goat feta, capers, and dill. The décor is great—white tiled walls, Scandinavian oak stools—and so is the custom-blended coffee, which comes in aeropress and cold drip as well as traditional."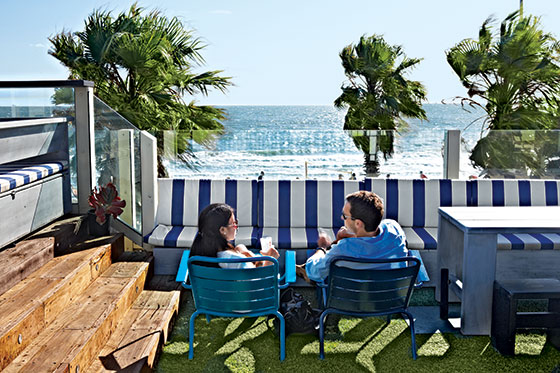 Booze With a View
The Japanese izakaya model—blurring the restaurant-bar line—has gone viral in Melbourne over the past year, and it's best done outdoors here. Time Out Melbourne's food-and-drink editor, Gemima Cody, recommends five alfresco spots.
A Terrace
"There's a busy little lantern-strung terrace at the Spanish bar Bomba Tapas Bar and Rooftop (103 Lonsdale St.; 9077-0451), which overlooks the towers of Melbourne's city center. They have great vermouth-based aperitifs, draft cider, and tapas like tuna tartare with seaweed crackers."
A Garden
"The Village (557 St. Kilda Rd.; 9529-2899) is a former Belgian beer garden that's the size of a football field. On Sunday afternoons, big groups cluster around the tables with dewy pints of rare craft brews. Try to go during one of their Truck Jams, when a bunch of the city's food trucks move in."
A Courtyard
"There's a warehouse space called Howler (7-11 Dawson St., Brunswick; 9077-5572) that's located in Melbourne's main outdoor-boozing hub. It hosts art shows and live music and has a great indoor-outdoor courtyard lounge. The big bar is surrounded by hanging plants and benches made from tree trunks that give it a real wilderness feel; plus there are rotating D.J.'s spinning and Asian-style snacks, like Peking-duck pancakes."
A Roof
"Looking right onto St. Kilda Beach—Melbourne's answer to Venice Beach, only with fewer fake boobs and more English backpackers who don't tan very well—is Captain Baxter (10-18 Jacka Blvd., St. Kilda; 8534-8999), with a glamorous rooftop. Sip a St. Kilda–themed mai tai while you people-watch from the AstroTurf decks."
A Street Corner
"It may be a grimy dive inside, but the Public Bar (238 Victoria St.; 9329-9888) sits on a very pretty, wide-hipped street corner in North Melbourne. Fresh seafood is sourced daily from the nearby Queen Victoria Markets, and you'll find locals swinging frosty beers and smashing blue swimmer crabs well into the night."