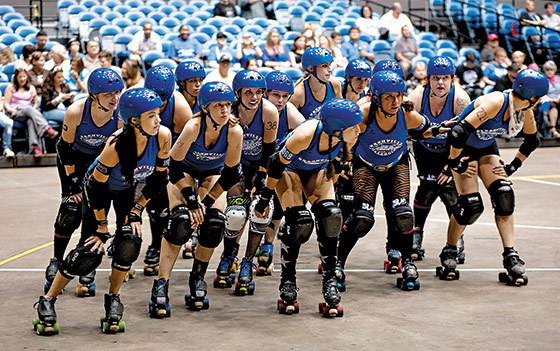 Ready to Rumble
Tennessee may have big-time pro teams like the Titans and Predators, but J. R. Lind, sports columnist for the alt-weekly Scene, sees a lot to love in its underground-sports community, too.
Wrestling
"You can take the hipster out of the small town, but they're still from a small town, and they still love wrestling," says Lind, referring to the sport's cult following among the city's twentysomething transplants. The United States Wrestling Organization hosts bouts every Friday night at the Stadium Inn (10 Interstate Dr.; 615-664-1669). Says Lind, "The matches here are a little more organic than WWE, a little more—I don't want to say real—but at least less corporate."
Racing
"A lot of great stock-car racers have come out of Nashville," says Lind, pointing to the likes of Darrell Waltrip and Sterling Marlin. "But as NASCAR has gotten more commercial, people like the idea of supporting smaller, more local racetracks." The one at Fairgrounds Speedway (625 Smith Ave.; 615-254-1986), about a mile southeast of downtown Nashville, is one of the oldest in the United States, holding just 15,000 spectators (compared with 100,000 at the big guns).
Roller Derby
Lind's preferred league, the six-year-old Nashville Roller Girls (nashvillerollergirls.com), comprises two teams, divided by endurance and skill level; the one to catch is the leopard-fast, tough-as-nails Music City All Stars.
Minor-League Football
"Nashville Storm is a level below arena ball, and they're incredibly good," says Lind. The team, which often plays at Buster Boguskie Stadium at Stratford High School (1800 Stratford Ave.; nashvillestormonline.com), regularly competes in semi-pro nationals and was outscoring their opponents an average of 34 to 11 per game last season.
Talking Shop
From bulk candy to embroidered boots, five places local tastemakers drop their cash.
Art:
The Arcade
4th Ave. N. bet. Union and Church Sts.; no phone
"This marketplace feels like a throwback to horse-and-buggy times. A lot of the stores have been here forever, like the Peanut Shop, where you buy old-school candy by the pound. Restaurants are on the ground floor, and some of the city's best galleries, like Blend Studio and the Ha Factory, are upstairs." —Bryan Deese, graffiti artist
Vintage Boots:
Goodbuy Girls
1108 Woodland St. 615-281-9447
"This place has the best collection of cowboy boots I've ever encountered, and at very reasonable prices—about $65 to $325. They're all pre-worn, so they've got character; some even have fringe, embroidery, and feathers." —Lauren Wray Grisham, manager, Antique Archeology
Discount Fashion:
UAL
2918 West End Ave. 615-340-9999
"This high-end store sells brands like Chanel, as well as other overstock from local boutiques. I bought a pair of J. Brand jeans here for $60, and American Apparel V-necks for $10 less than what you'd normally pay." —Amanda Hill, blogger, RedPandaStyle.com
Quirky Souvenirs:
Pangaea
1721 21st Ave. S. 615-269-9665
"They sell everything from $5 magnets and cigarette cases to fancy-kitschy religious items, like kitchen aprons with the Virgin Mary on them and crucifixes with fleur-de-lis ironwork." —James Bonomo, analytical chemist and drummer
Everything Else:
Old Made Good
1304 McGavock Pike 615-516-8505
"This shop has a bit of everything: clothing, furniture, jewelry, and items handmade by local artisans. I've had my eyes on a set of Bauhaus-esque bar stools here for a while. It's one of the hipper stores in town—our interns at the gallery even wear OMG's brass necklaces." —Herb Williams, curator, the Rymer Gallery
Record-Store Crawl
Crate-digging is a provincial pastime. Here's where to spend your Saturday afternoon.
Jack White's Third Man Records (623 Seventh Ave. S.; 615-891-4393), of course. The label's HQ is also home to a tiny record shop, photo studio, and 200-capacity venue.
Ernest Tubb Record Shop (417 Broadway; 615-255-7503) was founded by the pioneering singer-songwriter in 1947 and remains a magnet for hard-core countryphiles. Tune in to its Midnite Jamboree every Saturday on 650 AM for a taste of what you'll find in the bins.
Grimey's New & Preloved Music (1604 Eighth Ave. S.; 615-254-4801) draws collectors in search of obscure vinyl as well as music-obsessed freeloaders; Canadian electro-weirdo Grimes recently performed in-store.
As the hub of East Nashville's burgeoning underground music community, the Groove (1103 Calvin Ave.; 615-227-5760) throws album-release parties for local bands and hosts in-store performances of touring acts like Gonjasufi. The broke-dude-in-a-van prices don't hurt either.
Phonoluxe Records (2609 Nolensville Rd.; 615-259-3500) is located in ethnically diverse Woodbine, and its stacks of wax—everything from Jelly Roll Morton to Jellybean Benitez—reflect that.