One City, Three Ways
Grzegorz Piatek, an architecture critic and historian who co-curated the Polish pavilion at the eleventh Architectural Biennale in Venice, offers a guide to exploring the city's three distinct layers of history.
Art
Prewar
"Zacheta (Plac Stanislawa Malachowskiego 3; zacheta.art.pl), Warsaw's oldest still-standing contemporary-art venue, is in an elegant neoclassical structure, built in 1901, and shows leading Polish artists like Konrad Smolenski, whose sound sculpture represented Poland at this year's Venice Biennale."
Commie
"Muzeum Sztuki Nowoczesnej (Panska 3; artmuseum.pl) is currently housed in the jaw-dropping sixties-era Emilia building. But while the iconic structure is retro, it is likely the youngest—and perhaps brightest—modern-art institution in the city."
Contemporary
"The Centre for Contemporary Art Ujazdówski Castle (Jazdów 2; csw.art.pl) is a baroque castle built in the eighties that exhibits the work of everyone from international artists like Maurizio Cattelan to young, emerging talents in the Polish art scene, such as Radek Szlaga."
Shopping
Prewar
"The Kielman family have been making custom leather footwear since 1883, and Jan Kielman (Chmielna 6; kielman.pl) remains a firm favorite among Warsaw's movers and shakers. They're best known for classic riding boots, oxfords, and women's pumps, all of which are entirely customized, from the leather and stitching to the shape of the toe."
Commie
"From the fifties to the eighties, Cepelia (Rynek Starego Miasto 10; cepelia.pl) had the monopoly on Polish folk art. Now the ailing giant still sells old-timey clothes and homewares, from leather slippers to ornate lace tablecloths and hand-woven tapestries."
Contemporary
"Ania Kuczynska (Mokotowska 61; aniakuczynska.com) offers Stevie Nicks–inspired silk dresses ($500) alongside timeless separates in jersey cotton ($50 to $200), always served up in black and neutral hues. Her flagship boutique—as minimalist as her clothing—is on the stylish Mokotowska Street."
Film
Prewar
"The 108-year-old Fotoplastikon (Aleje Jerozolimskie 51; fotoplastikon.stereos.com.pl), which houses a collection of several thousand vintage stereoscopic slides, hosts photo exhibits and movie screenings, mostly of historical films, many silent and accompanied by music."
Commie
"Lovingly restored to its fifties glory, Iluzjon (Narbutta 50a; iluzjon.fn.org.pl) is the pinnacle of mid-century Polish Communist architecture, from its neon sign to the structure's cylindrical shape. It's also the best place to see classic films while sipping on a latte from their excellent café."
Contemporary
"Multikino Zlote Tarasy (Zlota 59; multikino.pl) is a total guilty pleasure—acres of red carpeting and flamboyant sci-fi-inspired furniture. Located inside one of Warsaw's megamalls, the theater not only shows the latest blockbusters, but each fall it also hosts Warsaw's film festival."
Pole Dancing
Since 2004, Macio Moretti's indie label Lado ABC has been home to Poland's best underground bands. Below, his favorite venues for taking in the city's thriving music scene.
For Polish Postpunk Icons
Head to: "Powiekszenie (Nowy Swiat 27; klubpowiekszenie.pl) is really the center of the Warsaw music scene. Upstairs, there's a laid-back bar, while bands like the noisy Kurws and psychedelic Pictorial Candi play in the basement, which tends to get jam-packed. The guys who run it (who also own Barka, a docked boat where bands and D.J.'s play into the wee hours of the morning during the summer) just wanted to have a club to host bands that they love."
For Jazz Heavy Hitters
Head to: "Pardon, To Tu (Plac Grzybowski 12/16; pardontotu.pl), located in a theater in Muranów, the old Jewish district of Warsaw, is small—the sort of place you imagine people go to quietly brood over beers. But when there's a show, the energy is electric. The stage is low to the ground, so bands really connect with the audience. On busy nights, people spill out into the parking lot."
For Scraggly, Up-and-Coming Rockers
Head to: "Towarzyska (Zwyciezców 49; klubokawiarnia.net) is in the neighborhood where I grew up and still live, Saska Kepa. I'll just be walking around with my kids and stop in at Towarzyska for a coffee and run into all sorts of musicians and friends there. It's very local and where bands just getting their start will play. They have all sorts of live music, from jazz groups to trashy dream-pop acts."
Make a Day of It in Saska Kepa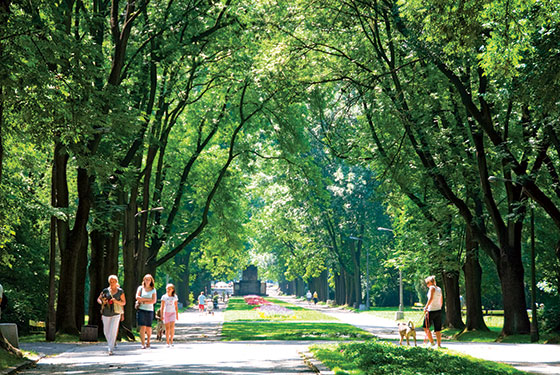 If Praga is Warsaw's Brooklyn, then Saska Kepa is Williamsburg. In the past decade, young arty types have moved in, transforming the once seedy area into a bustling enclave. Saska Kepa residents Kamil and Renata Prandota-Prandeccy, co-owners of sandwich bar Meat Love (Hoza 62,meatlove.pl), offer a tour through its leafy streets.
"Start at Francuska Street (1), the neighborhood's main thoroughfare, which can be overwhelming but worth checking out. Francuska 30 Café (2) (Francuska 30) is often crowded with families, but you'll find the best coffee in Warsaw here. Be sure to check out Lola's Cupcakes Bistro (3) (Zwyciezców 23; lolascupcakes.pl), which is run by the former manager of a famous gay club and has a goat-cheese omelette with mint that's to die for."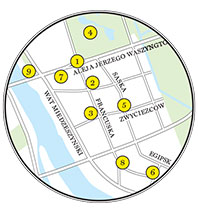 "Escape the crowds in Skaryszewski Park (4), located at the crossroads of Zieleniecka, Waszyngtona, and Miedzynarodowa and considered one of the wildest in Warsaw. Nature-thirsty city inhabitants flock here for waterfalls, rolling hills, and its lush forest setting."
"The best shopping in Saska Kepa isn't about designer clothing or housewares; we have incredible local butchers and produce stands, including one little vegetable cart (5) located on the corner of Zwyciezców and Saska Streets that's owned by two tattooed veggie lovers who also grow their own produce. Ask them for recs—they always know exactly how everything tastes. Nearby, Le Diplomate (6) (Atenska 10; 48-22-672-84-50), a halal butcher, has the best lamb in the city."
"If you'd rather someone else make you food, head to Kuchnia Funkcjonalna (7), (Jakubowska 16; domfunkcjonalny.org) for dinner. It's located in a villa known as Dom Funkcjonalny (which also houses two art galleries), built in the twenties for sculptor Mieczysław Lubelski; the restaurant is in his former studio. Any of their baked local-fish dishes are divine, and every meal must be topped off with a scoop of homemade lemon, rosemary, or green-tea ice cream."
"At the House of Culture (8) (Brukselska 23; cpk.art.pl), as its name suggests, there is always something going on, from poetry readings to art shows. They also have a rooftop café."
"Cap off your night by watching the sun set at Temat Rzeka (9) (Poniatowski Bridge; tematrzeka.pl), a new outdoor venue on a beach along the Vistula River. Not only do they offer concerts and various other events, but their main objective is to help educate visitors about preserving the riverfront, which Varsovians are finally using again."