Tennis in Stowe, Vermont
A top-notch lesson.
From the March 24, 2003 Issue of New York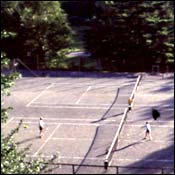 Already lost that killer half-volley you "mastered" last spring? You'll be nailing it again in no time at Topnotch at Stowe Resort's Tennis Academy. After a breakfast of maple-smoked bacon and pancakes (served in a dining room overlooking Mount Mansfield), ace tennis pros critique your game and offer five hours of personalized instruction (you'll take home a videotape analysis and a written evaluation). In the afternoon, hit one of the thirteen courts (nine outdoor, including five Har-Tru, and four indoor) to practice against the ball machine or take on fellow students. At Saturday's courtside cocktail party, the pros go head-to-head for your viewing—and learning—pleasure.
— DENISE PENNY



Details
JetBlue flies nonstop from JFK to Burlington(jetblue.com); transportation to Topnotch (from $254 per day; 800-451-8686; topnotch-resort.com) is available for $75 per person each way.

Related Stories on New York Metro
• 52 Weekends (November 5, 2001)


Related Websites
• Go Stowe! - Local attractions, lodging, dining, shopping, and more.


Photograph: Courtesy of Topnotch.