NetJets
Business Model/How It Works
Fractional Ownership: In a similar fashion to buying a beach-condo time-share, you can purchase anywhere from a 1/16 share to half a plane, which equals 50 to 400 hours of annual flying time (or roughly 15 to 130 one-way trips to Miami).
The Equipment
Some 624 relatively young planes (four years old, on average) ranging from a seven-seater Cessna Citation Bravo to the cushy Boeing Business Jet.
The Extras
Detailed travelers' profiles ensure your favorite CDs, snacks, libations, and magazines will be stocked on every flight.
Smallest Possible Outlay
$406,250 for a 1/16 share of a no-frills seven-seater, plus a $6,820 monthly fee and a usage charge of $1,554 per hour. Or $565,790 for 50 hours—a lot less than paying $6.5 million to purchase the plane outright.
Bottom Line
Industry leader since 1986; worrywarts love NetJets for tight safety policies like regular training sessions for pilots who've already logged an average of 9,000 air hours.
Blue Star Jets
Business Model/How It Works
JET CARD: It works like a debit card. Initial deposits can range from $50,000 to $1 million; funds are debited on an hourly usage basis. BSJ functions like a broker; it solicits bids from charter companies to get you the cheapest flight.
The Equipment
BSJ has access to more than 4,000 aircraft, including just about every manufacturer.
The Extras
They're known for arranging over-the-top amenities on request: helicopters to the tarmac, in-flight Botox, Jivamukti yoga, catering by Nobu … .
Smallest Possible Outlay
$50,000 for an entry-level SkyCard membership. For a light jet (basic five-to-seven-seater with a 2,000-mile range), deductions from your card start at $2,000 per hour, with a two-hour minimum.
Bottom Line
The most diverse collection of aircraft and the quickest response to flight requests (four hours, compared with ten at other companies). It's a bit of a crapshoot as to the age and condition of your plane.
Marquis Jet
Business Model/How It Works
JET CARD: Purchase flying time (in 25-hour increments) on any of the fourteen aircraft types owned by NetJets; Combination Cards allow access to two kinds of planes.
The Equipment
Members have access to the entire NetJets fleet.
The Extras
L'Occitane products and cashmere blankets onboard; gift certificates for Judith Ripka jewelry and Zegna made-to-measure suits.
Smallest Possible Outlay
$115,900 for 25 hours on the Citation V Ultra, a basic seven-seater that can fly as far as Palm Beach.
Bottom Line
The high safety standards of NetJets' aircraft at a more affordable price than the fractional ownership. Downside: To avoid a hassle, you have to predict the exact number of hours you'll fly in a year.
Avion Private Jet Club
Business Model/How It Works
INDIVIDUAL SEAT CHARTERS: Pay a membership fee plus annual dues, which allow you to buy individual seats on prescheduled charter flights. Currently, service is limited to flights between New York and L.A., with expansion plans for Florida and London.
The Equipment
Seventy Challenger and Gulfstream jets, seating between nine and thirteen passengers.
The Extras
Airport transfers in private Town Cars; cashmere blankets and Dr. Perricone products onboard; in-flight catering by Wolfgang Puck and Tom Colicchio.
Smallest Possible Outlay
Paying $14,500 to join, plus annual dues of $7,000, allows you to buy one-way tickets between New York and L.A. for $5,500.
Bottom Line
The most affordable program for individual travelers, but little flexibility with regard to flight times and jet types.
Sentient Jet
Business Model/How It Works
JET CARD: You put money on the card and are charged only for the hours you fly.
The Equipment
Nine hundred jets ranging from Lears to Gulfstreams to Hawkers.
The Extras
Medical assistance (if necessary) while traveling; ski lessons and spa treatments in Aspen; preferred access at Pebble Beach.
Smallest Possible Outlay
$100,000 for an entry-level membership; deductions start at an hourly rate of $2,500 for round-trip flights on a light jet that seats up to five.
Bottom Line
More flexible than other jet-card programs: You can select a different jet size for each trip, and members do not have to use their credit within a specified time frame.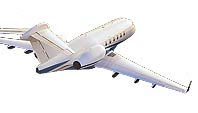 Bombardier Flexjet
Business Model/How It Works
FRACTIONAL OWNERSHIP: Purchase anywhere from 1/16 to half a jet, or 50 to 400 hours annual flying time.
The Equipment
Eighty-four Bombardier jets, including the full Learjet and Challenger lines; an average aircraft age of 3.4 years (the industry's youngest).
The Extras
Centurion AmEx points can be applied toward the Flexjet-owned jet-card program, Skyjet.
Smallest Possible Outlay
$527,875 for a 1/16 share of a Learjet 40 XR (premium seven-seater), plus fuel costs, monthly maintenance fees of $6,260, and an hourly usage rate of $1,625.
Bottom Line
A small but fastidiously cared-for fleet favored by heavy hitters who can afford the best.