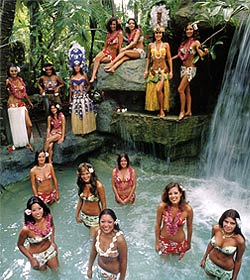 1. The Sports Fan
Go tailgating at a Florida State University or University of Florida football game. Other than eBay, that's pretty much the only way to score tickets since feverish alumni have locked up all the seats in perpetuity. If you can't get into the stadium, there's some serious barbecue going on in the parking lots.
2. The Foodie Tourist
The new owners of the Boca Raton Resort & Club dumped a pile of money into building up its restaurants. Now the Old Homestead Steakhouse has moved in, and by January, it will be joined by outposts of La Goulue and the Monkey Bar, as well as Gordon Ramsey protégée Angela Hartnett's first American restaurant, Cielo. There's a catch, though: You have to stay at the hotel in order to eat at any of the restaurants. But on the heels of a recent renovation spearheaded by Thierry Despont, that's not necessarily a bad thing (from $179; 561-447-3640; bocaresort.com).
3. The Restless Jock
Still dreaming of those baseline scorchers you couldn't quite nail this summer? Book a day at the Bollettieri Tennis Academy in Bradenton. No, it's not just for Russian prodigies; regular people looking to improve their game are welcome to get their butts kicked all over the court, too. Adult Training programs are available on a half-day ($140), full-day ($210), three-day ($1,175), or five-day ($1,775) basis (imgacademies.com).
4. The Avid Angler
The teeny isle of Fiesta Key is basically a self-contained campground. Some of the best flats fishing (tarpon and snook) in the Keys is just offshore, and prime grouper and snapper territory is easily accessible. It's low, low budget—there's a simple but clean motel or the KOA campground (koa.com) for RV camping with access to shockingly spotless bathrooms. Fishing is the isle's only industry, so a good boat rental and guide are easy to find at the bait-and-tackle shop.
5. The History Buff
The nearly 450-year-old Spanish colony of St. Augustine is the oldest continuously occupied European settlement in the U.S. The original town plan, with its narrow streets and balconied houses, is still intact—as are 36 original buildings. Walk the Colonial Spanish Quarter (basically a living museum), and watch the blacksmiths, carpenters, and leatherworkers toil. It's great for kids (historicstaugustine.com).
6. The Off-Season Spring Breaker
Every January, locals tie one on and flood the streets of downtown Tampa for the Gasparilla Festival (visittampabay.com). Imagine the open-container revelry of Mardi Gras or Carnival, plus about 1,000 rowdy pirates. Highlights include a fully rigged pirate ship that sails right into the bay (complete with booming cannons) and the wonderfully cheesy Pirates Arts & Crafts Show.
7. The Botanist
Thanks for nothing, Susan Orlean; the park rangers at Everglades National Park will no longer point out orchids to tourists for fear of thieving. But from November through March, Fakahatchee Strand State Park offers guided swamp walks during which the leader will point out about six different species, including the prized ghost and vanilla orchids. Tours are available on select Saturdays and Tuesdays, from 10 a.m. to 3 p.m. Spots fill up quickly; make a reservation now ($30; 239-695-4593).
8. The Kitsch Hunter
Fort Lauderdale is making a concerted effort to be taken seriously as an elegant tourist destination (there's a W hotel and a new St. Regis in the works), but why reject the cheesiness that made it great? Spend an evening at the unapologetically tiki-tacky Mai-Kai bar. Plan your day around happy hour, and dive into scorpion bowls and pupu platters while watching the floor show (Samoan fire and knife dancers!) (954-563-3272).