Day 1: Uptown
See Manhattan's own version of the Enchanted Forest: Central Park.
9 a.m.: Treat the kids to a sweet breakfast. Get your engines going with French toast ($11) at Alice's Tea Cup (102 W. 73rd St., nr. Columbus Ave.; 212-799-3006) on the Upper West Side. A few homemade scones ($4 each) later, you're ready to hit the streets.
10 a.m.: Pick your pleasure: puppets or prehistorics?Walk one block east and three blocks north to the 79th Street entrance of Central Park. Continue east to the Swedish Cottage Marionette Theatre where hour-long puppet shows revive your favorite fairy tales. (Reserve in advance, and see site for details: adults $10; kids $7). Not feeling the pull of puppetry? Swing by the American Museum of Natural History two blocks farther north. Open daily at 10 a.m. (suggested admission for adults $22; kids $12.50), the museum is guaranteed to capture even the shortest attention span via a T. rex skeleton, a 94-foot-long blue whale, and a 34-ton meteorite.
Noon: Pedal the park. Carry on eastward through Central Park and rent bikes ($9 to $15 per hour for adults; $6 per hour for kids) near the Central Park Boathouse (March through October only). The park's six-mile loop is arguably the safest stretch of asphalt in the city since vehicles are only permitted for four hours on weekdays and not at all on weekends.
3 p.m.: Take in some art or talk to the animals. On the eastern side of the park is another of New York's unmissable attractions: the Metropolitan Museum of Art (suggested admission for adults $25; free for kids). Medieval swords and daggers make a forceful impression inside the Arms and Armor wing, while the Egyptian Temple of Dendur is housed in a spectacular, glass-sided room. If you're in the mood for something fuzzier, stroll south to the Central Park Zoo (adults $12; kids $7; open daily), where you can gawk at swimming polar bears and sea lions—in separate tanks, of course—or bring the 6-and-under set to the Tisch Children's Zoo for up close and personal interactions with rabbits, penguins, and pigs.
5:30 p.m.: Watch a roller derby erupt. Unleash any unspent energy by skipping over to Skate Circle; every weekend draws a city full of eccentrics and roller groupies to the roadway between the Mall and Sheep Meadow. Or rent ice skates yourself ($8; cash only) and pirouette in Wollman Rink (near Central Park S. and Sixth Ave.)—open until at least 9 p.m., Wednesday through Sunday, during the winter.
7 p.m.: Do dinner, Shake Shack style. After burgers, flat-top hot dogs, and fries at the city-favorite Shake Shack at Columbus and 77th Street, finish the day on a high note with one of their famous concretes (frozen custard with your choice of mix-in) or a slice of cake from Cafe Lalo ($8.50), nearby on Amsterdam and 83rd.
Day 2: Midtown and Downtown
Experience life in Time Square's fast lane, then take an urban hike across the Brooklyn Bridge.
9 a.m.: Hyperactivate with chocolate-chip pancakes at Ellen's Stardust, a fifties-themed diner in Times Square where show-tune-belting waitstaff and a circling model train dash any hope you had of sleepwalking through the morning.
10 a.m.: Follow Broadway downtown for a "bright lights, big city" moment. With its blinking marquees and Jumbotron screens, Times Square provides the quintessential New York setting. Duck into the three-story Toys 'R' Us, at 44th Street, for a ride on the 60-foot Ferris heel or for a visit to the life-size Barbie House.
11 a.m.: Worship at the chapel of transportation. Walk due east on 42nd Street to Grand Central Terminal. The magnificent constellations on the main concourse's ceiling are an eyeful; downstairs, you can top it off with a bellyful of cheeseburgers and world-famous cheesecake ($6.95) at Junior's.
12:30 p.m.: Steal a few moments of quietude. Hop on the 1 train and go downtown to 18th Street for Books of Wonder, an all-children's bookstore where kids peek at picture books or ransack tween titles. Collectors will be equally entranced by the leather-bound classics and Doctor Dolittle first editions in the old- and rare-books section.
1:30 p.m.: See what's in season. Grab healthy muffins, fresh-from-the-orchard apples, and Ronnybrook chocolate milk at the bustling Union Square Greenmarket (Mon., Wed., Fri., and Sat.). For heartier grub, slurp some soup ($14 to $16) at the noodle emporium Republic, located on Union Square's western perimeter.
2 p.m.: Bridge the gap between the boroughs. Catch the 4 or 5 train to Brooklyn Bridge–City Hall, then go for a mile-long walk over one of America's best-known landmarks, the Brooklyn Bridge. (Keep your eyes peeled south for the Statue of Liberty.) Your reward on the other side? All-natural ice cream ($4 for a small cone) and skyline views at Brooklyn Ice Cream Factory at the foot of Water Street.
4 p.m.: Blast back to the age of tall ships. After doubling back to Manhattan (most likely by taking a cab or the A or C train), walk the cobblestones of Fulton Street toward the East River, where the South Street Seaport Museum's historic ships are docked.
6 p.m.: Make room for macaroni and cheese. Make your way to the East Village via the M15 bus for preshow grub at S'MAC. This kid-friendly restaurant lets young ones play it safe with traditional mac 'n' cheese or the comparably experimental mac 'n' shiitakes.
8 p.m.: Feel the rhythm of Stomp. A perennial Off Broadway favorite, this percussion performance piece plays just four blocks south on Second Avenue. Sure, it's been an exhausting day, but the performers' stamina will inspire you to stay awake just a little bit longer. (Children under 4 are not permitted.)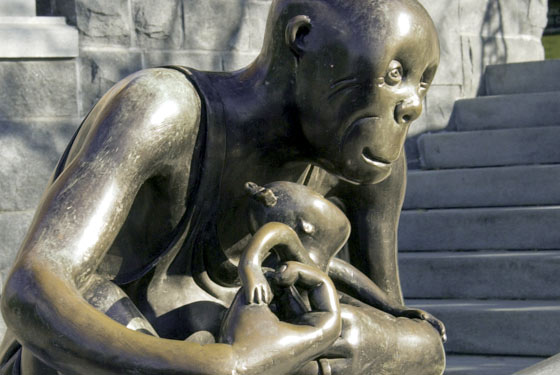 Day 3: The Waterfront
Go island-hopping with side trips to a Chinese ice-cream parlor and the city's answer to Willy Wonka.
8:30 a.m.: Receive a sweet (and savory) wake-up call.On your way downtown, detour to the Lower East Side for brioche French toast ($14), pancakes ($14), or a buttermilk biscuit sandwich ($11) at the Clinton Street Baking Company. It's one of the best brunch spots in town.
10 a.m.: Pay a visit to Lady Liberty. Take the J train down to the tip of Broad Street, then queue up for the ferry ($18 adults; $9 children) to the Statue of Liberty. If the kids (and you) don't feel dwarfed beneath the 305-foot-tall icon of freedom, then the expansive view of lower Manhattan from the tenth-floor observatory ought to do the trick. (Note: The ferry stops at Ellis Island as well; visit statuecruises.com to plan your trip.)
1 p.m.: Walk along the water. Upon returning to Manhattan, scoot west of Battery Park, and stroll north on the lovely Hudson River Park esplanade on your way to lunch. One great place to set the kids loose is among the cartoonish Tom Otterness bronze sculptures in Nelson A. Rockefeller Park. Walk east on North Moore Street into the heart of Tribeca, where local family-favorite Bubby's adds grown-up flourishes to grilled cheese ($14) and sweet potato chips ($8), including a kids' menu with burgers ($5) and chicken strips ($7).
3 p.m.: Salute New York's bravest. Walk north for just ten minutes to enjoy the wow factor of the Jaws of Life at the New York City Fire Museum. Located in a renovated two-story firehouse, the museum is filled with historic fire engines and tributes to the city's fire-fighting heroes.
4 p.m.: Watch cocoa beans become chocolate bars. Another three blocks north is Jacques Torres, the closest thing New York has to the Willy Wonka factory.
4:45 p.m.: Scout for the next LeBron James or Bobby Fischer. Continuing north up Sixth Avenue, line up along the fence to watch the action at the West 4th Street basketball courts. Carry on a block east to watch chess players flex their mental moves in the southwest corner of Greenwich Village's famed Washington Square Park.
5:30 p.m.: Play with exotic toys. Venture up a set of black-and-white-stairs to Toy Tokyo, an eccentric East Village shop where adults will appreciate vintage collectibles and the kids can ogle Star Wars and Godzilla action figures interspersed with Japanese "candy" toys.
7 p.m.: Feast on some perfectly crisp crust. Walk east on Spring Street to indulge in a crackly coal-oven pizza at the legendary Lombardi's on the fringe of Little Italy. During the inevitable wait for a table, the kids can romp in the playground next door.
7:45 p.m.: Scream for ice cream. Since you probably won't find green-tea or black-sesame ice cream back home, drop by Chinatown Ice Cream Factory, just six blocks south, for a cold, colorful dessert.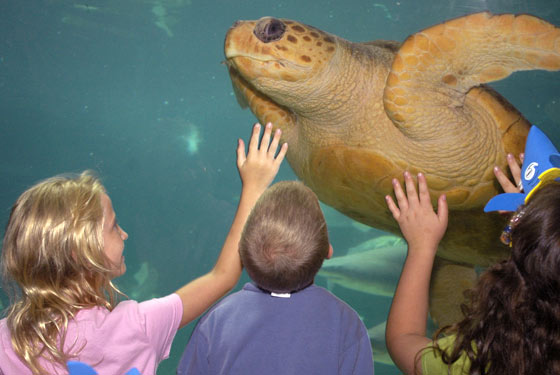 Day 4: Excursions
Broaden your urban horizons by day-tripping to outer Brooklyn, the Bronx, and Staten Island.
1. No trip to New York is complete without baseball. But instead of getting yourself in the middle of an inflamed Yankees-Mets debate, head out to Coney Island for a minor-league Brooklyn Cyclones game at MCU Park. Tickets are supercheap, with bleacher seats costing $10 and field box seats a mere $17. After the game, walk five minutes east along the boardwalk to score more fun on the ball club's namesake roller coaster ($9 per ride), which is open from spring through October. For year-round high jinks, watch dolphins flipping, sharks feeding, and walruses blubbering at the New York Aquarium at Surf Avenue and 8th Street ($11.95). Grab hot dogs ($4.15 each) at the neon-lit Nathan's Famous before the 30-minute ride back to midtown on the D, N, Q, or F train.
2. Snow leopards, giraffes, and gorillas are among the hundreds of species at the world-famous Bronx Zoo, a 30-minute ride on the 2 or 5 subway line. Get tickets ($19.95 adults; $12.95 kids) and enter at the Asia Gate, where you can pick up a stroller, if need be ($10). Skip past the zebras and elk in the African Plains on your way to the creepy-crawly Bug Carousel. Continue in a clockwise fashion to hit the Komodo Dragons, Tiger Mountain, and Baboon Reserve. Alternately, kids can learn English and Western horseback riding with weekday lessons (appointments necessary) at the Bronx Equestrian Center, in nearby Pelham Bay Park. Pony ($5 for three rides) and trail rides ($35 per hour) are available all week.
3. Plan a Big Apple version of planes, trains, and automobiles: Start by grabbing sandwiches and pastries from the Financier Patisserie in the World Financial Center, then hop on the Staten Island Ferry for free, unobstructed views of the skyline. Get off at the Staten Island terminal, make a U-turn, and ride back across the harbor. Then subway up the 6 line to the Roosevelt Island tram at 59th Street ($3), which will fly you halfway across the East River before plunking you down on Roosevelt Island (a sliver of green that's home to thousands of New Yorkers). Grab the Red Bus (or just walk north along the water) to explore one of several playgrounds and the huge community garden. To take your tourist high even higher, take a crosstown bus on 42nd or 34th Streets to the helipads on the West Side Highway and 30th Street. Several operators offer chopper tours, starting with a quick, fifteen-minute spin above the city ($150 per person at Liberty Helicopters).


Additional reporting by Candace Taylor
List of Addresses
Alice's Tea Cup
102 W. 73rd St., at Columbus Ave.
212-799-3006
American Museum of Natural History
Central Park W., at 79th St.
212-769-5100
Luna Park Amusement Park
1000 Surf Ave., at W. 10th St., Coney Island, Brooklyn
718-373-5862
Books of Wonder
18 W. 18th St., nr. Fifth Ave.
212-989-3270
Bronx Equestrian Center
9 Shore Rd., nr. City Island Rd., the Bronx
718-885-0551
Bronx Zoo
Bronx River Pkwy., at Fordham Rd.
718-367-1010
Brooklyn Bridge
City Hall Park at Centre St.
Brooklyn Ice Cream Factory
1 Water St., nr. Old Fulton St.
718-246-3963
Bubby's
120 Hudson St., at N. Moore St.
212-219-0666
Cafe Lalo
201 W. 83rd St., nr. Amsterdam Ave.
212-496-6031
Central Park Boathouse
Park Dr. N., at 72nd St.
212-517-2233
Central Park Zoo
830 Fifth Ave., at 64th St.
212-439-6500
Chinatown Ice Cream Factory
65 Bayard St., nr. Mott St.
212-608-4170
Clinton Street Baking Company
4 Clinton St., nr. E. Houston St.
646-602-6263
Coney Island
1000 Surf Ave., at W. 12th St.
Ellen's Stardust
1650 Broadway, at 51st St.
212-956-5151
Grand Central Terminal
Lexington Ave., at 42nd St.
212-340-2583
Hudson River Park
Clarkson St., at West Side Hwy.
212-627-2020
Jacques Torres
350 Hudson St., at King St.
212-414-2462
Junior's
Grand Central Terminal
Lexington Ave., at 43rd St., lower dining concourse
212-983-5257
MCU Park
1904 Surf Ave., at W. 19th St.
718-449-8497
Lombardi's
32 Spring St., nr. Mulberry St.
212-941-7994
Metropolitan Museum of Art
1000 Fifth Ave., at 82nd St.
212-535-7710
Nathan's Famous
1310 Surf Ave., at Schweikerts Walk
718-946-2202
Nelson A. Rockefeller Park
River Terr., at Warren St.
212-528-2733
New York Aquarium
602 Surf Ave., at W. 8th St.
718-265-3474
New York City Fire Museum
278 Spring St., nr. Hudson St.
212-691-1303
Pelham Bay Park
Middletown Rd., at Bruckner Expy.
718-430-1891
Republic
37 Union Sq. W., nr. 16th St.
212-627-7172
Roosevelt Island
59th St. and Second Ave.
212-832-4540
Shake Shack
366 Columbus Ave., at 77th St.
646-747-8770
Sheep Meadow
Central Park W., at 67th St.
Sightseeing World
866-431-1634
S'MAC
345 E. 12th St., nr. First Ave.
212-358-7912
South Street Seaport Museum
12 Fulton St., nr. South St.
212-748-8600
Staten Island Ferry
4 South St., at Whitehall St.
718-727-2508
Statue of Liberty
1 Liberty Island
212-363-3200
Stomp
Orpheum Theater
126 Second Ave., nr. St. Marks Pl.
212-477-2477
Swedish Cottage Marionette Theatre
Central Park W., at 81st St.
212-988-9093
Toys 'R' Us
1514 Broadway, nr. 44th St.
646-366-8800
Toy Tokyo
121 Second Ave., nr. 7th St.
212-673-5424
Union Square Greenmarket
17th St., at Broadway
212-788-7476
Washington Square Park
Fifth Ave., at Waverly Pl.
Wollman Rink
Fifth Ave., at 65th St.
212-439-6900
SEE ALSO: Top 5 Eats for Kids Top 5 Eats for Teens Video: An Afternoon in Central Park Bus and Boat Tours Family Events Children's Shops