Where to Stay
Unwind at the 404 (from $275), a sleek boutique hotel housed in a former mechanics' garage in the Gulch neighborhood. There are only five rooms, but they're all ultra-stylish, decked out with vintage furniture (like mid-century-modern leather couches) and artwork by photographer Caroline Allison. In the mornings, tuck into blueberry coffee cake, muffins, and chocolate croissants from Provence Breads in the common area, and be sure to pop down to the onsite 404 Kitchen, a James Beard–nominated spot prioritizing local, seasonal ingredients for dishes like peach-and-pork ragout and local rabbit with ricotta gnudi at dinner.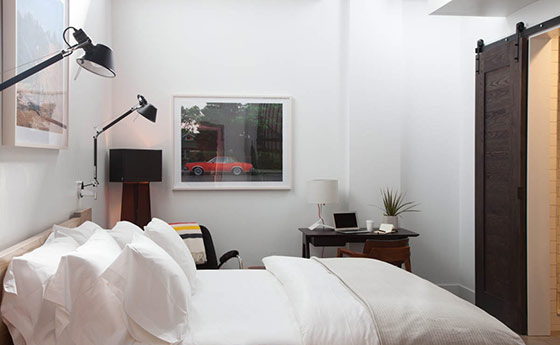 Follow in Gwyneth Paltrow's footsteps with a stay at the Hutton Hotel (from $249), located in the West End, just a quick drive from Music Row. The vibe is luxurious but not at all stuffy; pets are welcome, ecofriendly touches abound (bamboo flooring, a roofing system that absorbs and sustains heat), and the cleanly modern rooms are decorated in calming neutrals. There's a solid in-house restaurant, 1808 Grille, offering refined Southern dishes like thyme-roasted chicken with grilled peaches and toasted pecans, but it's worthwhile to head across the street to Hattie B's, one of the city's most beloved hot-chicken joints.
Pretend you're a Nashville native at an Airbnb rental. Tucked behind one of the city's best vintage shops, Savant Vintage, this one-bedroom apartment (from $195) has a private entrance and a mix of industrial and vintage furnishings, like an antique leather bergère, an electric fireplace, a restored sink from the 1940s, and a furnished outdoor space. For a quieter retreat, stay at this rustic-chic, bright-red-shuttered cottage (from $99) located just outside the city, in College Grove, on a working dairy farm: You'll be treated to complimentary cream and chocolate milk.
Where to Eat
Blink and you'll think you're in Brooklyn at Rolf & Daughters: With reclaimed wood, exposed brick, and servers who could double as supermodels, Rolf & Daughters feels a bit like the coolest new Williamsburg restaurant. Chef Philip Krajeck's food leans Italian (pasta is his specialty) though he grew up in Belgium, and his menu blends international influences; think sourdough bread with seaweed butter ($5), ruby-red shrimp with buttermilk and bibb lettuce ($15), and garganelli verde with heritage-pork ragout ($17).
Dine within a stately Victorian mansion at Sean Brock's Husk. Though the Charleston restaurant is much ballyhooed, Brock's Nashville outpost has a calmer atmosphere and what many foodies consider a more ambitious menu. Keep an eye on the open kitchen while you await dishes like grilled snapper collar ($14), hot-water cornbread ($9), and catfish with West African peanut sauce ($28). Be sure to make a lunch reservation: It's the only time Brock's beloved tea-brined fried chicken (made with—wait for it—five kinds of fat) is available.
Sample refined takes on down-home Southern classics at Josephine, one of the most buzzed-about additions to Nashville's restaurant scene. This spring, chef Andy Little launched a 10-course seasonal tasting-menu option for a reasonable $85, but there's plenty to enjoy à la carte, too, like Nashville hot scrapple in a pickle vinaigrette ($12), corn ravioli with chanterelle mushrooms ($16), and crispy pork shoulder with shaved asparagus ($25). Don't sleep on brunch, when Josephine serves vanilla-bean toast with strawberry preserves ($13) and a fried-oyster sandwich ($14).
What to Do
Trek through the Nashville Farmers' Market, which dates back to the early 1800s. It's a spectacle: two massive covered sheds filled with cheese-makers, ranchers, and up to 100 farmers peddling locally grown foods, like newly added Delvin Farms, the state's largest certified grower of organic fruits and vegetables. Be sure to stop into the free-standing Market House, where you'll find 16 restaurants and shops, plus a craft-and-flea shed. Pick up handcrafted ceramics at T.Mac Pottery, and look out for new merchant Village Provision Bakery, offering pastries (like a plum-and-brie tart) and breads made with heirloom grains.
Gain some barista bonafides at Crema, an award-winning café and roaster offering coffee-brewing classes. Capped at six students and held in the dedicated Coffee Roastery and Training Lab, these intimate how-to sessions cover topics including espresso basics (grinding, dosing, tamping, extracting!), milk steaming, and the secrets of making latte art.
Knead your own dough with Lisa Donovan, a former pastry chef at Husk who will be bringing her weekly baking classes ($85 to $125) to a brand-new event space in east Nashville. Her most popular class, Southern Baking Basics, covers biscuits and pie dough, plus she discusses the art of intuitive baking (as opposed to science-based baking) and teaches students how to communicate with ingredients. All classes (layer cake-crafting is another favorite) span three hours and usually end with bakers kicking back with a glass of wine or beer and the treats they've just created. Kids classes and private baking lessons are available, too.
Expert's Tips
From Jeni Britton Bauer of Jeni's Splendid Ice Cream, who operates four scoop shops in the city.
Pinewood Social smells pleasantly herbal, like absinthe, when you walk in— it's the great cocktails. There is a bowling alley and an AstroTurf-green lounge area, a swimming pool, and great food and service; their chicken liver toasts are up there on my list with a bottle of rosé.
Margot McCormack is a Nashville original, and I wouldn't miss breakfast or brunch at her Marché Artisan Foods. Even the toast alone is a showstopper, topped with hand-ladled ricotta and Peach Truck peaches with honey (depending on the season).
Three sheets to the wind in East Nashville? Walk or Uber to Dino's for a burger and fries. It's good. It's old. It's open late. It's perfect.
Broadway isn't just for tourists. I often head over to Robert's Western World because there is always someone playing great music. I love to use it as a meeting place during the week—just go have a beer at the long bar and talk shop for an hour. Plus, parking is easy in downtown Nashville.
The Parthenon is a great place to hang out; it's in a large park with a lake. I think the Parthenon is sort of strange and cool, especially if you've been to the real one in Athens; it's a full-scale replica but not in ruins. Athena is there, too, and she's the goddess of both heroic activity and creative endeavor, handcraft – which is so Nashville. I'd take a picnic and a blanket there; it's definitely a good place to chill.
Resources
Peruse Nashville Scene, an alternative weekly, and the Nashville City Paper to learn about upcoming musical performances and other cultural events.
Check out Design*Sponge's Grace Bonney's city guide, which helpfully breaks down where to eat, drink, and snack in each specific Nashville neighborhood.
Consult Fodors and Eater Nashville before going out for a cup of coffee.
Explore Nashville's best shops – independently own spots that sell cowboy boots, guitars, and vintage clothing – using Southern Living's helpful guide.