Where to Stay
Wake up to the sight of Zagreb's cathedral outside your window at Art Hotel Like (from $100). The former 19th-century Austro-Hungarian townhouse has been transformed into a luxe boutique spot with sleek touches like Eames chairs and original commissioned work by Croatian artist Hamo Cavrk—light installations throughout the communal area and wall-size photography inside each room. Ask for one of the crisply turned-out loft rooms, and be sure to take breakfast alfresco on the hotel's terrace overlooking a quiet green courtyard.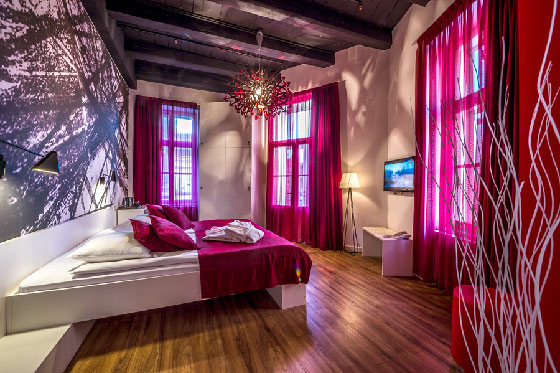 Spoil yourself at the urban-wilderness oasis of the Hotel President Pantovcak (from $135), snuggled in the leafy Zagreb uphills. The hotel's opulent design follows the natural cascading terrain and merges with the lush surroundings via dramatic floor-to-ceiling windows. The original artwork—paintings by Edo Murtic, sculptures by Dušan Džamonja—in each room is part of the owner's private collection. Stroll through the landscaped garden (accessible from every room) or, for a real splurge, take advantage of the hotel's private-chef services (from $60 for a dinner menu) on your private terrace.
Cozy up at Studio Kairos (from $73), Zagreb's first B&B. Match a room to your art preferences: the minimalist but elegant writer's room, the music room with trumpet-shaped lights and a guitar to play, or the stylish artisan room with an old sewing machine turned desk. Be sure to chat up friendly owner Danijela for insightful advice on the city's vibrant art scene.
Where to Eat
Settle in at picturesque Bistro Fotic, a charming café that doubles as a photo gallery (hence the old-timey cameras as décor). Take notice of the glass door that hides the photo studio—there, you can get your travel photos printed as you savor Mediterranean-fusion dishes like sea bream en papillote ($13) and homemade desserts like the "tipsy pear," spiced red-wine-poached pears served with chocolate chestnut cream ($3). Even the pizza is beautiful to look at: The prosciutto toppings come pegged on a little rope, like clothing hung out to dry.
Stroll up to the secluded terrace of chic Bistro Apetit. Rising star chef Goran Kociš changes his tasting menu (from $52) daily, using seasonal and often unusual ingredients such as pine-needle infusions and hay oil. Bold textures and flavors are a constant: octopus with pork scratchings and avocado, white-chocolate mousse on an olive-oil biscuit with foie-gras shavings, and even a sensational charcoal-baked carrot.
Enter the Bauhaus-style palace Johann Franck for a late supper (and stunning views of the main square) at Bistro Šnicl. The ballroomlike ground-floor coffee house connects with upper levels through a forking staircase that transforms into a DJ booth at night. Grab a gallery seat on the top level and savor tuna tartare ($9) followed by slow-cooked beef cheeks ($19) along with a glass of Bibich Riserva red ($4) as the crowds warm up for the night of clubbing.
What to Do
Get to know the pioneers of the vibrant Zagreb street-art scene. Start at Zagreb's first street-art studio, Lapo Lapo, opened in early 2016 by veteran artists Bare and Modul; you can catch them at work or try your hand at graffiti during weekly (usually Saturday) free workshops. The small, atmospheric studio boasts an eclectic display of typography, calligraphy, stencils, acrylic drawings, and hand-painted skateboards by more than 30 artists. Sign up for a street-art tour with Bare and Modul to see a diverse assortment of Zagreb street murals in hidden courtyards and out-of-the-way spots, like a closed-down factory and an abandoned hospital. Then hit the new Street Art Park (open June through September) behind Zagreb's main street, Ilica. Watch live mural painting or join one of the daily workshops to create your own work of street art that stays on permanent display throughout the summer.
Visit the cutting-edge spaces taking a nontraditional approach to art in the city. Lauba is a former Austro-Hungarian riding stable, recently transformed into a contemporary-art "playroom" with a "Laboratory for Cultural Experiments" program including exhibitions, film screenings, fashion shows, the locally beloved Tomorrow Is Saturday concerts, and more (like the popular Design Week, through May 8). Visit architect Igor Franic's striking Museum of Contemporary Art; make sure to take in the abstract paintings of Croatian artist Julije Knifer. There's currently a great exhibition of art posters (through May 29). Indulge your inner child with a ride down the museum's Double Slide, a 17-meter art installation that connects upper floors to the ground level.
Explore East Central Zagreb, which hosts the Design District Zagreb Festival (June 16 to 19) in an effort to transform the entire neighborhood into a showcase of collaborative art and design, mixed with pop-up food and arts-and-crafts shops. Take in both classic examples of modernist Croatian architecture, like the Mondrian-esque Vitic skyscraper, and a number of empty spaces that the festival's creative community plans to revive. Head to Booksa, a lounge-bar with excellent literary events, and check out independent and up-and-coming labels at the temporary department store in the abandoned old military hospital. Visit Croatian Design Superstore to peep the fantastic line-up of products by young local designers. During the Festival, pitch in at the urban garden atop the "wooden high-rise" building, or visit a variety of workshops and site-specific art installations.
Expert's Tips
OKO is an internationally acclaimed artist whose work appears in the streets of Zagreb as well as in exhibitions in London's Victoria and Albert Museum and New York's e-flux gallery.
I like to get together with friends in the public space by the imposing yellow building of the Croatian National Theater. In good weather, it's perfect to sit on a bench, soak up the sunshine, and watch the world go by. And here the world is very colorful — young and old, locals and tourists, coming together as in a big living room.
My favorite place to eat is the scruffy Burek joint by the Dolac farmers' market. This simple hole-in-the-wall eatery has kept its 1980s charm. You get burek (savory stuffed phyllo dough) on a cheap plate, and you gobble it standing up, huddled with the rest of the crowd.
For me, the epitome of Zagreb coffee culture is K&K Milčec café. It was owned by the late writer Zvonimir Milcec, who would always sit by the window as if welcoming people in. The walls of this tiny boho place are filled with photos of old Zagreb and its famous people and the charming gallery level is a perfect hideout from the city's bustle.
Cult drinking haunt Krivi put (The Wrong Way) stays open after everywhere else shuts down. You're always meeting someone new and hearing foreign languages here. The courtyard is decked with simple wooden benches where you can chill with a pint of local craft beer Velebitsko ($1.70). Who can ask for more at 2 a.m.?
Resources
Blog Zagreb Honestly promotes the city with engaging stories about everyday life and a list of self-guided walks that unveil lesser-known details about Zagreb artists and their lives.
Free monthly paper Zagreb for You delivers snappy stories revealing the real pulse of the city, from events listings and Zagreb insiders' columns to advice on the alternative culture scene.
Zagreb Noir is a collection of crime stories set in various parts of the city, written by local writers and published in English; it's actually a wonderful way to map out the city and learn about the local culture.
Celia Hawkesworth's Zagreb: A Cultural and Literary History is an insightful account of the city's cultural life, with enough historical detail and mentions of key artists to satisfy a keen traveler.