1. Where to Stay
Stroll through the English country gardens at The Palm (from $79), an oasis of eco-friendly calm in the heart of the university district. The property, a renovated 1950s motor court, offers 15 retro-style rooms; ask for the Art Deco-tinged Sunrise Suite, with bubble-patterned curtains, angular lamps, a fireplace, and a deep soaking tub; or, for more of a '50s island-vacation vibe, the Deluxe Suite, where there's a private breakfast nook and tropical flower-patterned accents. Take a dip in the recently remodeled saltwater pool—the mild saline content has therapeutic properties, and the gorgeous tile work, in the earth-friendly spirit of the inn, is made from recycled glass.
Watch for deer and hawks from your window or private deck at the boutique Ashland Creek Inn (from $150), a renovated 1880s grain mill on the banks of Ashland Creek. Start off each morning with a gourmet breakfast care of the on-site chef, who experiments with dishes like smoked salmon soufflé, herbed morel-stuffed crepes, and berries with chia-caramel sauce. The inn's blue-shuttered, vine-covered façade looks more Provence than Oregon woods, and the suites transport as well, each with a different regional style. The Copenhagen, with deck and full kitchen, is Danish modern, with light pine and clean lines; the Normandy has the flowered cushions, rose-hued wood, and wrought-iron deck furniture of a Northern French country house; and the Northern-Italian-themed Sienna has a jetted tub for two in the bedroom.
Soak in Victorian elegance at The Peerless on 4th (from $130). Built in 1900, the cozy property (just four guest rooms and two suites) has been impeccably restored using period-appropriate design elements—lace curtains, brass lamps, four-poster beds, and claw-foot tubs—alongside modern touches like Frette linens and Pharmacopia organic bath products. Request Suite 3 for a playful front-parlor feel—floral wallpaper, framed prints, overstuffed furniture—or the more glamorous Suite 7, with potted palms, a two-person Jacuzzi, and a view of the mountains from the private balcony. Grab dinner at the on-site restaurant, where the inventive, regionally focused small-plate specialties range from Snake River Farms Kurobuta Pork Ramen ($16.50) to Maple Leaf Farms Cassoulet, with duck confit and house-made sausage ($18.50).
2. Where to Eat
Wake up with the locals at Morning Glory, a converted house with a bright blue-and-yellow hardwood interior and houseplant-covered patio, within walking distance of the Shakespeare Festival. Chatter over the great people-watching—theater majors in capes abound—and eavesdrop on Shakespeare hounds while chowing down on the sweet and savory bacon Belgian waffles ($11), date-studded Moroccan oatmeal ($7.50), or vegetarian hash served with an addictive chipotle-cilantro cream sauce ($13.50).
Sip an award-winning local brew at Standing Stone Brewing Company. Located in the airy former Whittle Garage of 1925, the craft brewery makes its own ales and lagers on-site in ten-barrel batches using organic grains. Try the Hop Night ($5), a Cascadian dark ale with notes of pine and citrus, and watch the brew-masters at work: The dining area has a clear view of the brewing floor, where stainless-steel tanks are tended to with care. The food here matches the quality of the drink, especially the stout-infused Standing Stone cheeseburger ($11) and the charbroiled five-spice ginger-teriyaki ribs ($18), made with sustainably raised Oregon pork. Visit on Sundays at 3 for a prix fixe beer and food pairing ($25 per person) led by a member of the brewery staff; the five-course menu changes according to what's in season and might include Steel-Cut Stout with spicy barbecue-chicken pizza, Amber Ale with deep-fried Brussels sprouts and basil aïoli, or Twin Plunge Double IPA paired with blackened fish tacos.
Get in touch with your inner carnivore at nose-to-tail destination Smithfields. The menu's variety is a testament to the creativity of the English expat owner and chef, Neil Clooney (a two time "Oregon Iron Chef" winner), who cut his teeth at the famous luxury liner QE2 before being named executive chef at Isabel Cruz's Cantina in San Diego. Start at "happy hour and a half" with the house-made charcuterie board, which includes rabbit rillette and chicken-liver parfait ($10), along with a Tetley's English Ale ($5), one of the ten "British brews" on offer. For a gloriously meat-centric dinner, try the roasted bone marrow with capers and sourdough ($10), move on to the cider-braised pork belly with bacon-braised collard greens ($25), and close the evening with local Rogue Creamery cheeses ($15).
3. What to Do
Buy tickets in advance (from $25) for the Shakespeare Festival, a nearly yearlong thespian extravaganza. Since 1935, the festival has held dozens of world premieres (this year it's Robert Schenkkan's The Great Society and Heidi Rodewald and Stew's Family Album), won a Tony Award for achievement in regional theater and spawned alums like Dante Di Loreto (executive producer of Glee) and Frankie J. Alvarez (of HBO's Looking). Hit up one of the 11 plays, especially any held in the Allen Elizabethan Theatre—it's modeled after the Globe, where Shakespeare's plays were originally performed. Though Shakespeare is the focus, the festival isn't confined to works by the Bard: This year, in addition to season-long runs of The Tempest and A Comedy of Errors, the company will perform A Wrinkle in Time (based on the Madeleine L'Engle young-adult classic) and Irving Berlin's The Cocoanuts, among many other offerings. Catch free outdoor "Green Shows" on the Shakespeare Festival campus, where you'll also find tours, play readings, and player panels.
Take in a concert at the Siskiyou Music Project (tickets from $25). The intimate shows—typically in evocative settings like the Paschal Winery—spotlight classical-, jazz-, and world-music masters from around the globe; highlights of this spring's jazz series include pianist Geoffrey Keezer (a veteran of Art Blakey's band, March 1), French-Algerian guitarist Pierre Bensusan (March 17), and the Jessica Fichot Group's witty take on French chanson (April 20). In the mood for something more energetic? Dance the night away amid Ashland's lively local scene. Stop by Oberon's Three-Penny Tavern on Main Street for a good dose of Shakespearean kitsch (juggling musicians in jester costumes, plus local rock bands, in an Elizabethan setting), or let your inner rock star loose at the Wild Goose Café—at karaoke on Fridays and Saturdays and open-mike Sundays, you might well find yourself performing alongside Shakespeare Festival veterans.
Get moving at the Dancing People Company, the headquarters of an internationally acclaimed touring group based in Ashland. Though their season won't start till June, there's plenty of opportunity in the meantime to enjoy the dancers' witty, eclectic sensibility through a variety of classes held every day and for all levels, ranging from contact improvisation and beginner ballet to Afro-Samba and modern dance—there's even aerial trapeze for the truly adventurous (from $13).
4. Insider's Tip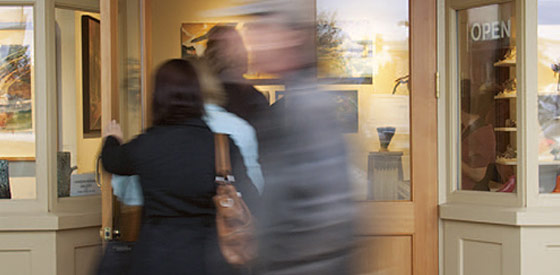 At the beginning of every month, locals flock downtown for the First Friday Art Walk down the gallery-rich streets. From sculpture to painting to glass blowing, established and emerging artists share the limelight, and drinks are available at many of the galleries, making the night something of a roving party. Make sure to stop by the Hanson Howard Gallery—Ashland's oldest, primarily featuring contemporary Northwest artists—and JEGA Gallery & Sculpture Gardens, which showcases contemporary pieces in both its high-ceilinged, homey interior and in the shady front garden.
5. Oddball Day
Even Shakespeare believed that "one touch of nature makes the whole world kin"—and the nature surrounding Ashland is particularly breathtaking: the Siskiyou and Cascade mountain ranges and hardwood forest, with crisp, dry breezes to spare. Before heading out to explore the Rogue Valley, tuck into a hearty organic breakfast burrito at Ruby's Restaurant (from $6)—try the Wendy, a tortilla stuffed with curry-tofu scramble and house-special cheese sauce. From there, it's a short walk to Lithia Park, Ashland's 93-acre gem of beautifully landscaped greenery. Enter via South Pioneer Street and follow the marked trail, making sure to divert off the path to see the stately Butler-Perozzi Fountain. Stroll through the nearby formal rose and Japanese gardens, then catch the trail back into the undeveloped woods, hiking all the way to the far end of the park, where a swim reservoir beckons. Post-hike, repair to Agave Taco, a tiny shop with the best Mexican food in town: Try the green chile and cheese tamales ($4.50 per tamale) and the house-made guacamole with fresh-baked chips ($5.95). Then head to Ashland Mountain Adventures (reserve in advance), where the proprietors, Bill and Sue, will set you up with a bike and shuttle service to one of many mountain biking trails in the Siskiyou Mountains (from $45/day); each trail is relatively short, so it's feasible to try a few. The Hitt Road Trail, a picturesque, washed-out fire road that winds right back down to Lithia Park, is perfect for beginners, while more experienced riders should try the Cat Walk Trail, spiked with technical challenges like a rock garden and a 60-foot log ride trailside. As the sun goes down behind the mountains, roll back into downtown Ashland for a meal sourced from the land you've just explored at elegant La Coquina (reservations recommended). You've earned a little indulgence: Try the Burrata and breakfast radish salad ($12) and a Cedar River ribeye ($37), then kick back on the patio with a bottle of local Rogue Valley wine (from $45) beneath the stars.
6. Links
AshlandLiveMusic.com has fairly up-to-date information on local musicians and music venues.
Foodies find a soul mate in Anna of Anna Eats Ashland—and a comprehensive list of reviewed restaurants.
Get the skinny on the local literary scene at Literary Ashland, managed by local author and professor Edwin Battistella.
See what Ashland has to offer before you go by perusing local photographer George McKay's photos at Life in Ashland.