1. Where to Stay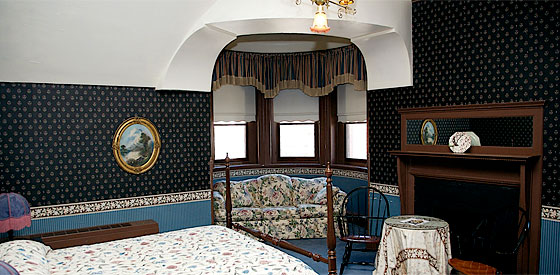 The Hampden area, thanks to affordable vintage shops, boho eateries, and low-key nightclubs, is the stomping grounds for Baltimore's music creatives. To be near the action, book at the Doubletree Inn at the Colonnade (from $143), just a quick walk to the main drag on West 36th Street. Flat-screen TVs and extra-plush bedding by luxury linen company Sweat Dreams bump the rooms above chain-hotel basic.
Find an unexpected bargain at the Inn at Government House (from $125; 1125 North Calvert Street; 410-539-0566), a repurposed nineteenth-century mansion located a quick walk from local hangout Patterson Park and nightlife hot spots Sonar and Ottobar. The eighteen rooms haven't changed much since the Federal era, but mini-fridges and cable offer modern convenience.
Take in the Baltimore inner harbor from your room at Henderson's Wharf Inn (from $179), a tobacco factory turned 38-room inn stocked with upscale amenities like 200-channel satellite TV. Get a room facing the inner courtyard for a reprieve from the restaurant-and bar-strewn streets of Fells Point and take a complimentary breakfast on the quiet, bricked patio.
2. Where to Eat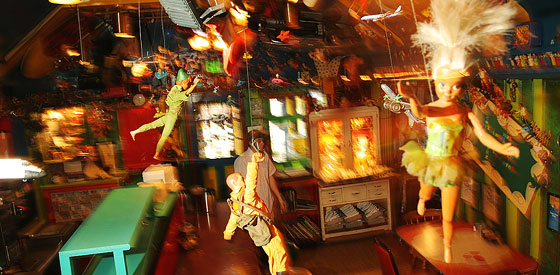 Ogle American Apparel–clad wait staff at Golden West Café, a colorful, laid-back post-show hangout in Hampden. Order new-Mexican breakfast, like the scrambled-egg-and-Jack-cheese quesadilla, any time of day. If you'd rather have dinner, try Asian-influenced comfort-food dishes like the zesty green coconut curry with poached eggs and buttery naan. Hang out in the adjoining Long Bar after hours and you'll bump into Ottobar revelers trickling in around midnight.
Trip out over the Technicolor décor at the Paper Moon, a 24-hour (on the weekends) diner with fairy dolls hanging from the ceiling, and lasciviously dressed mannequins staring out from corners. The Big Dipper, a fried egg tucked between two thick pieces of French toast, is the late-night hangover cure of choice. Vegetarian options are plentiful.
You'll need extra napkins at Gunning's Seafood, which serves seven-ounce jumbo-lump-crab-cake platter with two sides and a warm roll. The casino carpet and sports-bar ambience is a perfectly kitschy backdrop to a basket of fried green pepper rings downed during the boisterous, five-hour happy hour.
Just south of Hampden, veteran restaurateur and chef Spike Gjerde (the Keith McNally of Baltimore) has opened Woodberry Kitchen, an upscale foundry turned chic farmhouse that's focused on sustainable, local foods. Order the salmon with lentils and leek custard or start off with dressed-up side, like a salad of beans and Carolina Gold rice topped with sunflower seeds.
3. What to Do
Hobnob with Baltimore's indie buzz bands like Beach House and Spank Rock at Ottobar, a wood-paneled dive where $3 mixed drinks fuel intimate, kinetic live shows. On Fridays, dance to electro and new wave at the Automatic! party.
Check out buzzy electro and hip-hop acts like Black Kids and Cut Copy at the clubby Sonar. The TaxLo party hosts a mix of indie acts and guest D.J.'s, like Bonde do Role and Pat Mahoney, a few times a month.
Let loose with the art students at Are We Not Men?, a twice-monthly live music and dance night at the Depot. Join the sweaty, gyrating masses on a dimly lit floor, where electro-rock darlings like Dan Deacon and the mash-up all-star Girl Talk play. Stick around afterward; a D.J. spins everything from esoteric no-wave to TLC.
Save some energy for Soul Night, an enormous, all-ages dance party held the first Friday of the month at a by-day cultural center, Lithuanian Hall. Locals loosen up with $1 Lithuanian honey liqueur shots or $3 Utenos beers before going wild to a D.J. mixing Motown, mod, and indie.
4. Insider's Tip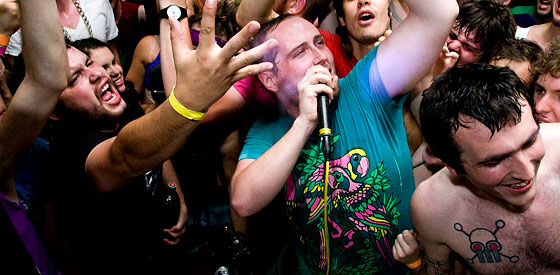 Floristree—an unlicensed, artists' loft space—is an under-the-radar venue for eclectic rock shows, art installations, and theater. Dan Deacon first made his feral-live-show name here. Since publishing the address would threaten Floristree's underground status, check the calendar section on the Beatbots 'zine for more information.
5. Oddball Day
The Wire fans will recognize Highlandtown as the rapidly gentrifying home to organized-crime boss "The Greek." The show's dockworkers might have resented this blue-collar neighborhood's art-renewal initiative, but it's a fun place to spend the day. Start your adventures at the 137-acre Patterson Park, where bike races, ethnic festivals, and flea markets dominate in warmer months. Check the park's Website for a full schedule of activities. Stand atop the pagoda for panoramic views of the city, then head to Eastern Avenue for bargain shopping. Stop into Value Village (3424 Eastern Ave.; 410-327-5300) for gently used boots that cost only a few bucks. A few doors down, stop into the Creative Alliance to check out a gallery show, concert, or play. Cap off the day with a game of duckpin (a pint-size version of bowling) at Patterson's Bowling Center; games are $4 per person and drinks are BYO. After tallying up your scorecards, grab a mouth-watering, thick-crust slice at Matthew's Pizza (3131 Eastern Ave.; 410-276-8755), open since 1943.
6. Links
Baltimore's trusted City Paper covers everything from restaurants to live shows.
Online 'zine Beatbots is the best resource for the underground arts and music scene.
Search comprehensive concert listings at Jambase.
Baltimore reporter Sam Sessa covers the city's after-hours scene in his Midnight Sun blog.