1. Where to Stay
Book a cottage at Steinhatchee Landing Resort (from $140 to $500), one of the few luxury accommodations in the largely undeveloped Big Bend area. All 40 colorful clapboard houses come with full kitchens, grills, flat-screen TVs, and porches steps from fly fishing and pontooning on the untamed Steinhatchee River. If the deluxe Jimmy Carter House is booked (he's a regular guest), request Osprey Nest 42 for its screened-in porch and riverfront views.
Enjoy breakfast by the Koi pond at the stately Grady House B&B in High Springs (from $100 per night). For garden views, rent the Green Room—you have a direct shot of the pond and gazebo, the best spot for eating the banana-pecan-stuffed French toast or herb-baked eggs with Gruyère cheese.
Head offshore to the vibrantly colored, gingerbread-trimmed Cedar Key Bed and Breakfast (from $161 per night). Ask innkeepers Bill and Alice Phillips to tell a local ghost story or direct you to the homemade-cookie jar. For space, request Jack's Room, it has an extra trundle bed and sitting area, plus an oversize bathroom with a claw-foot tub. Take in ocean views from the balcony, then check out the 400-year-old sprawling live oak tree in the backyard.
2. Where to Eat
For cheap, native eats, try the Lighthouse (7600 Hwy. 19, 352-463-2644) on the Suwannee River in Fanning Springs—population: 800. Portions are big, and a plate of deviled crab or fried oysters with side salad, hush puppies, and grits is $14.50. If you're late to be on the river, request that the cook pack your food to go.
Huckleberry's (7440 Hwy.19; 352-463-0355), across the street from Fanning Springs State Park, serves tender-as-butter southern-style chicken, pork, and ribs, rubbed with spices, then slow-cooked on oak wood. Sides include rich coleslaw, fried green tomatoes, and homemade shortcakes. Load up on napkins, and eat at one of the picnic table outside the restaurant or in the park.
If you want a step up from the seafood shack, Fiddler's in Steinhatchee has table service and a more traditional restaurant feel. Pair your grilled shrimp with one of the solid California wines available. Or, if you've been fishing, the cook will cheerfully cook your catch.
Don't bother with shoes or shirt at the Keaton Beach Hot Dog Stand (21239 Keaton Beach Dr.; 850-578-2675) in Perry. A massive faux shark head is mounted on top of the stand, teeth bared, but the decent dogs and fresh grouper sandwiches are even more memorable. Have a picnic on the nearby Keaton Beach—one of the only strips of sand in the Big Bend area.
3. What to Do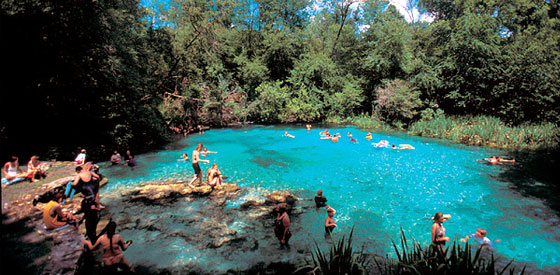 Rent a canoe, kayak, or tube (best choice for the ultimate veg-out experience; $5) at Ichetucknee Springs State Park, located in Ft. White and atop eleven freshwater springs. For the best sites, take the vodka-clear, always-73-degree Spring Run—look for red cardinal flowers, turtles, and blue herons. In winter, the park shuttle doesn't run, so be prepared to float or boat back to where you started.
Take a ride down the "Road to Nowhere" (from CR 51 in Steinhatchee, take CR 361 southeast out of town), a fifteen-mile half-paved, half-dirt road that ends abruptly at a deserted stretch of grassy beach. Built years ago by local officials who were in cahoots with drug runners (the paved parts are where traffickers landed their planes), it's now an almost unknown connection to some of the most isolated and beautiful beaches anywhere—it's covered in moonlike limestone rocks, washed smooth by thousands upon thousands of high tides. Go at night—the constellations sparkle like diamonds, undisturbed by ambient light.
Look for lost artifacts among Micanopy's highly specialized antique shops. Start at Delectable Collectibles (112 Main St.; 212-219-3590), which hoards more than 1,400 antique cameos. Two doors down, O. Briskie Bookstore (352-466-3910) offers 50,000 titles, ranging from $1 used books to first editions from as far back as 1683. The nearby Antique Mall Downtown (110 NE Cholokka Blvd.; 352-466-3456) houses dealers of everything from hat pins to rare citrus-crate labels from the "Florida Label Man," some costing $400.
4. Insider's Tip
North Florida waterways are filled with dozens of eerily beautiful sinkholes, natural springs, and caverns, making them a boon for cave divers. The best spot, and the one Jacques Cousteau dived, is Ginnie Springs, near Lake City—in winter, you'll have the run of the place. Take a two-day Introduction to Cavern Diving course with Michael O'Leary of cavediving.org ($250 for two students or more), then jet over to the Dive Outpost in Luraville to pick up the laundry list of diving supplies you'll be needing.
5. Oddball Day
Pack up your fishing gear, load up on groceries, and check into a 44-foot, wood-paneled houseboat at Miller's Marina of Suwanee ($750 for two nights in high season, March through November). To get started on your private cruise of the Suwanee River, request a map and cruising manual, take a 45-minute navigation lesson from owner Bill Miller, then steer your boat up the swampy, tea-colored water at an easy five miles an hour. Spend the heat of the day (lower seventies in late winter) catching rays and your lunch from the top deck and watching for the rare manatee or the heronlike anhinga, perched on a cypress limb. Many lazy hours later, drop anchor back near the mouth of the river—there's a killer view of the sun setting over the Gulf of Mexico. Cook up the Suwannee bass you caught on the gas grill.
6. Links
For up-to-the-minute reports about who is catching what where, visit Big Bend Fishing Reports.
Local fisherman, like Big Bend Brian, give up their secrets—like how to blacken fish—on Big Bend Sportsman's recipes page.
Get an overview of eastern Big Bend's waterways and water activities on the Columbia County Tourist Development Council site.
The Lake City Reporter is the best source for regional news and information.