1. Where to Stay
The Post Ranch Inn's (from $550) 30 polished rooms, perched 1,200 feet above the Pacific, have wood-burning fireplaces, marble tubs, and a marked absence of televisions and clocks. Relive a childhood fantasy by booking one of the seven Tree House Rooms, built on stilts in the branches of century-old oaks.
The Ventana Inn and Spa (from $430), located directly across Highway 1, is similarly posh, if less quirky. Stroll the 243-acre grounds in a plush bathrobe and slippers, or throw on hiking boots to explore the surrounding redwood groves and wildflower meadows. Wash away your cares in cedar-lined, Japanese-style tubs—or, more daringly, the swimsuit-optional pool.
Thirty-five miles south of Ventana, the rustic Treebones Resort (from $145) lines up sixteen Mongolian-style yurts on a hillside connecting the Pacific coast to Los Padres National Forest. Though amenities are basic (yurts have sinks, but bathrooms and showers are communal), the huts have been outfitted with French doors and domed skylights, and there's a hot tub and heated pool outside the main lodge.
2. Where to Eat
Big Sur Bakery and Restaurant, a half-mile north of Ventana, offers glorious Meyer-lemon bars and jelly doughnuts, plus a constantly changing menu featuring dishes like oven-roasted oysters and wild salmon with succotash. The brunch options, including nine-grain pancakes smothered in strawberries, are pretty inventive too.
For more formal dining, it's usually a coin toss between the Sierra Mar at Post Ranch and Cielo at Ventana. However, with Sierra Mar's panoramic dining room closed for remodeling through August 2007, stick to Cielo. Request a table on the outdoor terrace with its gorgeous Pacific views, and try out the mole-covered enchiladas and fresh guacamole.
The five-year-old Big Sur Roadhouse is the place to go for casual dining. The main room is adorned with local artwork and a corner fireplace, and the Latin-influenced menu goes easy on the wallet (most entrées are under $20—a rarity in Big Sur).
3. What to Do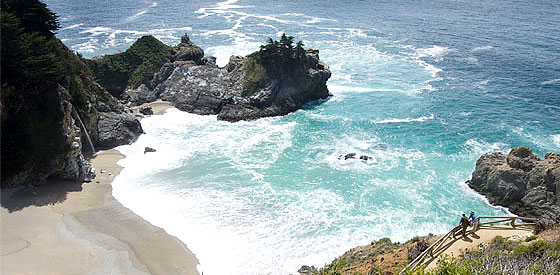 Though you'll be tempted to spend your entire weekend spa-ing, don't miss out on some of the West Coast's most spectacular trails. Novice outdoorsmen can easily manage the largely flat, half-mile Waterfall Trail at Julia Pfeiffer Burns State Park—the payoff is a milky-white falls that tumbles straight onto the beach. For practiced enthusiasts, there's the rugged ten-mile trek that starts at Pine Ridge trailhead and leads to Sykes Hot Springs, a 100-degree pool alongside the Big Sur River.
Much harder to find is the bucolic Partington Canyon Trail, located on the western side of Highway 1, two miles north of the Julia Pfeiffer Burns State Park entrance, and unmarked except for an iron gate. A short but fairly steep walk takes you through a 50-foot rock tunnel and ends at a century-old boat launch that was used by bootleggers during Prohibition. Bring a bathing suit and a picnic (Big Sur Bakery will pack one for you) and spend of the rest of the day watching seals and sea otters frolic in the emerald kelp forest just offshore.
4. Insider's Tip
Primarily an educational facility for holistic health gurus, the legendary Esalen Institute welcomes nonstudent guests for massage treatments (from $150). Schedule your appointment for mid-morning, and arrive early to enjoy the coed, naked—and newly renovated—hot springs. Because massage appointments are limited, make a reservation well in advance. Without one, you won't even be permitted on the property—except between the very un-Zen hours of 1 and 3 a.m., when the mineral baths are open to the general public.
5. An Oddball Day
To really purge yourself of worldly cares—if only for a day—head 25 miles south of Big Sur village to Lucia, where you'll find the New Camaldoli Hermitage ($60 suggested donation), an 899-acre monastic retreat set 1,300 feet above the ocean. (Keep a lookout for the large wooden cross on Highway 1 signaling the monastery's entrance.) Guests are welcome to visit for the day, partaking in prayer with the monks and wandering the gardens. Or you can book one of nine rooms reserved for overnight "retreatants." Each comes with a private garden and buys you three vegetarian meals a day, and as much monkish silence as you can handle.
6. Related Links
Check out Pelican Network for ecologically minded lodging, dining, and activity recommendations along the California coast.
The independent Monterey County Weekly provides up-to-date local news, event listings, and arts and restaurant coverage.
John Rabold's Guide to California's Big Sur is full of useful logistical information, including a north-to-south guide to sites of interest along Highway 1.